While looking through prospective new homes with my husband I realized that I didn't have a consistent understanding of what's considered a finished basement. While the question seemed simple, I realized after speaking with others that everyone's interpretation was a little different so I decided to dig into the topic.
I soon discovered the American National Standards Institute. This organization has published standards regarding finished basements, based on general consensus.
ANSI voluntary standard Z765-1996 states that a finished U.S. home basement:
Has a permanently installed heat source that has a continuous power source
Has an installed floor covering that completely covers the floor space
Has a minimum ceiling height of seven feet
Has at least six feet, four inches of clearance under air ducts, beams, or other obstruction
Is contiguous to the other living space
Is directly accessible from the other living space by permanent stairs or by another way that does not involve the use of a ladder.
The ANSI parameters are nearly the same for a basement as they are for the main living space, but adds some location specific rules.
Most notably, if a basement is not a part of the house and it is not accessible from the main floor by way of a permanent stairway or ramp, it cannot be considered a finished basement.
In that particular scenario, the space would be considered a fall-out shelter or cellar.
The ANSI standard also requires a finished basement to be suitable for living in all year round. That means a finished basement must have a suitable heat source that has a continuous power source.
The heat source can be a through-the-wall heating unit or permanently-installed baseboard heaters. Portable space heaters and window units, however, do not meet the requirement.
The continuous power source can be natural gas, electricity, heating oil, or a permanently installed propane tank.
Additionally, the homeowner needs to install wall-to-wall carpeting, wood, vinyl, laminate, tile, or stamped or stained concrete. Bare or painted concrete will not suffice.
Do finished basements add value?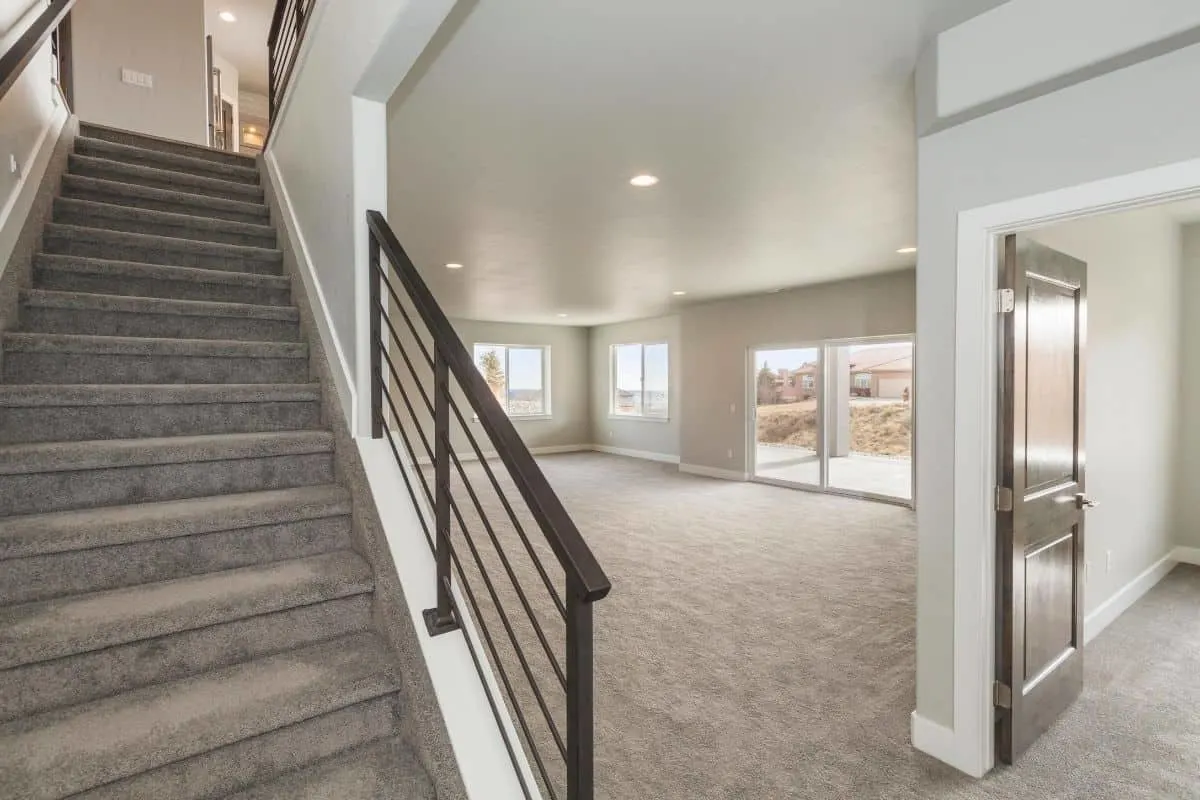 According to zillow.com, each finished square foot of space that is beneath ground level is generally worth about half of the value of a square foot in the main part of the house.
Even so, appraisers will also run comps to see what similar homes are selling for. A skilled appraiser will take special care to only compare with homes that have similar above-grade (above ground level) space.
An honest real estate agent will advertise the correct, above-grade square footage. Exaggerated square footage will cause problems when the buyer later sells the property.
From a buyer's point of view, finished basements double the living space without drastically increasing the cost of the home. A basement that is already finished also makes the home truly "move-in ready."
Basements that have a bedroom, bathroom, and kitchenette are in particularly high demand. This set-up suits people who need an in-law suite to put visiting in-laws or to house an aging parent. This is especially true if the basement is the walk-out kind.
Teenagers love the extra space and privacy that living in the basement provides. Some people want a basement suite they can rent out to Airbnb renters.
Others want a basement bedroom to use as an office, library, craft room, sewing room, or storage room.
A "safe room" in the basement of a home that sits in "tornado alley" would further increase a home's value. With or without a safe room, a finished basement provides a comfortable place of refuge where concerned inhabitants can get weather updates on the television or radio.
Does a home's square footage include a basement?
Legal requirements regarding whether or not basement square footage can be counted vary by state.
Most states agree that a standard lot basement, which is 100% underground and has no walk-out door or accessible window, is unsafe. Therefore even a finished basement that has an ingress/egress issue cannot be considered living space.
But there are two other main types of basements. And one of them may allow the homeowner to count some of the square footage.
The three basement types are as follows:
Walk-out basement – This one has a full-size door or sliding door that leads to a ground-level backyard or patio. Walk-out basements allow a lot of natural light to come in. This is the most popular basement type and the one that will have the most promise of offering countable square footage. You can also check out my full article on walk-out basements here for more info.


Standard lot basement – This is the typical dreary basement that is fully underground and has tiny windows by the ceiling. This basement type is the least liked and offers no countable space.


Garden-level lot basement – This kind of basement is somewhere between a walk-out basement and a standard basement. Part of it is above ground and part of it is below the ground. It may have both full-size windows and window wells, but it likely does not have a walk-out door.
What counts as finished square footage?
For a basement's square footage to be countable, the basement must:
Meet the state laws regarding ingress/egress
Meet ANSI heating standards
Be finished to ANSI standards
The square footage on a home's main level is considered finished square footage, assuming all of it is above ground. Floor levels above the main floor are also counted.
Lofts accessed by ladder do not count. However, Lofts require access by a permanent staircase to be counted.
What would be the return on my investment?
A finished basement helps a home to sell quickly and it adds value to a home. But finishing a basement does not increase the home's price enough to bring a profit because the ROI would only be about 70%.
Homeowners who use their finished basement long-term (rather than flipping the home) often come out on top (financially).
That's because it's cheaper to create usable, heated living space below ground than it is to build the same kind of space above ground. So, if a person needs more living space, finishing the basement is the cheapest option.
How can a person maximize the return on their investment?
Homelight.com suggests five ways to maximize the ROI on a finished basement:
Deal with radon up front – The EPA says that one in 15 homes has an elevated radon level. Elevated radon increases the chance of getting lung cancer. This radon would be in the basement, so it would make sense to spend the $150 to $800 for a professional test before investing in finishing out a basement.


Use hard flooring over cement board – Homeowners should use stone, porcelain, or ceramic over cement board to prevent moisture seepage. Carpeting would mildew and hardwood flooring would warp.


Create an illusion of space and light – You can leave the ducts and other industrial things exposed. Just paint all of those ugly things a bright white color to make the basement look bigger, cheerier, and more finished. If you have ceilings, install recessed lights in them and put LED lights under cabinets.


Highlight your walk-out basement entry – Install glass double doors for maximum natural light. Then pour a small concrete patio and plant some inviting flowers.


Create a mini in-law suite – With 20% of U.S. citizens now living in a multi-generational home, basement in-law suites are in high demand. This includes a bedroom, bathroom, and small kitchen.
What is the cheapest way to finish a basement?
Finances are a limiting factor for any renovation project, and finishing a basement is no different. The good news is that as long as meet the ANSI standards, there is nothing else that you "need" to do.
While things like bedrooms, bathrooms, and kitchenettes can certainly make the space more comfortable, they're not required to meet the ANSI standards to count the square footage as finished space.
This means that you can spend money finishing this space in a way that makes sense for your needs, while also keeping costs down!
Location will be one of the largest factors affecting the cost of finishing a basement, but in general, you can expect that finishing this space will cost approximately 33% of your main floor square footage.
For example, if the home costs $150 per square foot on the main floor, then you could expect the basement to cost around $50 per square foot.
To find the total cost for the project, you'd simply multiply this number by how much space you're finishing. At $50 per square foot, a 1,000 square foot basement would cost around $50,000 to finish.
Additional Tips for finishing
#1 Create an illusion of space
Forego installing a space-cramping drop ceiling and just paint the air ducts, wires, and things a bright white. Then strategically place more lights to further brighten up the space.
#2 Smart flooring options
Stone, porcelain, or ceramic flooring would be the best options for covering a damp basement floor. However, laminates and cheap carpeting (like Berber) are the cheapest acceptable flooring options.
A painted or bare concrete basement floor does not meet ANSI standards.
The other thing to keep in mind is that while nicer finishings will lead to a more expensive basement finishing project, this is money that will be often recouped when (or if) you do choose to eventually sell the home.
Additional Basement Resources
If you found this article helpful, then make sure to also take a look at my other articles on basements.