Do you have the perfect kitchen design planned down to the last scratch but are confused about which type of tile will be best?
Or perhaps you do know which tile to choose but are confused if they are the right choice for your dream kitchen?
Whatever your dilemma is, this article will hopefully clear them all away.
While kitchen tiles are made of an array of materials like glass, cork, porcelain, or marble, ceramic has always been a popular choice due to its durability, versatility, and heat-resistant features.
They can match any aesthetic or look you want to match.
Let's take a look at these popular feature-packed tiles in detail.
What Are Ceramic Tiles?
Throughout history, ceramic was a simple material made from clay similar to pottery made of earthenware.
Nowadays due to modern technology, the definition of ceramic has expanded.
Water, sand, and clay are commonly used to make tiles. The grout between the tiles, on the other hand, is a different combination of water, sand, and an ingredient similar to cement.
The tile grout in certain installations is also constructed of epoxy rather than cement.
Most of the time, conventional ceramic tiles are referred to as "non-porcelain" to distinguish them from porcelain tiles.
While both are made from clay, ceramic tiles tend to be softer than their "cousin" and are glazed in different colors to create a harder outer surface.
This means it's easier to cut and install.
The coating provides a surface that is impenetrable to kitchen spills and splashes, despite the fact that it is more permeable than porcelain.
What Are The Different Types Of Ceramic Tiles?
Now that we know what exactly ceramic tiles are, let's look at the different types of them available in the market.
Generally, there are three types of ceramic tiles and they are as follows:
Glazed Tiles
As mentioned above, ceramic tiles are glazed with a protective coating that can range from matte to glossy finish.
If you are going for a rustic or traditional old-school kitchen look, matte finishes are the best choice.
They are also recommended otherwise too. On the other hand, ceramic tiles with a glossy sheen are elegant and give a room a polished look, so are perfect for modern designs.
They are generally suggested for wall applications.
Floor Tiles
As the name suggests, these types are specifically made for floor usage and are mostly on the matte side of the spectrum.
These tiles are more durable than the other types of ceramic tiles and hence are a great option for kitchen usage.
Make sure to specifically ask if the ceramic tiles you like are suitable to be used as floor tiles.
Wall Tiles
Bathrooms, countertops, and statement walls are just a few of the possibilities for wall tiles.
Wall tiles may truly provide an attractive design element to a space because of the diversity of tile styles available. They're also available in the same sizes as floor tiles.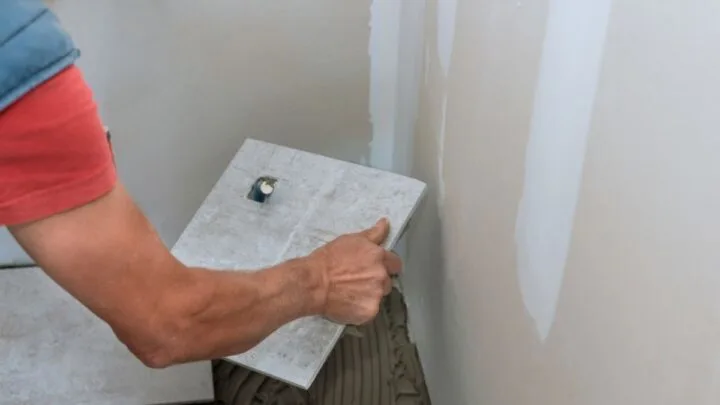 What Are The Advantages Of Using Ceramic Kitchen Tiles?
1. Design
Lately, ceramic tiles have been trending for their stylish and elegant designs. For example, wide tiles make your kitchen look larger and it is no wonder why they are so popular!
Generally, ceramic tile is available in a wide selection of colors to match any design scheme.
What's more is that, with the help of advanced printing technology, you can create ceramic tile surfaces that look like genuine stone (marble and travertine), concrete, wood, and also clean monotone designs.
2. Durability
These tiles are great at withstanding wear and tear, especially those that come from muddy shoes and spills. It is also extremely easy to clean.
Most days, a broom or vacuum, followed by a wet mop with hot water and an everyday cleaning solution, would be enough.
3. Price Range
Ceramic tile is one of the most cost-effective kitchen flooring alternatives due to its wide range of low-cost possibilities.
You will undoubtedly find a ceramic tile design that is within your budget.
What Are The Disadvantages Of Using Ceramic Kitchen Tiles?
1. Maintaining the Tiles
As mentioned at the beginning of the article, tiles are held together by grout.
Tile grout must be sealed on a regular basis, and it frequently necessitates specialised cleaning to avoid stains from accumulating between tiles.
2. Usefulness
While ceramic tiles can withstand a lot of wear and tear, ceramic tile is prone to cracking when floors are level or when kitchenware is dropped on it will almost certainly shatter.
They can also get hot or cold so using a rug can be helpful.
They can also get very slippery if they get wet. Using a textured surface can provide some friction.
Conclusion to Kitchen Tiles Being Ceramic
Kitchen tiles come in an array of materials, but ceramic tiles have long been a popular choice and it is no wonder why.
Given their usefulness, variability, and price range, they can fit almost any kitchen remodeling plan!