Modern homes frequently use vinyl planks as flooring. Many families choose them over other tile alternatives, like linoleum and hardwood, because of their cost.
The one thing that no one wants is to ruin the luxury vinyl plank flooring that they have just installed with previously owned amenities. Hence this may make many people curious as to whether their Ruggables can be placed on vinyl plank flooring.
Ruggable produces rug pads with latex-free thermoplastic rubbers that are safe on most commonly used floorings, including vinyl plank flooring. They are a terrific way to give a room a burst of color and design using any of their amazing collections of rugs. Just be careful to stay away from other carpets with synthetic rubber backings, as they could harm your floor.
That said, there is still a lot more to learn about Ruggable and vinyl plank floorings. Read on to find out everything you need to know.
Is Ruggable Safe for Luxury Vinyl Plank Flooring?
According to Ruggable, they make their rugs using latex-free, rubber-free thermoplastic resin backing that is considered safe to be used on your luxury vinyl plank flooring.
However, to maintain your luxury vinyl flooring, Ruggable recommends stopping dirt, dust, and moisture from gathering under your rug pad and frequently vacuuming or sweeping.
Ensure that the floor is entirely dry before re-laying your rug pad after cleaning the area beneath it and place flooring in hot or humid regions, such as close to a vent.
Additionally, they advise confirming with your flooring manufacturer whether your flooring material is suitable for your Rug Pad.
What Rugs Should Not Be Used on Vinyl Planks?
Vinyl is typically resilient and low-maintenance, but particular components included in many rugs and rug pads might harm it. Without a rug pad, some of the more durable natural fiber rugs would not be appropriate for use on vinyl flooring, as they could slide and damage the floors.
On the other hand, rugs made using synthetic fabrics including polypropylene, polyester, nylon, and chenille should not be used on vinyl flooring.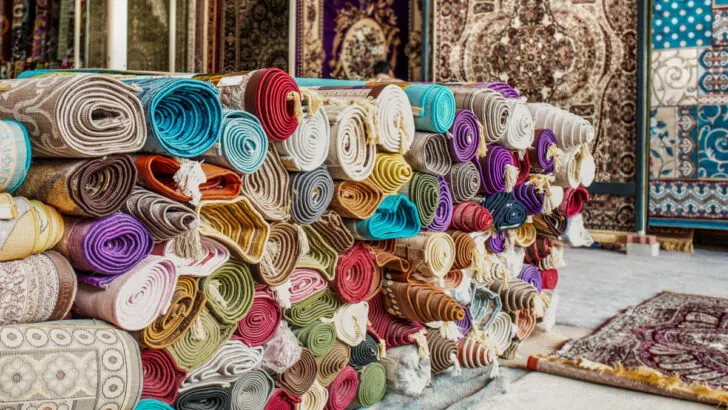 These carpets' chemical compositions can interact chemically with the flooring to produce stains, patterns, and residue.
Further, rugs with both natural and synthetic rubber backings should not be used with vinyl flooring because they react with the chemicals in vinyl and leave stains. This chemical reaction is brought on by heat from sunshine or even friction from walking on rubber-backed rug pads.
Lastly, many less expensive rug pad substitutes are created utilizing PVC material. PVC-containing rug pads have a variety of drawbacks and usually are created using glues and adhesives that adhere to floors and degrade indoor air quality.
What Kind of Rug Backing Is Safe for Vinyl Plank Flooring?
Polyvinyl chloride, the material used to make vinyl flooring, is severely harmed by the chemicals found in synthetic plastics used in almost all inexpensive, imported rug liners. And once your flooring has been harmed by a cheap rubber rug pad, there is no way to repair it because this occurs on a chemical level.
So, be sure to choose a rug backing for vinyl flooring that has a felt, polymer blend made from soybean oil, or viscoelastic memory foam backing. Synthetic rubbers should be avoided at all costs, as they will damage your floor.
Can You Use a Rug Pad on Vinyl Plank Flooring?
You can use most rug pads on vinyl plank flooring and it may even be necessary for most rugs as any firm surface will cause them to slide and bunch up. If a rug is placed on vinyl flooring without a non-slip rug pad below it, you'll find yourself needing to straighten it up nearly every time you pass by it.
This would also make your visually appealing item an extremely slippery trip risk.
Even though vinyl flooring is recognised for its toughness, a rug that hasn't been secured to the floor may quickly scuff, scrape, and stain them. Therefore, a rug pad will increase the lifespan of both your flooring and your rug.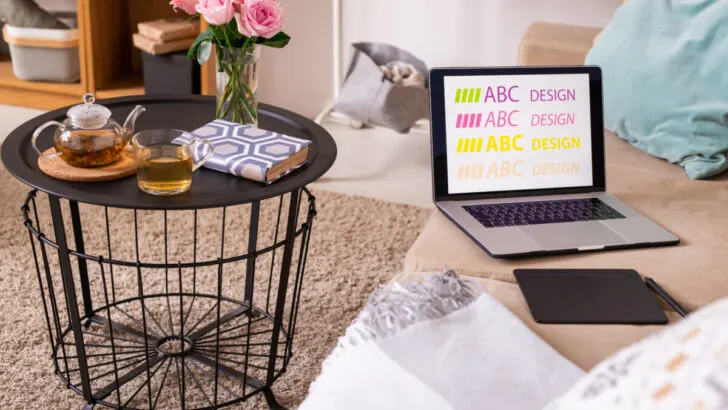 However, as mentioned earlier, rug pads made from synthetic rubber should never be used with vinyl planks. It can seem excessive to approach it this cautiously while buying a rug pad, but if you make the incorrect choice, your brand-new, gleaming luxury vinyl plank floors might be rapidly ruined.
Following are the types of high-quality organic rug pads that can be used with any rug backings to protect your vinyl plank flooring:
Anchor Grip
Anchor Grip rug pads are created specifically with vinyl flooring and urethane finishes in mind. These rug pads offer lots of grip without losing a modest profile due to them having an EVA back. Moreover, these are free of all of the chemicals that tarnish, corrode, and ruin the finish of vinyl flooring.
Eco-Plush
Eco-Plush pads offer a comfort increase for a sizable area rug while being suitable for vinyl flooring. These rug pads provide an extra touch of luxury and are perfect for a living area or bedroom.
The Eco-Plush is a felt pad that is both environmentally friendly and incredibly comfy. It is manufactured from leftover carpet fibers. Furthermore, it won't damage your luxury vinyl flooring because it doesn't include any glue, bonding agents, or adhesives.
It comes in three thicknesses of 1/4″, 3/8″, and 1/2″ and is ideal for placing beneath a bigger rug that doesn't require a non-slip grip.
Cloud Comfort
The pinnacle of underfoot comfort is provided through a Cloud Comfort rug pad. These rug pads make an area rug feel as smooth and comfortable as a mattress thanks to the use of biodegradable memory foam. All that padding is also very kind to the fibers of your rug, extending its life.
Additionally, the exclusive moisture barrier developed by Cloud Comfort shields floors from spills while allowing vinyl flooring to breathe. Moreover, it provides unmatched comfort, insulation, and sound absorption, making it the ideal choice for a sizable area rug that sits flat on its own.
Final Words for If Ruggables Are Safe for Vinyl Plank Flooring
In conclusion, vinyl plank flooring despite being durable can easily be ruined by putting a rug with a harmful back or pad. So it's vital to be informed about the dos and don'ts of the items that you can put on your floorings.
Furthermore, Ruggable claims to make their rug backs and pads using a latex-free and rubber-free material, making it safe for their rugs to be used on a vinyl plank floor.