Over the past few years, freestanding soaker tubs have emerged as a mainstay of high-end house architecture to give the bathrooms an opulent aesthetic.
On the other hand, vinyl plank flooring is a great option for the entire house, but it excels in the bathroom because it is waterproof and ideal for areas that can get wet easily. However, the question arises as to whether these two trendy elements can be combined.
You can put a freestanding tub on vinyl plank flooring. However, since a bathtub should stand directly on the subfloor, you shouldn't install vinyl plank flooring beneath regular tubs.
Read on to learn more about if you can put a freestanding tub on vinyl flooring.
Is Vinyl Better Than Laminate for Bathroom Flooring?
The vinyl plank you place in the bathroom will often be glued down. People pick vinyl planks over laminate for the bathroom because they can withstand a lot of water easily.
When directly compared, vinyl is a far preferable option for the bathroom and other places in the house where water can be a problem. Laminate has some water resistance in the top layer, but any water will spoil and damage it in the lower levels. For waterproof vinyl planks, the same cannot be stated. Even if that were to happen, water would soon dry off without harming the vinyl tile that had been bonded down.
Vinyl Flooring That Can Be Used in a Bathroom
The options for vinyl that may be installed in bathrooms are virtually endless. The following kinds are among the most typical: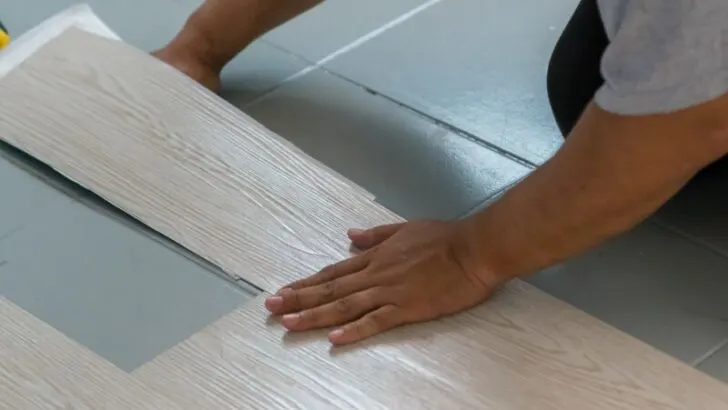 Luxury Vinyl Tile (LVT) – When installing tile in the bathroom, many homeowners choose this type. The tiles are typically 8 or 12 inches squares, but if the squares are larger, you may have additional possibilities that you may find more practical.
Luxury Vinyl Planks (LVP) – These are very similar to luxury vinyl tile, with the exception that they are available in long planks that give the impression of being made of wood. Many of the same installation procedures that apply to installing vinyl tile will also apply when putting them in the bathroom.
Sheet Vinyl– Installation of these is an additional option. This is a single, solid sheet of vinyl that would be laid from wall to wall, as the name would imply. The vanity and toilet will probably need to be removed to install the sheet vinyl, but you may also put it up to the edge; however, the end product won't appear as clean.
Does Vinyl Flooring Go Under a Bathtub?
A common concern raised is whether you should place vinyl plank under the bathtub when installing it in a bathroom.
Vinyl planks should never be put below a bathtub. The plank should be laid to the edge of the bathtub and placed directly on the subfloor. However, if you have a freestanding bathtub, that is the sole situation where this rule does not apply. The freestanding tub's existing tiles might simply serve as the floor below if placed underneath.
You could occasionally have a tub enclosure that leaves a tiny space beneath the tub. If so, you may put a short section of tile underneath the tub without having the tub rest directly on the plank.
Of course, there should be some room for expansion between the tile and the tub. You don't need to worry too much about the danger of water intrusion if you're utilizing vinyl flooring.
You simply need to be concerned with how it appears. A few rubberized trim pieces that are flexible and allow for contraction and expansion neatly fit into the space. Caulking is another option, although it's not quite as forgiving.
What Do You Put Under a Freestanding Tub?
It is preferable to place planks beneath a freestanding tub since vinyl planks stop water leaks. Additionally, personalized and printed planks provide creative nature to your bathroom and uplift the mood while assisting you in unwinding during your bath.
Under a soaker or pedestal tub, you may decide whether or not to add vinyl planks underneath. You could plank up to the base edge of a soaker and use it as an alcove tub.
In such a situation, the tub would be raised above the plank by a small coating of mortar. Alternatively, you may tile the whole floor before setting the tub on top of it.
Since the floor beneath a clawfoot tub can be seen, vinyl plank is typically used to support them. To provide some contrast to the space, you may also designate a specific flooring area for the tub. Under clawfoot tubs, porcelain is a common type of vinyl plank to utilize.
Just be mindful not to drag the tub during installation to avoid damaging the planks as these tubs weigh a lot. Make sure you enlist a few pals to assist you to relocate them. But don't worry, once the tub is mounted and immovable, its weight won't harm or fracture the planks.
You might choose an acrylic clawfoot tub if you are worried about weight. You get the same appearance. That expands your options for flooring beneath the tub as well. At that point, you may even place it on a wooden floor.
Do You Need to Reinforce the Floor For a Freestanding Tub?
Generally, freestanding tubs do not require reinforcement for floors however if you plan on installing a cast iron tub there must be a few checking made.
Modern fiberglass bathtubs weigh far less than cast iron bathtubs. Despite this weight disparity, the majority of conventional flooring is sturdy enough to hold a cast iron bathtub. In some circumstances for safety, such as in older homes, you could strengthen the floor before installing a tub if it needs to be strengthened. 
When deciding if your floor requires additional support for the installation of a cast iron bathtub, always check the joists for water damage. Check for any cuts, notches, or knots that might weaken the foundation of the bathtub. And If present, make the necessary repairs to strengthen the timber before installing a tub.
The bathroom area is typically constructed with this in mind because a bathtub is a standard piece of furniture in most homes. This implies that the floor in this area is often strengthened and constructed to support even greater weight.
The original home blueprints will help confirm this if you have them. In most cases, the construction in a house should be able to hold a standard-size freestanding cast iron tub without any issues, unless there is a problem with the joist spacing or the wood has decayed.
Final Words to Installing a Freestanding Tub on Vinyl Flooring
It is evident that vinyl plank flooring may be installed beneath freestanding tubs as opposed to conventional tubs. Given their apparent advantages over other flooring solutions, like laminate, they are the most popular choice that is available in numerous styles for the visual feel of your bathroom.
They can be customized according to the type of your bathtub and the overall mood of the room.