Vinyl flooring, despite being common in many households, sometimes comes with a major drawback. While it does give your home a beautiful appearance, it can also be the prime reason for you to slip and fall. In addition to its nature, vinyl floors become further slippery through oily substances, dust, or moisture.
Prevention is always preferable to treatment. And if you're worried about injuries caused by smooth vinyl, you can stop vinyl flooring from being slippery in a number of ways.
The best ways to make vinyl plank floors less slippery is to either use non-slip flooring, always make sure the floor is dry, and to lay textured vinyl on top of the plank flooring.
With that being said, let's discuss these methods in detail.
Methods To Make Vinyl Floors Less Slippery
There are several methods for dealing with slippery floors, however, some of them might not work well with vinyl flooring. Finding solutions that adhere well to polyvinyl chloride, endure a long time, and are straightforward to apply or use is crucial. Some of the best ways to make sure vinyl floors aren't too slippery include:
1. Don't Use Slippery Floor Cleaners
The primary reasons for slippery vinyl flooring are moisture, oil, dust, floor polish, and soap. To begin with, you should keep these products as far away from your flooring as possible. It's not always feasible to totally get rid of them, though. Therefore, you need a second treatment for your flooring to lessen its tendency to be slippery.
2. Utilize a Degreaser
Your garage and kitchen may be exposed to more oil and grease than other locations. Unfortunately, standard floor cleaning techniques will not be sufficient to remove these difficult grease stains. To get rid of the oil and grease on the affected regions, apply a degreasing chemical instead. However, it's crucial to remember that this works best to eliminate grease and is not a long-term non-slip solution.
3. Utilize a Non-Slip Spray
In cases where the surface is tiny or irregular, non-slip sprays are a sensible solution to consider. On interior and exterior vinyl flooring, these epoxy aerosol sprays produce a clear, firm, and textured surface. It is easy to apply, good for use without shoes, chemical-resistant, and practically unnoticeable after application. They ensure waterproof non-slip flooring and are efficient and affordable.
4. Utilize Polishes Designed for Vinyl Flooring
Your vinyl flooring might develop a slippery coating if you use the wrong types of polish. Hence, it is advisable to spend money on polishes created specifically for vinyl flooring. Although most polishes are simple to use and give your floors a glossy appearance, they shouldn't be used as a comprehensive anti-slip solution for vinyl flooring since they still leave a smooth layer on surfaces.
5. Apply an Anti-Slip Coating
Vinyl flooring can have a roll-on anti-slip coating called floor grip. When used, it gives a rigid, grippy surface which is resistant to chemicals and scratches. It works well to create anti-slip flooring for wet spaces and may be applied to both indoor and exterior floors. It is available in both matte and gloss finish to compliment the appearance of your flooring. It is a simple, affordable option and provides resistance to the floor without altering the aesthetics.
6. Utilize Non-Slip Mats
Another alternative for slippery vinyl flooring is anti-slip mats. Most anti-slip mats have rubber bottoms, making them difficult to slide or move. Although it would hide your lovely flooring, it is only sometimes practical to cover every surface with mats. Because of this, it is not the best option for big areas or if you want to leave your vinyl floors visible.
7. Clean Your Floor Thoroughly
Lastly, cleaning your vinyl floor is obviously a straightforward and popular method to make the floor less slippery. Use a PH-neutral solution to clean the vinyl thoroughly, then let it dry fully. However, make sure to utilize less vinegar when cleaning since it might cause the floor to be slippery.
Which Vinyl Flooring Should You Install To Avoid Slipping?
There are a huge variety of vinyl flooring options. The majority of vinyl flooring in the market is usually more concerned with appearance than practicality.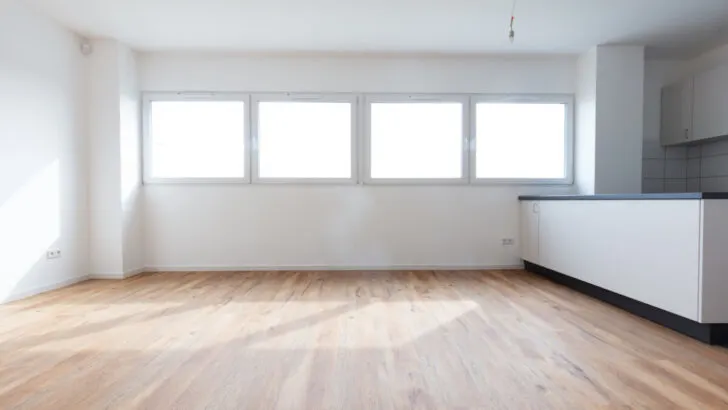 That could be alright in some circumstances. But if you're rebuilding and worried about sliding, the function of vinyl should be a priority. Following are the four types of vinyl flooring you can buy to avoid slipping:
No-slip vinyl flooring: These floorings have a unique texture and are composed of material that is resistant to slipping. Although they don't usually have the most attractive appearance, these floors are the safest. They are hence quite common in commercial kitchens.
Skid-resistant flooring: These have less traction than no-slip flooring. In order to lessen the likelihood of sliding, skid-resistant flooring frequently has microscopic grooves and patterns similar to those seen on vinyl with a wood-look finish.
Slip-resistant flooring: While it shares many of the same characteristics as no-slip flooring, these floorings are often more casually designed. In other words, this flooring style is more suitable for a home than many no-slip alternatives.
OSHA-Compliant: Installing OSHA-compliant flooring in your location is needed if you're furnishing a workspace like a lab or a restaurant. OSHA flooring must adhere to a number of different safety requirements. Naturally, being as slipping-resistant as possible is one of their safety criteria.
Final Words to Make Sure Vinyl Plank Floors Stays Less Slippery
To sum it up, there are a variety of ways you can use to protect yourself from slipping on a vinyl floor but there is no one best way for all scenarios. So, the method chosen must depend entirely on the particular scenario you are facing.
Moreover, if possible you can install non-slip vinyl flooring to avoid the hassle of maintaining your floor as grippy as possible.