If you are tired of the old bathtub design and prefer a new look, you can consider a soaking tub. But many wonder if they are comfortable enough to sit in and truly relax and soak.
Taking a bath may not be something you do every day, but when you do it, you want it to be an experience of comfort and enjoyment.
This makes it even more important to install a tub in your home that can provide this for you.
Soaking tubs are designed to be incredibly comfortable, and they are highly customizable, so you can make adjustments to suit your needs. This includes customizing the tub size, material, shape, and depth to improve comfort and allow for a better bathing experience.
Soaking tubs are popular in hotels and spas because they provide a more relaxing experience for the guests.
But they can be installed in your home to offer a soothing experience for people suffering from various health conditions.
This guide will explain more about soaking tubs and whether they are comfortable.
We have covered you if you have never used a soaking tub.
Table of Contents
Are you ready to upgrade your bathroom with a stunning and therapeutic soaking tub? My guide has all the information you need to get started with soaking tubs!
Are Soaking Tubs Comfortable?
A soaking tub is a freestanding bathtub that provides extra depth and a more modern design in your home for bathing.
It can be challenging to find comfortable bathing options, especially if you have trouble getting into a traditional bathtub.
Soaking tubs are designed to make bathing more comfortable and easier for people with mobility issues or other physical limitations.
These tubs are an alternative to traditional baths, which can be quite uncomfortable. A soaking tub is a bathtub that has a water-filled compartment at the bottom of it where you can soak in the water.
They are becoming more and more popular as people are trying to avoid traditional baths that can be quite uncomfortable for some.
The main difference between soaking tubs and regular baths is the size, design, and placement in the bathroom.
They also have slightly different plumbing requirements too.
These tubs have been around for centuries and have been used as a means of relieving stress, tension, and muscle aches.
You should consider one as a more comfortable method of bathing.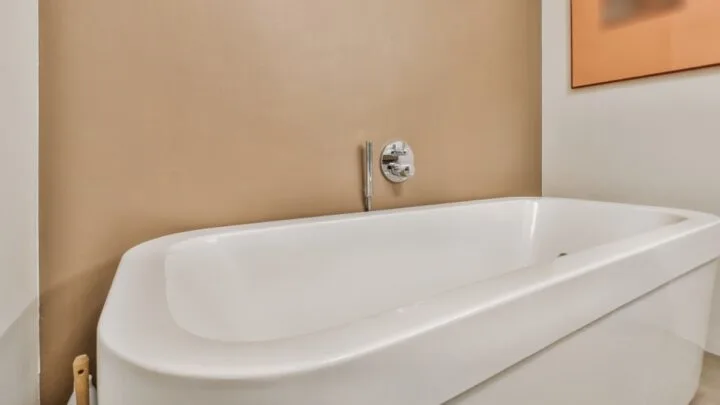 What Type Of Soaking Tub Is Most Comfortable?
The most comfortable soaking tub is one that is deep enough to cover your entire body while allowing enough space for you to lean back.
Soaking tubs are an essential part of many homes. They provide a relaxing soak in a warm bathtub with customizable dimensions to suit your needs.
This type of soaking tub allows you to be completely submerged in water without risking getting too cold or too hot.
But with so many designs to consider, which provides the most comfort?
Japanese Soaking Tub
We would not consider a Japanese soaking tub to be one of the most comfortable choices. It is much smaller and doesn't allow for that extra space to give you maximum comfort.
It is also worth noting they are quite expensive. On average, you can expect the depth of this tub to be about 21-24 inches, and they work best in small bathrooms.
Because of this tub depth, they provide a unique experience that can be comfortable for some.
The preference of the user will end up being the deciding factor.
Soaking Tub Shower Combo
The soaking tub shower combo can certainly save you some money and maximize the space in your bathroom well.
However, this is not the most comfortable tub. You do have flexible sizing options, though, and if you choose a large enough option, it could be worthwhile.
Drop-In Soaking Tub
The drop-in soaking tub is extremely comfortable because it is larger, wider, and provides excellent versatility in your home.
You can expect added costs if the proper plumbing is not in place, but bathing in this soaking tub style never lacks comfort.
Freestanding Soaking Tub
The freestanding soaking tub can be a bit awkward for some because it usually is located in the middle of the bathroom with nothing around it.
However, this can be relaxing and comfortable if you get a large enough tub to accommodate you.
Ultimately, the size of the tub is equally as important for comfort as the design.
What Makes A Soaking Tub Comfortable?
Soaking tubs are designed to make bathing more enjoyable. They are often used by people with conditions such as arthritis or other medical issues that limit mobility.
They come in different shapes and sizes depending on what your needs are. But what makes a soaking tub comfortable?
There are a couple of factors that you can look out for to ensure you install the most comfortable soaking tub in your home to maximize the benefits they provide.
Tub Depth
The standard tub depth is only about nine inches, making the experience uncomfortable because you would be unable to submerge your entire body into the tub.
Instead, you should aim for a tub depth between 14-15 inches to maximize comfort and make the experience worth the investment.
You can go even deeper if you would like. For example, an average Japanese soaking tub has a depth of around 21-22 inches.
Tub Shape
Tub shape is another factor that matters. Oval soaking tubs are designed to provide a more comfortable and relaxing experience.
These tubs are often used by people with arthritis, those recovering from surgery, or even by pregnant women.
The oval shape is designed to make your body fit into the bathtub without any effort on your part.
We recommend this shape in many instances because it is affordable and comfortable.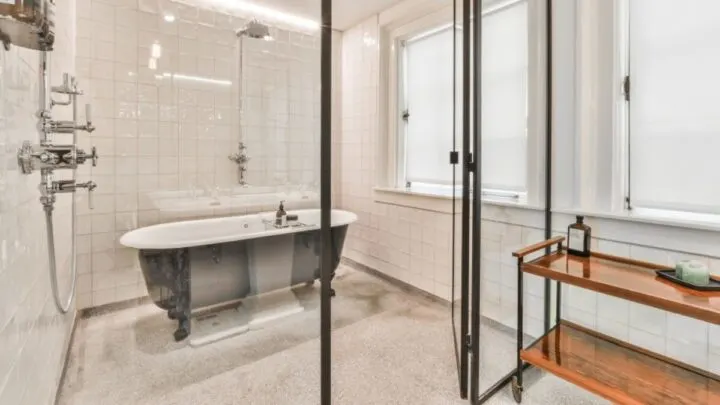 Tub Material
The tub material can vary, and it will impact both the durability of your soaking tub and the comfort it provides.
Some of the materials include porcelain, acrylic, fiberglass, and marble. We prefer acrylic when it comes to comfort, and it is much easier to clean and install.
Summing Up If Soaking Tubs Are Comfortable
Soaking tubs are, for the most part, extremely comfortable, as they are made for people to sit luxuriously in them for a longer period of time, either for relaxation or medical purposes.
If you need to make adjustments, you can also put in extra comfort add-ons to help with whatever you may need to be changed about the tub.
If you found this article helpful and would like to learn more about soaking tubs, make sure to take a look at the related posts below!