If we learned anything from lockdowns and the pandemic, it is the value of a home gym. So exactly how much does it cost to get one now in 2022?
Whether you hate getting stuck in traffic, crowded spaces, or dirty locker rooms, there are plenty of reasons to be turned off by commercial gyms.
These are just a few reasons why so many people are pivoting to the idea of a home gym instead.
In 2022, a home gym could cost as little as $500 or as much as $10,000 or more, depending on how extensive you want it to be. The basics you need include benches, dumbbells, weights, and resistance bands. Weights and dumbbells go for about $2 per pound on average.
The cost of a home gym depends on how you want to use it and the type of exercise you want to accomplish. For example, accumulating a complete set of weights for powerlifters would be a much more significant expense than for someone who prefers light cardio and bodyweight exercises.
This guide examines the home gym cost and how it varies based on your needs.
Researching the industry average for equipment costs is necessary to understand what it would take to build a home gym.
Keep reading to learn more about how you can get your home gym built today.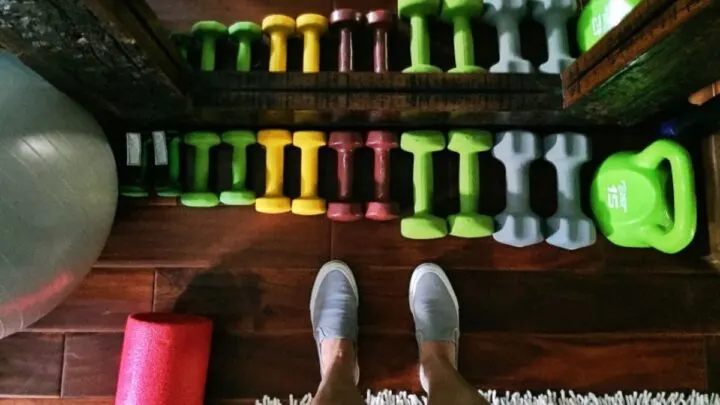 How Much Does A Home Gym Cost?
Home gyms have become popular in the last few years. They provide a more convenient and affordable way to work out than going to a gym daily.
The price of a home gym is determined by how many features it has, how much space it takes up, and what kind of equipment it has.
This guide will help you get started on your home gym journey. It will show you the different types of home gyms available, how much they cost and what features they need.
A home gym can cost anywhere from $500 to $10,000. Many factors influence the cost of a home gym, such as the size and quality of equipment.
The price range for a home gym is broad, but it's important to remember that you don't need a high-end gym to get in shape.
A small machine or weight set will work just fine.
What Do You Need To Buy For A Home Gym?
A lot of people are starting to take up the trend of working out at home. This has many benefits, such as convenience and flexibility, but it can also be more complicated than going to a gym.
People need to have a home gym to stay fit and healthy. If you are looking for the best home gym, you need to ensure that it is a space you can use and enjoy.
A home gym needs equipment like dumbbells, barbells, weight plates, exercise mats, and other essentials.
A good home gym should be able to provide convenience as well as safety for the user.
Below you will find all the essential equipment needed for a home gym. Some items may not be necessary for gyms with less space or if you have different needs in your workout regime.
1. Adjustable Bench
You need to buy an adjustable bench for your home gym. The best ones are those that adjust to every angle so that you can do many different exercises on them too.
The best part about the adjustable bench is the pricing. It is the most versatile piece of equipment and should only cost about $150.
2. Dumbbells
Dumbbells should be prioritized over any other weight type if the budget is smaller. They are more versatile to do a range of exercises with.
A complete set of dumbbells can get expensive quickly, so you should consider the type of lifting you like to do first.
It costs about $2 per pound for a dumbbell set.
You can also opt for a complete set at a discount, which should cost you about $500 to get all the essential weights.
3. Barbells
An Olympic barbell is essential for any serious weight lifter interested in building muscle or putting on size.
It is a versatile piece of equipment that allows you to do dozens of different exercises. The average cost is between $250-$350, depending on brand and quality.
4. Plate Weights
If you buy a barbell, you also need some plate weights for the investment to make sense. The more weights you buy, the higher your costs.
You also need to buy your weights in pairs when purchasing.
Assuming you are buying a set of 45-pound plates, it can cost between $100 to $500 depending on how many total plates you purchase.
Expect to pay around $2 per pound for a brand new set of Olympic plates.
5. Resistance Bands
We recommend resistance bands to gym-goers who don't intend to do the heavier lifting. They serve as an excellent exercise alternative at a fraction of the cost.
They can also be used in heavy weight lifting routines. You can get a set of these bands on Amazon for under $50.
6. Jump Rope
Jump ropes are another cheap option to add variation to your exercise routine. You can pay as little as $10 to $15 for a single jump rope.
This is a great cardio alternative to avoid buying an expensive bike or treadmill.
7. Cardio Equipment
This is where you can start to increase costs quickly. Adding a treadmill or spin bike will cost at least $500 and potentially more if you buy a brand new one.
We don't recommend this if you are on a tight budget because other equipment is more valuable. You can always go outdoors to do cardio instead.
8. Kettlebells
Kettlebells are a luxury item you can add to your gym to change up the type of lifts you can do. However, they are far from essential if you have dumbbells.
Adding them will increase the versatility you have to try new workouts. But your weight lifting style should be the deciding factor with kettlebells.
They should cost between $50 to $300 depending on the amount you buy, and the total weight included.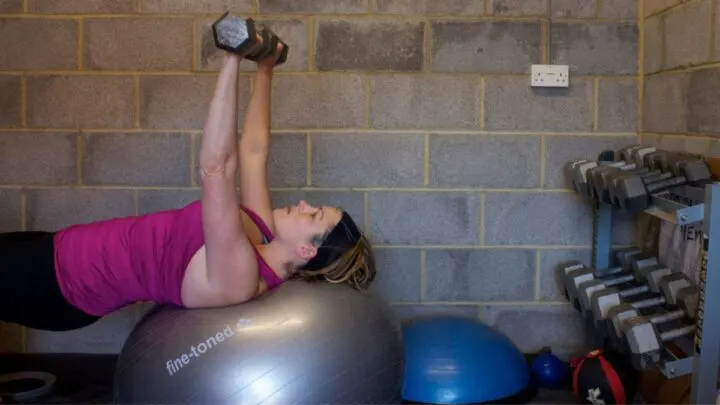 Where Should You Put Your Home Gym?
When considering where to put your home gym, it is important to consider the size of the space you have available.
If you have a small space, then it might be better to place it in the basement or garage.
If you have a large property, then you might want to place it in one of the rooms that is larger with more space.
There are four primary locations we consider when building a home gym. They are listed below for you to choose from.
1. Garage
The garage is likely the best place to build your gym to optimize space and include all equipment comfortably.
However, there are a few downsides too. For example, cold weather homes will need heaters to work out when the seasons change because freezing weights are not fun.
2. Basement
The type of basement you have will determine the costs. For example, an unfinished basement could give you better flexibility and spacing because dropping weights won't be a concern.
If you have hardwood floors, you would likely need to add some type of padding that could increase your costs.
The size of the basement also matters.
3. Attic
The attic gym has decreased in popularity because it is uncomfortable and cramped.
You are limited to using lighter weights, and the setup is a nightmare.
4. Spare Bedroom
A spare bedroom is a cheap option that could provide the optimal amount of space for your home gym. Be sure to take measurements and check the flooring type.
Why Should You Build A Home Gym?
A home gym can be a good investment for people who want to get in shape. It doesn't have to be a fancy gym that requires a lot of money and time.
You can build your own home gym with minimal cost and effort.
A lot of people find it more convenient to work out at their own convenience, and they can also save money on gym memberships by not going out as often as they used to.
If you want to get fit, lose weight, or just stay healthy, a home gym is the best way to go. It's easy to build and doesn't require any special equipment.
Consider the following benefits if you are not sure whether it is worth it to build a home gym.
No Commute To Workout
Home gyms are a great option for many people who don't have the time to commute to a commercial gym.
They allow you to do your workouts at home, save money, and get a professional-looking workout. This saves you money on gas too.
Workout Anytime You Want
Home gyms have many benefits and can save you time and money. This is especially true if you prefer to avoid a stricter routine.
They are more convenient than traditional gyms because you can work out in your own home, at any time of the day or night.
No Crowds
Working out at a home gym gives you privacy and eliminates waiting for machines.
Commercial gyms can get quite busy, especially during rush times after work.
When building your home gym, you eliminate this burden, and you can avoid the crowds. This is also helpful to people who are timid in the gym too.
Cleaner Workout Area
You have full control over the hygiene of your home gym. There are no random people sweating on machines, and you can work out without getting dirty or exposed to germs.
Do Whatever You Want
The most notable thing to remember about a home gym is that it is completely yours. This is a private space where you make the rules.
For example, some gyms don't allow you to drop the weights or use white chalk. At your home gym, you decide what is allowed.
Home Gym Cost Vs. Gym Membership Cost
The cost of a home gym is lower over time than the cost of a gym membership, which makes it much more affordable for those who don't have time to go to the gym or can't afford it.
However, if you go to the gym regularly, you should consider getting a membership because the initial upfront costs for a home gym are more significant.
The average gym membership is likely around $30 to $60 monthly, depending on where you live and the quality of the gym.
If you could set up your home gym for $1,000 or less, you would break even on your home gym within the first two years. And this does not include any hidden upfront gym fees.
This does require patience though, and you need to take care of the equipment properly to avoid damage. If you can spare the upfront cost, it provides long-term value.
You also own the equipment now. It can always be resold at any time to recoup some of the money that has been spent.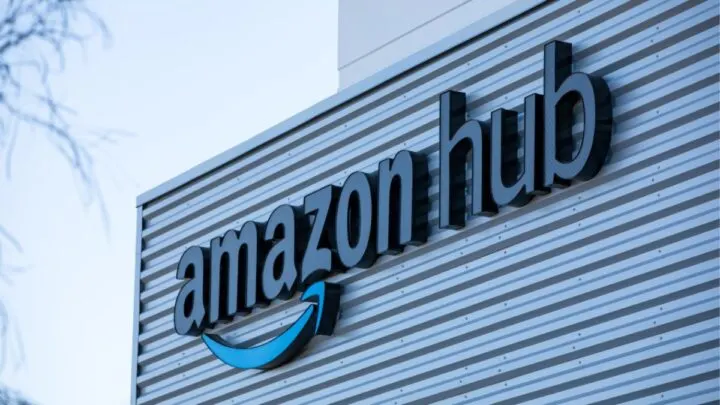 Where To Buy Equipment For A Home Gym
There are many different types of equipment that people can buy for their home gym.
But to stay healthy, it is important to have the right equipment for your body type.
When buying equipment, it is important to know what your body type is before you go shopping.
This will help you decide which type of machine or piece of gear will be most beneficial for your needs and goals.
Below we have listed some of the top places to find affordable home gym equipment you can buy without breaking the bank.
Dick's Sporting Goods

Amazon

Craigslist

Facebook Marketplace
All of these retailers provide fast shipping times and a wide range of equipment products to consider for your home gym.
If you don't mind adding used equipment to save some money, Facebook Marketplace is the best place to look. You can get some amazing deals from people looking to sell fast.
This is also the fastest way to get equipment because you can drive to pick it up right away.
Summing Up Home Gym Costs
Setting up a home gym is a great way to save money in the long run and also create a workout space all for yourself. They generally run anywhere from $500 to $10,000 depending on what kind of gym you want, and what equipment you want to include.
Make sure you look into where you want to put the gym in your home, if you have enough space, and what kind of workout equipment you want to invest in.