When designing a home, a common question asked is how to arrange a sectional sofa in a living room.
This is because a sectional sofa is a great way to add seating.
They are big enough to seat lots of people at the same time and look great in the living room.
Some common tips to arrange a sectional sofa in a living room include placing the sofa across the focal point of the room. Moreover, it should not block any doors or windows as the worst thing would be to block out ventilation spaces in a living room.
You can find sectional sofas available in lots of configurations, styles, and colors.
It is important to plan and measure properly since sectional sofas are big, and you want to utilize the space in your living room efficiently.
After all, this sofa will become the perfect gathering space for your family and friends, so it is important to arrange it properly while making it look welcoming.
How to Arrange a Sectional Sofa in a Living Room
Sectional sofas are designed to create a visual separation between different living room areas. They can be used for lounging, sitting, or even sleeping.
Sectional sofas come in numerous shapes and sizes. They also have different purposes. One of the most common and practical uses for a sectional sofa is to arrange it in a living room.
Understand the Focal Point of the Living Room
To understand where the focal point of the room lies, you need to walk to the center of the room and take a minute to understand where your eyes are naturally drawn.
You might find that your eyes naturally find the fireplace, television, or are drawn to the view outdoors.
When noticing the natural focal points of a room, you must also ask yourself what you want to do with the room.
Do you frequently plan movie nights with family and friends, or do prefer spending time alone in a room where you can enjoy the view from the window or fireplace without any distractions from the outside world?
Based on your decision, you must place the sectional sofa accordingly. We would recommend keeping the floor plan open so that people can easily maneuver around a room.
Moving around can become difficult, especially if there is too much furniture in the way.
One thing to remember is to avoid blocking entryways when arranging your sectional sofa.
This is why it is important to know the size of the room before purchasing a sectional sofa.
You should also consider the number of people who will be using it and if you want it to be used as a guest bed or as a different seating arrangement.
Take the Room's Measurement
Before you bring a sectional sofa into the room, you need to think about the size of the room. It is important that the sofa fits your space perfectly.
If you have a compact living room, you must ensure that the seating area does not overcrowd the space.
For bigger living rooms, the sectional sofa could be used as a partition to another room.
The key is to map out spaces so that you can select a sofa based on the size of the room.
Take a newspaper and put it down where you want to place the sofa. Get a tape and take note of the proportions.
Keep in mind that you need 36 inches minimum around the sofa to move around. Make your decision accordingly.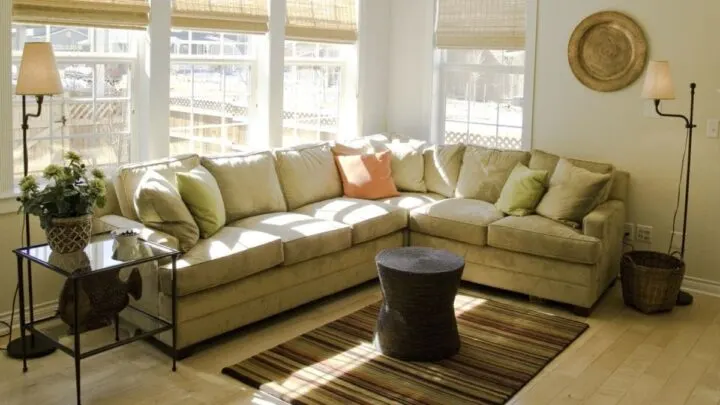 Avoid the Walls
If you have a sufficient amount of space in the living room, it is best not to push furniture against the walls.
The sectional sofa should be placed in the center of your living room.
The aim is to create a comfortable spot for yourself or family and friends to gather around.
We would recommend that the sofa be used to align other pieces of furniture.
You can get a U-shaped sectional sofa to match the walls of the living room or an L-shaped sofa if you want to place it in the corner of a smaller living room.
Don't Block Doors and Windows
The sectional sofa must be arranged in a way that does not block the doors and windows in the living room.
If a sofa is placed right in front of a window, the ventilation of the room will suffer. Moreover, you will block the beautiful view.
Another thing to keep in mind is that sofas can block natural light when placed too close to a window.
Moreover, the sofa should not block any part of the doorway. Not only does this cause inconvenience, but it can also become a safety hazard in case of a fire.
We would recommend that you measure the sectional sofa you want to purchase before bringing it into your home.
Once you are aware of the dimensions, you can figure out whether it will fit into the living room without blocking the door or windows.
Finishing Touches
Now that you have learned how to arrange a sectional sofa in a living room, you must pay attention to the finishing touches.
This means ensuring that everyone has sufficient space for their plates or beverages.
You can place some side tables close to the sectional sofa, along with some table lamps to illuminate the space.
Moreover, if you want to create the ultimate space for movie nights or casual gatherings, you can also drape some small blankets over the ends of the sofa or keep them neatly stacked in a basket nearby.
This will allow people to pull them up if they feel cold and create a cozy atmosphere in your living room.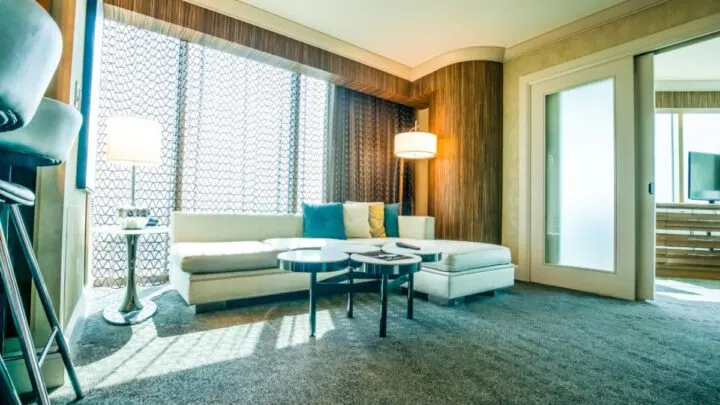 How To Separate A Sectional Sofa
If you are moving your sofa or want to separate it to create more space in your living room, it can be done quickly.
First, you need to remove all of the cushions from the couch. Put them somewhere safe because you will need them again.
Once all the cushions are out of the way, you can look in the corner of the sofa where the sectional meets.
In this area, you are going to find a handle or a lip that connects the two pieces. Most sectionals only require you to lift this piece and move it outward.
This will separate the sectional into two pieces. If you have an even bigger couch with three pieces, you can do the same thing on the other side.
Summing Up How to Arrange a Sectional Sofa
There are many ways to arrange a sectional sofa in your living room, and however you choose to arrange your living room, just make sure you organize it accordingly so you can get the most of your space.