If you're thinking about updating your garage with new floor tiles, several great options have come out in 2022 that will meet your needs.
Garage floor tiles have come a long way in recent years and what you choose to use can make a big difference in your garage floor's safety, durability, and the aesthetics of your overall garage.
But deciding which floor tile to use can feel overwhelming at a time that so many options are available.
Some of the best garage floor tiles in 2022 are IncStores Nitro, Swisstrax, Race Deck Free Flow, Nitro Tiles Pro, and Vented Grid-Loc Tiles.
Each of the tiles listed above has received rave reviews by consumers and installers alike.
They also have reasonable price points, are easy to install (whether you do it yourself or hire someone), and have a track record for being durable and safe. Plus, they look nice.
As a big fan of home improvement projects, I'm always on the lookout for the latest ways to make a house feel even more like home.
Read on to find out why we've chosen the above garage floor tiles to be the top picks for 2022.
The Best Garage Floor Tiles
Our garages are no longer places just to store unused junk, the kids' bikes, or that car we keep promising ourselves we are going to get running.
The home garage has become an extension of our living space.
Whether it's a home workshop, a makeshift gym, or a fun place to throw darts and throw back a few beers with friends, the garage has become a place of pride for many homeowners.
But our garages are still asked to be the workhorse of our homes as well.
Sports and lawn equipment, an extra refrigerator or large freezer, a boat or cars, we expect our garage floors to carry a lot of weight.
And we want them to look good while they are doing it.
Thanks to the following flooring options, you can have the durability and the safety you need in your garage floor, while also having something that looks good at the same time.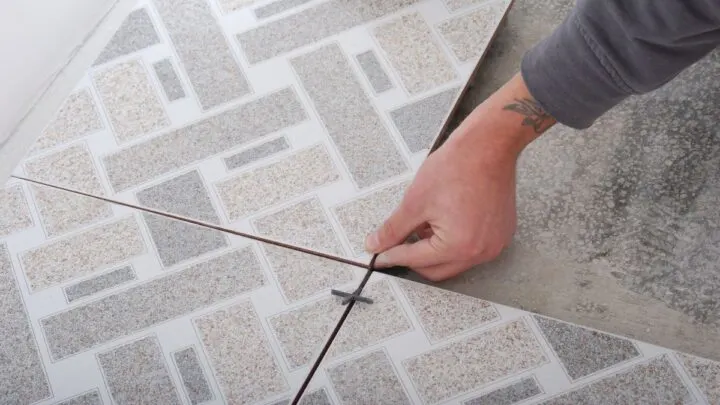 1. IncStores Nitro
IncStores Nitro Interlocking Garage Floor Tiles (click here to see it on Amazon) are a tried and true favorite.
They come in one standard 12×12 inch size and in a coin, diamond, or vented pattern.
Made of hard plastic material, these tiles are a good, all-purpose choice when your garage is going to be used for a variety of activities.
There are four tile colors to choose from: red, orange, blue, and black.
These can be mixed and matched to give your garage a truly custom look.
Though their snap-together style makes them easy to install, they are also durable, and can handle heavy vehicles and just about any type of liquid your garage is going to throw at them.
They come with a 3-year warranty and a price that's reasonable enough to allow for the rest of your garage to get the makeover it deserves.
When looking at overall performance versus cost, the IncStores Nitro is a perfect choice for someone who wants to try garage tiles for the first time.
price: 2.88/sqft
2. Swisstrax
If you are looking for flooring that is as attractive as it is durable, Swisstrax may be the brand for you.
This company is known for producing quality materials and backing them with their 30-day money-back guarantee and a lifetime limited warranty.
The tiles are 15 x 15 inches, making installation quicker than some of the smaller brands, and come in a wide variety of colors.
If you decide to check out Swisstrax's website, you'll find their easy-to-use garage floor design software is fun to use and will give you a very realistic idea of how much material you're going to need, and what the end result is going to look like, based on your actual garage measurements and needs.
Swisstrax also makes tiles that are great for home use as well, such as a mudroom, laundry room, or even a workout area or kid's playroom.
price: 4.99/sqft
3. Race Deck Free Flow
Perhaps the thing that sets Race Deck Free Flow apart from some of the others is that these tiles can all interlock with each other, whether you choose the ventilated type or solid ones.
This is a great option if you have areas of your garage that you want water, winter slush, or other liquids to be able to run through but have other areas where you need a solid flooring, such as beneath a workbench.
A ventilated tile is ideal for under cars or lawn equipment, where the ability to wash away outside debris is key.
On the other hand, a solid tile will be best if you don't want to deal with sawdust or wood shavings getting stuck in grooves that are hard to clean out.
The fact that Race Deck's tiles can all snap together, regardless of the style, is a great benefit to those garages that are used for many different purposes.
Race Deck was the first company to create modular garage flooring tiles.
And with 9 styles and 14 colors to choose from, these 12 x 12 inch tiles are definitely ones to consider when you are in the market for garage flooring.
3.99/sqft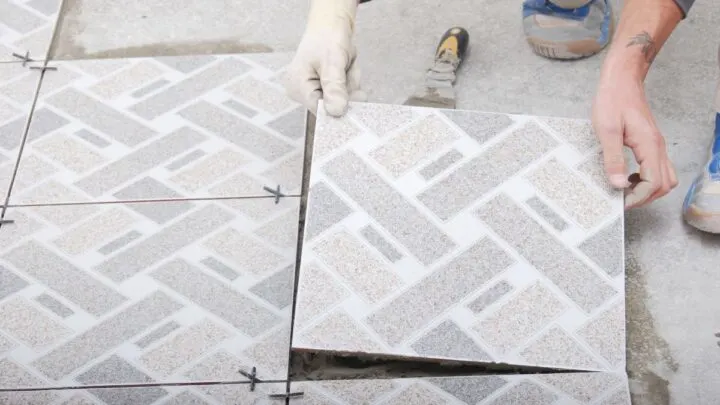 4. Nitro Tiles Pro
The Nitro Tiles Pro is a slightly more expensive upgrade from the company's original Nitro Tile, but I think the added cost of 40 cents per tile is worth it.
The patented, easy-to-clean surface does a great job at resisting all types of stains or chemical spills and the tiles detach easily if you need to remove one for a deeper clean.
Their color patterns are impressive as well and would be a great choice for the person to whom aesthetics are just as important as the function of their garage flooring.
One thing that many garage flooring enthusiasts like about the Nitro Tiles Pro is they tend to be a bit thicker than other tiles, giving them a more substantial feel.
The 12 x 12 inch tiles are made from a polypropylene plastic that is incredibly weight resistant, so if your garage is housing heavy automobiles, a boat, or substantial lawn care equipment, the Nitro Tiles Pro is going to hold up under that level of pressure.
This company has a good reputation for its customer service and backs its tiles with a limited lifetime warranty.
price: 3.49/sqft
5. Vented Grid-Loc Tiles
If choosing tiles that are made in the USA and come with a strong warranty is important to you, you may want to consider Vented Grid-Loc Tiles for your garage floor.
These tiles come in a vast array of colors and are one of the best-priced tiles on this list.
The vented tiles are made to help remove liquid spills and outdoor debris, and the vents are wide enough to make them easy to clean.
All you need is a shop-vac or leaf blower to remove the debris.
It's also easy to unsnap individual tiles for a deeper clean or if they need to be replaced.
Grid-Loc's vented tiles are super resistant to anything you and your garage expose them to. Grease, oils, chemicals, and even anti-freeze haven't been able to fade these tiles.
The 12 X 12 inch tiles snap together easily and come with a generous 12-year warranty and a 30-day money-back guarantee.
price: 3.19/sqft
What To Think About When Picking Garage Floor Tiles
With so many options on the market, it may feel overwhelming to choose which flooring type is right for you and your garage.
After all, tiles are an investment, and though installation with all of the above brands is pretty straightforward – it's still a commitment of not only money but time.
Knowing what your specific needs are will help you choose wisely and guarantee you'll be happy with the final product.
Materials Matter
There are three basic types of materials most garage tiles are made from.
Which one you choose to use will have a lot to do with what your garage is typically used for, how much you want to spend, and how much time you want to invest in the installation and maintenance.
Rigid Plastic – This is usually a PVC plastic material that can handle a lot of weight and a lot of mess. These are best for people who will spend a lot of time working on a car inside of a garage, or need a tile that can handle the significant weight.

These tend to be the most expensive tiles on the market and are noisier when walking on them or driving vehicles over them.

Flexible – Tiles that are made from rubber or foam materials fall into the flexible tile category. These are more comfortable to walk or kneel on and make less noise than rigid plastic tiles do.

Flexible may be more appealing for those who want durable flooring but are also thinking about comfort.

Flexible tiles can't handle the weight that rigid plastic ones can, and may need to be replaced more often.

Peel and Stick – Peel and stick tiles are exactly what the name implies. Whereas rigid plastic and flexible tiles are connected together in a snap-and-lock design, peel and stick tiles are attached to your garage floor with an adhesive glue that is pre-stuck to the tiles.

These tiles can be trickier to install because once they are in place, they are hard to remove. That said, peel and stick floors can give a clean, very smooth look to your garage floor.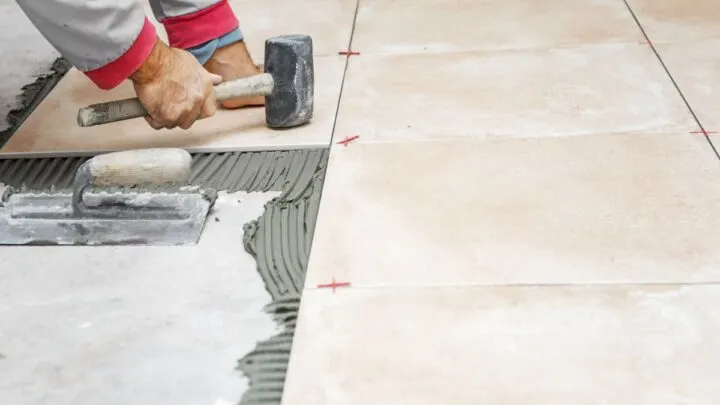 Size Matters, Too
When thinking about the aesthetic look you are trying to create in your garage space, the size of the tile you use will factor in, just like the material or color scheme.
Though most garage floor tiles come in a standard 12 X 12 inch size, there are some that come in 15 X 15 inch or even 24 X 24 inch squares.
Obviously, the larger squares will install faster, but they are also harder to place if you have an odd-shaped garage or a lot of little nooks and crannies.
Also, if you are going for the classic, checkerboard look, the smaller squares will give you what you want.
On the other hand, you may prefer a less-busy pattern. In that case, reach for the bigger guys.
Beauty Versus Brawn
This is a big factor when deciding what floor tile is going to be right for you.
Though most of the tiles on my list have some significant similarities, deciding if you are more interested in the look or the functionality of your floor will make a difference in which brand you ultimately choose.
If your garage is a true garage – meaning you use it for automobile storage, mechanical work, oil changes, and car repair – then a tougher, more resilient tile is going to matter to you more than how attractive it is.
But, if your garage is more of an extension of your home and is used as a home gym, equipment storage, do-it-yourself projects, or even a place to hang out when you need some space away from everyone else, then durability may not be as important as how visually pleasing your floor is.
Summing Up The Best Garage Tiles
All the garage floor tiles listed above rank high in their ability to provide you with a high-quality, durable product as well as allow for some creative, aesthetic fun.
Just know that each of these tiles may have one strength that is slightly above the other. Think through where your needs and priorities are before you decide which one is going to be right for you.