Are you finding yourself working from home more often but don't have a comfortable office chair to work from? A great chair can quickly enhance your productivity, but it can also quickly put a dent in your wallet!
With that in mind, I've taken the time to put together a list of the 8 most comfortable office chairs that will allow you to work better from home without busting your budget!
No products found.
If you're looking for a chair for your home office, this is a wonderful option. It has the mesh back, so air will move and keep you from getting sticky and hot.
The base offers 5 points of support, so the wheels will function well on carpet or on a hard surface or plastic mat. The arms can be adjusted up and down, or just flipped back out of the way if you prefer an armless seat.
The OFM Core Collection Midback Mesh Office Chair is available in blue, grey, black and burgundy. It has a 275 pound weight limit and is easy to adjust up and down. There is a tilt lock mechanism that allows a bit of give once it's set.
Pros
Easy Assembly
Adjustable and rotating arm rests give a lot of flexibility
Top range of height adjustment is nice for tall folks
Cons
The plastic under the mesh back is challenging to clean
Take care during assembly to avoid cross-threading the bolts, particularly when attaching arms
If you're in the market for a more traditional chair design with a padded back, the CaressoftPlus Executive Chair is a terrific option. This chair is easily adjusted up and down and will suit users of nearly all heights thanks to the firm but well-cushioned seat.
The base offers 5 points of support for the casters and the chair will suit a user up to 275 pounds, so it will roll easily and not get bogged down on carpet.
In addition to offering padding on the seat and back, the material on this chair is as easy to clean as vinyl with none of the stickiness or cling after you've been working for a few hours. The arms also offer a bit of padding. This chair is available in black or white.
Pros
Stable chair with enough cushion to prevent back strain
Nice deep cushion for those with longer legs
Quick, easy assembly
Cons
Limited lumbar support
Cushion is rather stiff, not memory foam
The Flash Furniture Ergonomic Mesh Office Chair offers customization options from top to bottom. It tilts, but you decide the resistance. The arms can be moved in and out or lifted up and down. The headrest and back are also adjustable.
This chair is entirely mesh. If your office runs warm, you can use a fan to move air and quickly cool down your workspace. The Flash Furniture Office Chair is easy to assemble and very lightweight, so it rolls easily on most any surface.
Pros
Cool and breathable
Short seat from hip to knee with a strong curl at the front, so no leg strain
Decent lumbar support
Cons
Lumbar support pushes some users too far forward
Mesh material pulls at clothing
Short seat can be uncomfortable for taller users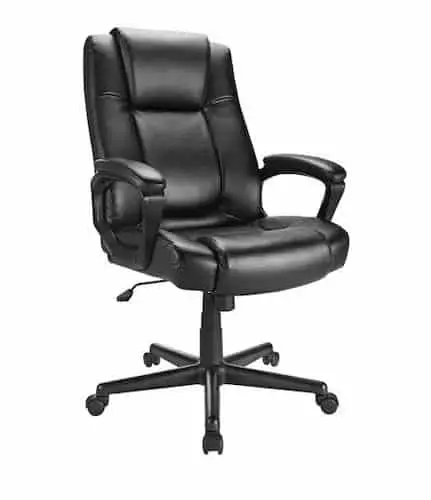 Tall folks will love the Realspace Hurston Bonded Leather High-Back Executive Chair. This chair offers reclining as well as tilting of the body of the chair with a locking mechanism to hold it steady.
The casters also lock, allowing the user stability when working to maintain close quarters and good posture.
The chair offers some plastic for durability, but the majority of the piece is either all wood or all metal. It's also all black, so if you're looking for an elegant piece to look sharp in webinars and Zoom Meetings, you're all set.
You'll also enjoy the comfortably plush seat, back and arms!
Pros
Tall chair with nice hip to knee dimensions for taller users
Lots of width for arm room
Solid black finish
Cons
Shorter users will find this chair very uncomfortable
The tilt lock is pretty limited if you don't like to recline
Cushioning may be too deep to protect from a sore back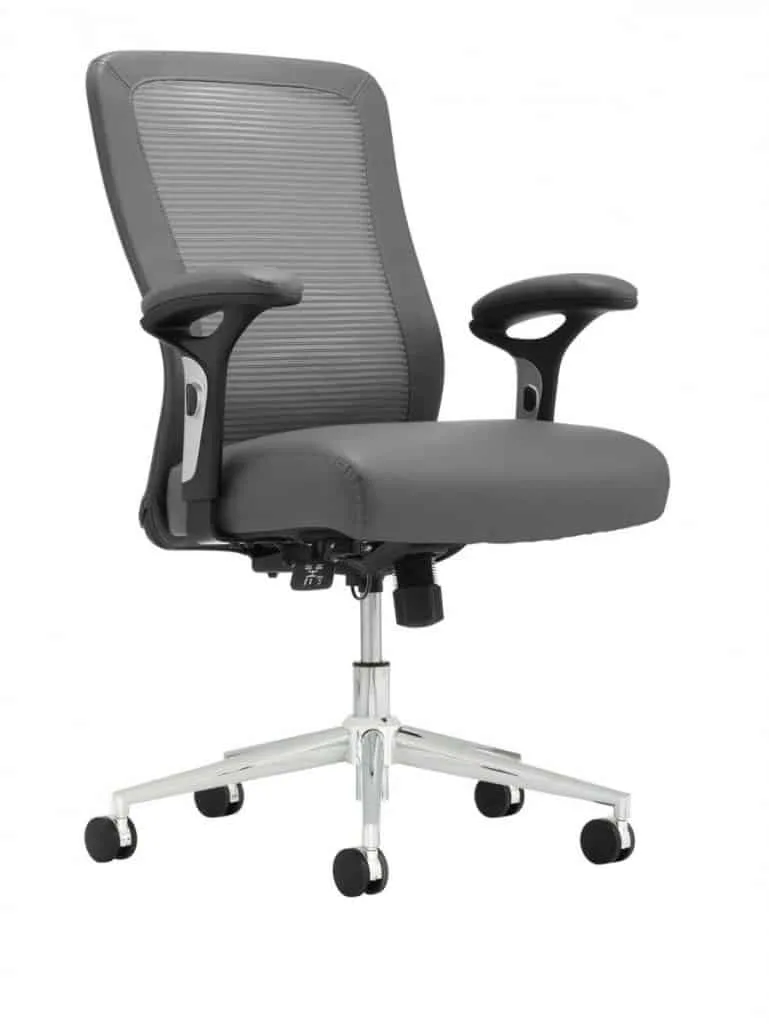 For a bit smaller chair with more breathable fabric, consider the Realspace Modern Comfort Cassia Mesh/Bonded Leather Mid-Back Manager's Chair. It offers an adjustable lumbar support, height adjustments for the seat and arm adjustments.
The seat offers plenty of width for arm room without being so long from hip to knee that feet will dangle. Even better, the adjustable back support will allow you to slide back a bit if you do need more length.
The silver grey tone of the bonded leather seat and trim on the mesh of the back of the offer elegance and simplicity.
Pros
Lots of adjustment options to make this chair work for almost any height
Breathable back
Plush seat
Cons
Seat may be too wide for some workers
Can't lock seat in tilt-back position
If you love the classic look of tufted furniture but really need a modern chair, you're in luck!
The teal Modway Regent Tufted Button Swivel Office Chair offers a sturdy chrome base with castors for easy motion, an adjustable height mechanism and 360 degrees of rotation, but it also offers comfortable woven fabric, silver tacks and a tufted back for a truly classic look.
This is a smaller chair for smaller folks; the upper weight limit is only 200 pounds. However, if you're tired of swimming or sliding around on a big leather chair, you may have just found a chair you can love.
Pros
Fabric options make decorating your office a breeze
Fully cushioned seat will make working in comfort easy
Bright silver tacks make this a classy piece
Cons
Not a good chair for bigger folks
No tilt feature
Once assembled, the seat leans forward a bit
If you need a bit more height and more support than most office chairs, the Flash Furniture Big & Tall Office Chair is a great option. At full extension, the seat is 22 inches off the floor. This chair is rated to 400 pounds and is 22 inches wide between the arms.
The arms are adjustable up and down and well-cushioned, as in the seat. The mesh back offers a lumbar support that should keep you comfortable and well-positioned no matter how long the days goes.
If you're at the upper end of the 275 pound weight limit or 6 feet of recommended height of both chairs, upgrading to the Flash Big & Tall product may be a good investment.
Pros
Extremely durable seat cushion
Really comfy for tall folks!
Nice wide seat for wiggle room and elbow space
Cons
Hydraulic lift can fail, dropping you quickly to the bottom
Back may not be as high or as supportive as you're accustomed
Castors may fail over time
You can enjoy the HON BASYX Biometryx Commercial-Grade Task Chair with a black mesh back or a grey fabric back, but both offer a comfortable grey cushioned seat.
The durable and adjustable lumbar support of this chair is an ideal option for anyone who struggles with a sore or tired back at the end of the day.
The Biometryx also offers a smart tilt feature; it takes some pressure to get the chair to tilt. Additionally, there's a seat slide so people of a wide variety of heights can customize this chair to suit.
Pros
Black mesh and grey seat are a very modern look
Arm height adjustments are quick and simple
5 year warranty
Cons
Back tilts but seat does not move much, which takes some getting used to
Assembly is a bit involved
Lift assembly can fail over time
Conclusion
While this concludes my list of the best office chairs for under $200, we all know that a great chair is just the tip of the iceberg when it comes to work-from-home productivity!
To help make your home office even better, I took the time to put together a list of my favorite home office accessories that you should take a look at as well.
Related Posts