Getting new siding for your home is a good way to protect it, with board and batten being a durable option. We will take a look at Board and Batten siding to see if it is expensive.
The upfront cost of board and batten may be more expensive than alternative siding options, however, it is extremely durable and can actually save homeowners money in the long run.
So, with the higher cost, is it better to go with the expensive choice for longevity? Well, we will take a close look at just how durable this siding is and help you determine if you should cough up the dough for this option.
What is Siding Used For?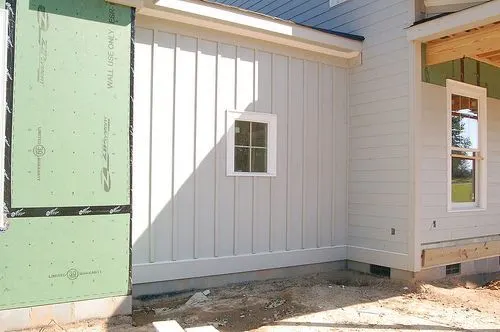 Siding is the protective surface on the outside of a house or building that helps prevent damage from the elements. The siding typically comes in sections that are smaller and are placed together to cover the entire exterior of the building.
Depending on the type and brand that you purchase, some of them are laid from the bottom up toward the roof, which makes the top sections overlap the bottom slightly. Others will lay flat, with just enough space for the building to expand with temperature changes.
Siding is used for buildings to add a layer of protection from weather conditions that could cause damage to the exterior. Depending on the style of siding that you purchase, you could either help or hurt the look of the building.
This allows you to use certain sidings for home use, or commercial use with industrial buildings. It also makes choosing the right kind of siding important for the building if you intend to use it.
Typical Cost of Board and Batten
The siding that comes from board and batten is a more expensive option, but how much of a difference is it to purchase and install board and batten siding materials. Well, having this siding installed can cost between around $4,000 up to $14,000.
However, the average cost that most homeowners will likely pay is around $9,000 or just under $10,000. This cost is including the total cost of the siding materials and the price of labor for installation as well.
When you break it down, each piece of siding will cost between 2 and 12 dollars each. This, of course, will vary depending on the style that you choose, since some are more than others.
Other options offer similar options that don't last as long, but cost closer to 1 to 8 dollars each. They often come with a faster installation as well, which is because board and batten siding must be laid a certain way.
This procedure is also what helps make it more durable!
Pros and Cons of Board and Batten Siding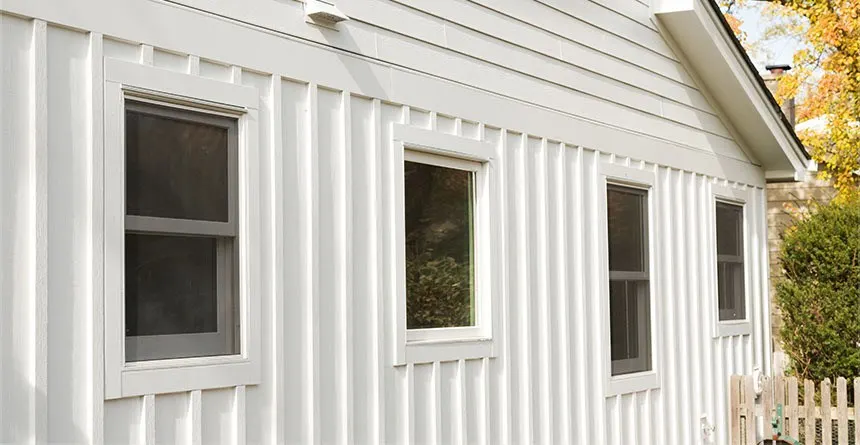 When it comes to choosing board and batten siding over other options, there are some things to consider before you make your final decision. You want to look at all the information out there to help you decide.
You will find that there are pros and cons to every choice, but the one with the most pros and least cons will come out on top.
But is that board and batten or some alternative siding material?
Alternative Sidings
Pros:
Easy to install
Is fairly inexpensive
Adds more value to your home
Offers multiples styles and materials
Cons:
Needs to be replaced every few years
Doesn't last as long
Board and Batten Siding
Pros:
Extremely durable
Lasts longer with less maintenance
Adds more value to your home
Boosts curb appeal
Comes in multiple styles and materials
Easy to repair when needed
Versatile installation options
Cons:
Costs more than alternatives
Difficult to install and takes more time
There are definitely more pros in the board and batten section, although there are more cons. However, the winner of the two is the board and batten siding because of the many additional pros that make it a great choice.
Other than the price being higher, there are few downsides to having this type of siding. Plus, with the beautiful options, you have to choose from allow you to add a more aesthetically pleasing exterior to your house.
Though it might take a bit longer to finish, it is well worth the price because of the value it brings, and the fact that it could help bring up the resale value of your house as well.
Is Board and Batten More Expensive Than Siding?
Well, with the overall cost of purchasing siding and having it installed is higher than other siding options, it is more expensive. But what you get for that price is what is the biggest factor in deciding whether you want to buy this type of siding or not.
The higher price may keep some people from getting it, but with a little saving, you will be able to if you would like to have a very durable option. Plus, either way, you will be spending a few thousand dollars, but alternatives will need maintenance over time.
This could cause the price to rise the longer that you have it, which will add to the overall cost of the siding. If you get board and batten siding, then the long-lasting siding takes less maintenance and repairs, which will lower the overall cost although it costs more money upfront.
So, when you compare the two options side by side, the money that is spent is more spread out with alternative sidings with more money being spent at one time with the board and batten option.
However, when they are placed side by side over years of maintenance and repairs for both, the board and batten option doesn't seem as expensive over time as it does in the beginning.
Is Board and Batten Siding Good?
With all of the information that we have already gone over about board and batten siding, we can say with confidence that this siding is a good option for a home or building.
Although we have discussed siding as a homeowner, this siding can also work for commercial properties as it will last much longer than other options, which is a must-have for buildings with industrial uses.
It is also a good option for homeowners because it doesn't require much maintenance, which allows those customers who want the style and protection that siding brings, but doesn't have time for lots of routine maintenance.
Plus, when you think of the long-term benefits and the fact that you will save money by having a durable siding, you won't pay that much more than other options.
So, is board and batten siding good?
The short answer is, yes!
This siding comes with unmatched longevity and a price that is not quite as bad as you might think. As an option that is a few thousand more, it won't take you much longer to save up that amount considering that you already have money set aside for the work.
Durability is worth the price of many products, and this option is still popular with customers because it is so long-lasting.
So, if you want a durable option, then saving up the extra money to be able to get this type of siding will be a good decision that will not only protect your home but also help raise its overall value and curb appeal when you decide to sell it.
Conclusion
Having a home or building is a big job because you have a lot of different areas to maintain. This is one reason why professionals are brought in for some things.
However, you want to pick and choose what projects you can do yourself so that you aren't spending too much money on home maintenance. One thing that you don't want to skimp on is the siding that you purchase.
Doing it yourself is possible, but you want to get the best protection for the money, or you risk having the exterior damaged from inclement weather conditions. Getting board and batten siding will likely be the best option.
It is an expensive option, but as we have discussed, it is well worth the higher price because of the little that you will have to do for it over time. You need to do very little routine maintenance to help it last, and because it is durable already, everything you do will be extra protection.
For those who are worried about the higher cost, it is better to take the time to think about whether this is a good option for you. If you opt for this siding, you don't want to spend your life savings to get this work done, but you also don't want to go with a cheap option that won't last.
So, think long and hard about whether this siding is the best choice for you and your home. It might be expensive, but if it is your best option, it just might be the one you go for after all.
Related Articles