Painting is bound to breathe new life into your home, and this is especially true if you have a mold problem. While painting over the mold might seem like a quick solution to hide the problem, it can seep through even the highest quality paint.
So, can you paint over mold?
Mold should be treated prior to painting over it to prevent its continued growth. Not only can mold ruin the new coat of paint, but it can also lead to health issues, so it's best to treat it effectively before painting.
It's important to note that if you do paint over the mold, it will also start forming bubbles underneath the paint and eventually reappear after some time.
There are many commercial solutions to treating mold, but if you are on a budget, our expert's DIY solution can be the answer for you!
This will get rid of mold before you paint the wall, allowing you to enjoy a transformed space without recurring mold problems.
Our expert explains how you can transform your house with a mold solution that lasts.
What Is Mold And How Is It Caused?
I've faced mold issues before, and trust me, if you don't treat the underlying issue that is causing the mold, the problems will keep happening even if you use the highest quality paint.
To treat the root cause of this problem, let us first understand the problem:
Mold is a form of fungus that grows on walls because of the high level of moisture and humidity inside the house.
Since it grows in the presence of water, anything like a small leak in the plumbing can impact the dampness in the walls.
Furthermore, in older buildings when walls were constructed from absorbent materials, water from the atmosphere, rain, and underground moisture can also impact the breathability of the walls.
Also, poorly maintained rainwater systems can also cause molds in the house.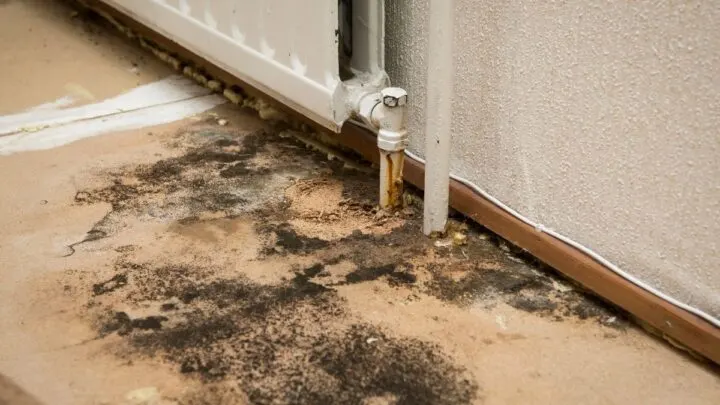 Do You Need To Remove Mold Before Painting?
If you are planning to revamp your place and get maximum value from your investment, you need to remove the mold before painting over it.
The following reasons are why you need to remove mold:
Mold gives an untidy look to your place
Mold presents a health hazard and can cause allergic reactions
It has a damp smell that is hazardous when inhaled. This can also make guests avoid visiting.
If you want to get rid of mold, the best way to do it is to treat the underlying cause.
If you are on a budget, follow our step-by-step solution to painting over mold in order to increase the longevity of your paint job.
Will Mold Grow Back If You Paint Over It?
Since mold is comprised of living organisms, it can seep through almost any barrier. Without treating the mold on the surface, it is impossible to retain paint on the surface for long.
The mold will cause the paint to bubble. This is the first sign that the mold is working its way through the paint barrier. After that, the paint will begin to chip and peel off.
However, there are some solutions that you can use to get rid of the surface mold and retain the paint on the wall for longer.
Do Mold Resistant Solutions Work?
Mold-resistant primers and paints are often advertised as mold killers. Don't fall for this trap!
The paints and mold primers can only prevent mold regrowth if the underlying cause has been addressed and the mold fungus has been destroyed for good.
While the paints and primers do not completely resolve the mold issue, they are very important to use if you live in a humid climate, or for use in high-moisture rooms like the kitchen, laundry rooms, and bathrooms.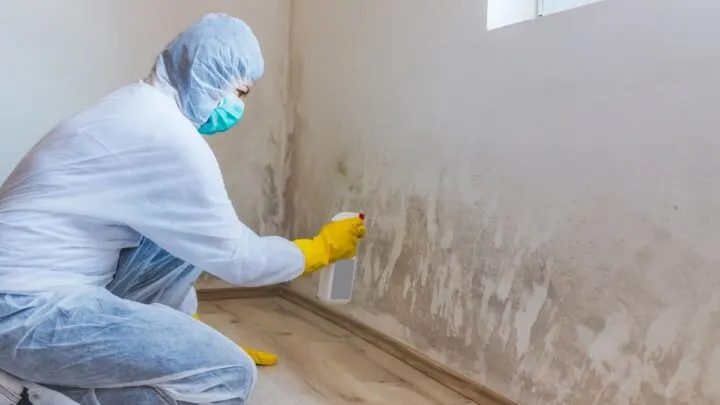 How To Treat Mold Before Painting?
Mold can be a nuisance if you cannot invest much in renovating the house.
However, the good news is that there are some ways you can treat the mold on the surface before painting over it.
Following these steps will get you to address the mold issue without costing an arm and a leg in treating the underlying issue:
1. Prepare The Wall
Before painting, gather your tools and scrape off the old flaky paint.
Take an empty spray bottle in which you will add the DIY solution.
Mix 1 part bleach with 5 parts water and spray it onto the wall surface. Make sure you are wearing a mask and do not breathe in this solution.
Allow this solution to dry thoroughly. This might take 12-24 hours depending on the quantity you have sprayed. You can adjust the quantity according to how much mold is on the walls.
2. Apply Mold-Resistant Primer
Investing in a mold-resistant paint or primer is a great way to keep the mold from seeping through the paint.
It will also seal over the marks and discoloration that the mold may have leftover, so the final coat of paint is applied evenly, giving you a clean finished look.
Apply a thick and even coat of mold-resistant primer or paint.
Apply another coat if needed or as per the manufacturer's directions.
3. Coat With An Oil-Base
All this waiting and preparing the wall will go a long way. The third step is to coat your wall with an oil-based paint after the mold-resistant paint layer has dried up.
This will form a water-resistant barrier that will keep the mold from growing through the paint.
4. Apply The Top Coat
Once the oil-base is dried, you can now apply the top coat. This can be any color or paint you like. You can apply it with a brush or roller.
With a prepared smooth surface, applying the top coat will be easy and ensure the mold problem has been taken care of.
Conclusion
Mold is a moisture-loving fungus that grows over walls that have breathability issues, have plumbing leaks, or are constructed from cheap, absorbing material.
This mold can give an untidy look to your place and also present a health hazard.
If you want to get rid of mold, the best way to do it is to treat the underlying cause before doing anything else.
If you are on a budget, follow our step-by-step solution to painting over mold can increase the longevity of your paint job.