Trex can be a great material when it comes to decking, as it comes out of recycled fiber like sawdust, wood fibers, and so much more. However, it can become discolored quite easily, leading to a deck looking out of place and drab.
Trex decking can be painted, but it should be appropriately cleaned first and requires a quality primer and latex paint to ensure good results. Trex decking can also be stained as an alternative to paint.
Now the question is, how are you going to pull it all off? Well, we can help you out with that. And in case you're looking forward to having some useful tips on the job, we'll be explaining that as well.
What Is Trex?
When it comes to decking, Trex is considered one of the most commonly used materials all over the globe. 95% of this decking material is made out of recycled materials, which you also probably know as post-industrial materials.
It includes materials like wood fibers, sawdust, and of course, plastic bags. The prime reason for this material becoming so popular lately is its resistance capability. It can withstand fading, scratching, staining, molding, and termite damage.
Since it comes with a fastening system, which is concealed, the users usually don't see the need of burying any screw in it or drill.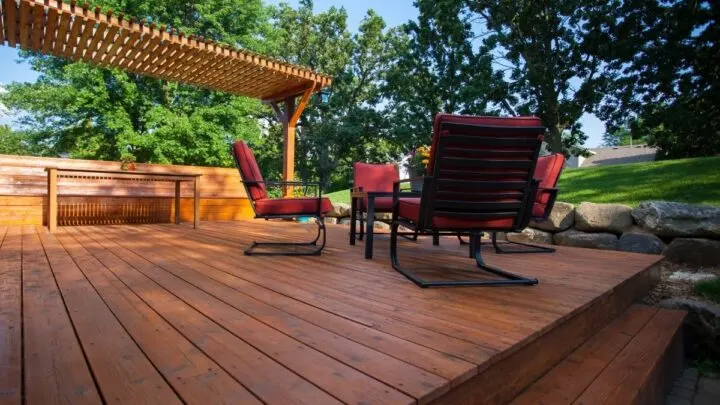 What Kind of Tools Do You Need to Paint Trex?
It's the right tools that make any painting job easy. Painting Trex is nothing different.
So, before you jump in to paint up Trex, make sure that you've got all the following tools in your arsenal.
1. Soft Bristle Brush
You're going to need to scrub the dirt off the deck. The best tool you can use for that is a soft bristle brush.
2. Pressure Washer
For thorough cleaning, you're going to need something robust here. For Trex decking, a pressure washer is a perfect tool to pull off the job.
3. Baking Soda and Vinegar
There can be mold and mildew on the Trex. For removing everything, baking soda and vinegar can be very useful.
4. Commercial Deck Cleaner
This one is an optional item. It can efficiently get rid of exterior debris along with grease, black algae, and dirt on your deck.
5. Dropcloth
There can be plants all over the place. In order to save them, use a drop cloth or plastic sheeting to cover them.
6. Sandpaper
Before priming and painting, you're going to need to sand the deck first. So, you better grab some sandpapers there. Try using medium grit ones, like the 240-grit.
7. Painter's Tape
In case your home walls are attached to the deck, you can use these as separators, which will save the wall from the paint.
8. Primer
In order to make the paint last longer and allow it to stick to the surface in a better way, you're going to need a good primer. Preferably, it should be a good acrylic latex primer.
9. Paint Sprayer or Roller
To apply the paint over the surface, get a good paint sprayer. You can also try a roller and brush if you're not comfortable with the sprayer.
10. Trex Paint
This one is the key element of the job. Make sure that you get one that is perfectly compatible with the exterior surfaces and suits Trex decking.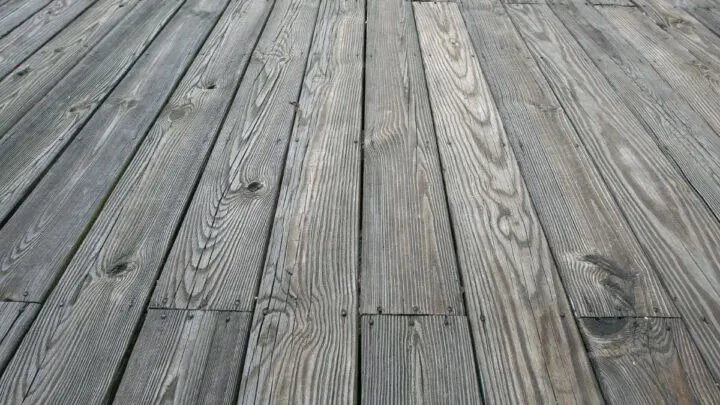 How to Paint Trex: The Steps
No matter what you're planning to paint, doing it correctly can make the process easier. The same goes for painting Trex as well. All you have to do is follow these steps.
Step 1: Preparing the Area
Remove all extraneous materials from the area, like potted plants, chairs, tables, or any type of furniture.
In case some of them are unremovable, put the drop cloth on them in order to save them from the chemicals.
Step 2: Cleaning Up the Deck
Get some protective gear like rubber gloves and get to cleaning up the area. After all, you don't want to damage your skin while coming in touch with any kind of cleaning solution.
Though not all cleaning products are going to be harmful to your skin, let's not take the chance!
Make a soapy solution for your deck and apply it properly to the entire area you'll be painting. Don't jump on it with the brush right after the application. Let the surface soak for a while before you start scrubbing.
In case you're planning on using a commercial deck cleaner, check out the label and follow all the instructions given there.
Now grab a synthetic brush with a long handle. We're not suggesting you use the one with a short handle because bending over for a long time might hurt your back.
Once you're done with scrubbing, grab the pressure washer. Slowly lower the pressure as you go along and rinse your deck with it. Keeping it on a lower level is essential, as a higher pressure might cause damage to the surface.
If you're seeing mold and mildew over the deck, create a mixture of two-thirds of vinegar with one-third of water and apply it to the deck.
But before that, try spreading some baking soda on the spots with mold and mildew. Make sure you're doing it all before scrubbing off the place.
When you're done with the scrubbing, thoroughly rinse the deck. Then give it the time to get dry for further processing.
Step 3: Sanding the Deck
When it comes to a regular wooden deck, the surface takes in paint naturally. But the challenging part of painting Trex is that it won't necessarily do the same. This is why you need to sand the surface properly in order to enhance the adhesion.
Try using medium-grit sandpapers with 240-grit for sanding before you go for priming or painting. Make sure that you're sanding the surface vertically following the wood grain's direction.
Otherwise, you might end up developing scratch marks on the surface. But don't get rough with the sanding or go too deep, as you'll then have to de-gloss the deck along with making it smooth.
Once the sanding is done, take a piece of tack cloth and wipe the dust away. Then, take a damp rag and repeat the same thing. But before you move to the next step, make sure that you're drying it properly.
Step 4: Applying the Primer
Like we said before, to make the paint last longer and make it stick to the surface in a better way, you're going to need to prime the deck.
While choosing a primer for the deck, make sure that you're picking up one of the acrylic latex primers, especially one made for exterior applications.
In case the deck is attached to the house, grab some painter's tape and cover the edges. Consider this essential, as you don't want paint on your wall too.
Pour the primer on the roller tray and apply it all over with the paint roller you've got. Make sure that you're reaching every corner of the surface that you want to be colored.
Like the brush, we'd say take a roller with a long handle to save your back from unwanted pain. When you're done with the priming, leave it there for at least two or more hours for drying up properly.
Step 5: Applying the Paint
Once the primer is dry, you can start painting. Pour the paint on the roller tray and apply it over the surface. Try stroking the paint vertically, following the pattern of the deck.
Also, go for double coating for having a better result, but only do this after the first one has dried completely. To be sure about the time interval, check the label of the paint for clear instructions.
Frequently Asked Questions (FAQs)
1. Why should you not paint Trex under direct sunlight?
It makes the drying process faster and will not allow you to complete the painting process properly or allow you to achieve the best result.
2. What is the best way to cover imperfections on Trex?
We'd say you better try back-brushing for that. If there are any crannies, nooks, or crevices, this will help slip the paint in there.
3. Staining or painting – which one is better for Trex decking?
Painting is better for Trex, as staining comes with a thinner consistency. Also, the paint lasts longer and ensures better durability.
Final words on painting Trex decking
Can you paint Trex?
Well, if you've come this far, we guess you've already got the answer. Not only that, but we've also told you how to get that Trex decking of yours painted in no time!
So, we hope you won't find it hard anymore to get started with that paint job.
Related Posts