Brown furniture has a class of its own; however, as a homeowner, you might want to know what color paint goes well with brown furniture.
Brown furniture has a reputation for being dull, but it can really be extremely attractive when used in the correct environment.
All you need to do is accentuate it with the right colors and you're good to go.
Some of the colors that go well with brown furniture include green, light blue, medium blue, beige, white, gray, and light pink.
Perhaps you acquired your grandfather's mahogany dining room furniture, or you've been enjoying your new apartment's golden hues.
A bright accent wall in the dining hall may quickly offer a splash of color that you'll appreciate. Green, blue, white, beige, and gray are paint colors to consider if you have dark brown furniture.
Use light colors instead of dark ones if you really want your furniture to stand out.
As experienced interior designers, we will be looking at the colors that go well with brown furniture and take it up a notch, making your house feel beautiful.
Paint Selection for Brown Furniture
Green
Green paint goes well with brown furniture. Consider incorporating these colors into your lounge or bedroom.
Green is often associated with nature, and earthy tones are known for their relaxing properties, making them ideal for a bedroom or other rooms where you just want to rest without a care in the world.
With dark brown furniture, closed curtains, or brass lanterns, a deep green dining hall may create a cozy mood that complements the light green walls.
Because we identify green and brown colors with trees, it's no wonder that many individuals choose dark green on their walls to create a relaxing atmosphere.
Light Blue
If you choose blue wall paint, rich brown furniture will suit it perfectly. Light blue paint is the ideal choice for a refreshing appearance in a room.
The color is a great hue for bedrooms, living rooms, and other spaces with large windows. It gives off a feeling of lightness and airiness.
Light blue is also a great color for small children's rooms and nurseries. However, this color may be too light for larger rooms.
Medium Blue
This color is a lovely combination of blue and dark brown.
The colors compliment each other wonderfully to produce a warm, welcoming, and tranquil appearance while remaining on the muted side.
It has a regal beauty about it and a calming and chilling impact.
This color will look great in a bedroom, as well as a sitting room or dining area as well. The hue is one of the most versatile on the list, going well with gold accents as well as a range of wood tones.
Dark Blue
Dark deep blue is a rich, elegant color that works well as a backdrop for softer hues.
It generates sentiments of power, determination, security, and joy.
When decorated with gold trim, it is both elegant and inviting.
Artwork with medium brown wooden frames would complement the blue wall paint, and a soft rug on the floor would serve as a grounding element.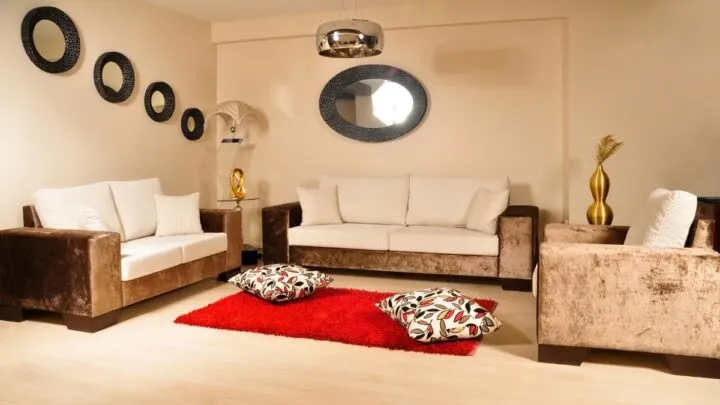 Beige
Another fantastic neutral hue that goes well with dark brown furnishing is beige.
Rugs, lights, and other objects can all benefit from the hue.
It's a simple, uncomplicated color that would look great in a room with either a traditional or modern design aesthetic.
Beige can be used as a base for any other hue and goes with almost anything. Browns, golds, and whites go great with it.
It's bright enough to give the room enough shine but not so pale that it appears cheap. Based on the kind of tan, there are many different hues of beige.
Gray beige has a brownish tint to it. Brown and beige are fairly similar in color since they are both earthy tones that complement each other effectively.
Because earth tones create a less harsh environment than white and black or golden brown and black, this combo is less intimidating.
White
There's not much that the color white can't accomplish! White is ideal for a bedroom. It's also a cost-effective and adaptable color that goes with any design.
It's the greatest canvas, highly adaptable, and can serve as the centerpiece of any room.
However, since it's a neutral color, it may be combined with a variety of other hues and textures.
White walls with dark brown décor may cause your furniture to mix into the background. It makes a strong contrast with dark furniture.
The distinction is striking, and it complements dark furnishings wonderfully. It will give a clean, modern appearance that will make your home appear larger, which is why you should go for this combination if you have a small space.
Red
Red and dark brown should merge effectively without creating a very dramatic atmosphere. The red walls will help you develop a romantic, pleasant, and welcome atmosphere in the rooms.
Make sure you choose the right shade of red, however, as you don't want anything too bright or too dark, as this sometimes clashes with certain shades of brown.
This is the best option for larger spaces, as the combo will shrink your space a bit, giving it a more homely feel.
Gray
Mixing dark brown with gray walls will not result in a mismatch. Rather, you'll get a sleek, neutral aesthetic that will make your home seem welcoming.
Keep in mind that gray is a good alternative to white since it adds a delicate contrast to your space.
A light gray color looks good, but a darker gray will match better with your furniture.
Because the dark brown furniture retains its luster, the pairing will enhance the beauty of your home. If you're working with darker tones, add a pop of brightness with white blankets or pillows.
Light Pink
Color your walls baby pink if you enjoy vibrant hues that aren't too loud. The relaxing tone will complement your dark brown furnishings, creating a stunning space.
This hue is ideal for your baby's room because it helps them fall asleep. Decorate the walls with a drawing that reflects your child's personality.
Other colors, such as white, can be used on the bed linen as well.
Summing Up Colors That Go With Brown Furniture
There are many colors that can help create an inviting space while also emphasizing your brown furniture. Beige, light pink, varying shades of blue, and white help give your room contrast and elegance.
Whatever shade you decide to go with, make sure you figure out the feel you want your room to have first. This will greatly impact what color you should go with.