Airy and grand are the new interior designs that people are opting for nowadays. Whether you want to hop on this trend or are simply looking to amp up your house's value, you may or may not have considered adding crown moldings to your ceilings to make them look taller.
But do they add the illusion of a tall ceiling or is it just a marketing gimmick?
Crown molding often gives the illusion of a taller and more spacious room. It may be your best bet at adding height to your rooms without construction.
However, there are still certain things you should be aware of before opting for crown moldings. So without further ado, let us take a look at them.
How To Know If My Ceiling Is Low?
The first thing you should consider and know is whether your ceiling is low. Most modern buildings generally have a standard ceiling height of 9 feet on the ground floor with 8 feet height on floors above.
Therefore according to modern standards, any ceiling height above 9 feet is considered high whereas ceiling height below 8 feet is considered low.
Low ceiling heights are mostly found in older houses, as the standard back then was 7 feet to make it easier for fireplaces to heat the room.
Why Should You Get Crown Moldings For Your Low Ceilings?
Appropriate crown moldings would make more difference in the look and feel of the room than you would have initially thought. Crown molding may boost your home's evaluated worth and make it stand out on the property market, which is another advantage.
Even without any other trim, the crown molding alone would make the area elegant.
The crown molding's relation to other design components in the area affects its proportion. Normally, for low ceilings, a thin and minimal crown molding is used.
Crown moldings with a 2 to 5-inch length are installed on the edge of the ceiling for low ceilings, which are ceilings that are lower than 9 feet. This will create the appearance of height by directing the eye upward.
Secondly, giving the crown molding the same color as the wall or making it white would give the room a brighter and taller look. This would also merge the crown molding and room walls giving a consistent look while diverting attention from the low ceiling.
So it is perfect if you are looking to add height to your rooms.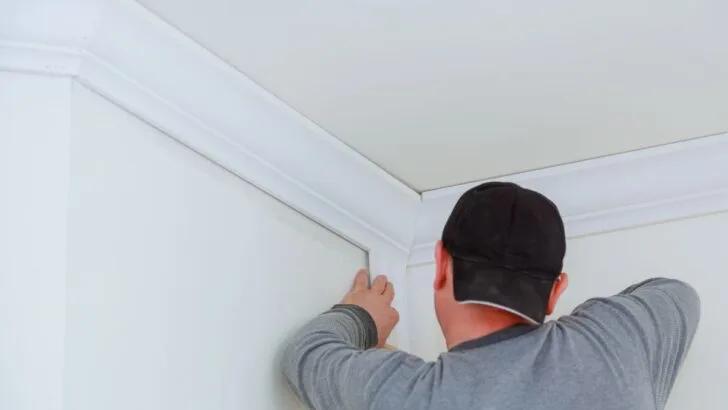 How To Choose The Right Crown Moldings
Choosing the right crown molding requires you to consider the following things:
1. Length
As discussed earlier, the proportion of crown molding would depend entirely on the height of the area. For tall ceiling height areas, wide crown moldings should be used. These not only allow the inclusion of regal motifs and patterns but also give a dignified look.
However, in case of low ceilings that are not overwhelming, the walls should be a priority, so simpler crown moldings should be used.
The length of crown moldings may either work in your favor and give you the desired result or it can have the opposite effect and make a tiny area feel even smaller.
According to a general rule of thumb, one inch of molding may be added for every foot of height if the ceiling exceeds 8 feet.
2. Color
A contrasting color between the crown molding and the wall would make the area feel tighter. Using a different color or style would add contrast. Large spaces can benefit from this since it can make them seem more hospitable and warm while yet being stylish.
However, you should make an effort to match the molding to the walls as precisely as you can in small spaces. A seamless transition will be created and the space will appear larger if the trim is kept the same color as the walls.
Even lighter colors might be used to ease the transition. But, the usage of dark crown molding trim is rarely recommended.
3. Style
The crown molding should have a similar aesthetic to your space and the entire house. Small minimal moldings, possibly with a smooth curve or mainly flat, might be used better on small height areas with a simple design.
In contrast, simple trim would not look good in a traditional old home with high ceilings. It would be ideal to select a pattern or design that complements the house's overall style.
Some patterns, such as curves and rounded edges are consistent and function best in plain areas. There are crown moldings with floral motifs and even gold-plated details for more classic interiors.
Final Words on Crown Molding Adding Height
Crown molding does help in making your area feel taller if you choose the appropriate length, color, and style.
You should first measure your ceiling height and then decide what crown molding to go for. You may also use the thumb rule for ceilings with heights more than 8 feet.