Without a doubt, clean bathrooms give a sense of peace and pleasure and also serve as a focal point of one's house. And it is because of this that most people spend an equal amount of time decorating their bathrooms as they spend on their bedrooms.
Trendy cabinets, mirrors, and good lighting are small steps in making your bathroom look modern. And decorating your walls with crown moldings is just a cherry on top that puts everything together perfectly.
Is it a good idea to install crown molding in your bathrooms?
You can put crown molding in your bathrooms, but keep in mind that bathrooms are usually the place with the highest traffic and humidity. It's important that your crown molding is water-resistant to keep it safe.
There are a few other things you should keep in mind when adding crown moldings to your bathrooms. So without further ado, let us get started with them.
Crown Moldings In Bathrooms
Crown moldings seem to be a modern method of designing your rooms, however, the trend dates back to the Egyptians, Romans, and Greek civilizations.
They were used in areas such as temples and palaces, and in modern times, their use has expanded beyond public spaces to include houses as well.
Bathrooms are a great space to add crown moldings too. Since this is the most frequently visited area in one's house, crown moldings make them look spacious and enhance their prominent features like chandeliers, windows, ceilings, etc.
Overall, the effects are pretty impressive!
Where Are Crown Moldings Mostly Used?
The point where the ceiling and wall meet is sometimes not symmetrical nor appealing to the eye. To overcome this issue, ancient nations used the art of crown moldings. Since pictured or textured ceilings hide the flaws of the ceilings, similarly, crown moldings shadow walls and ceilings intersection flaws.
Not only that but it also makes your room look big and tall. This beautiful useful purpose has now evolved into an architectural statement instead of in-home residences.
Crown molding was previously placed in areas that were commonly used like kitchens, living rooms, etc. They were also used in areas where usually one would host guests, as an embellishment element.
They have also made their way into bathrooms in recent decades.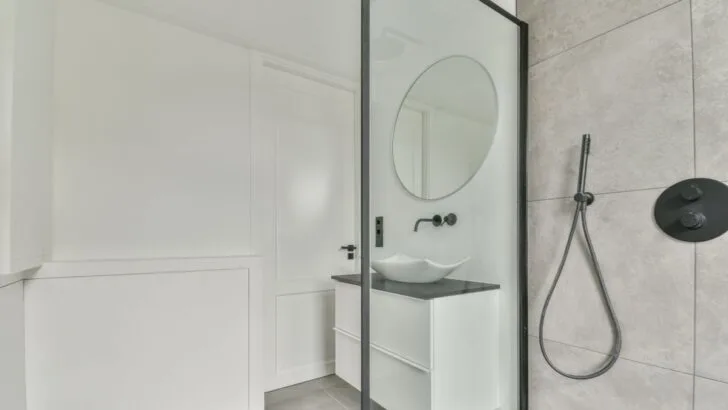 Why You Should Get Crown Moldings For Your Bathrooms
With a spa-like environment, bathrooms are adorned with peaceful colors, lightening, and windows and made airy for you to feel fresh. The ceilings and walls are decorated to match the tubs, sink, shower, and other areas. This all together combined with crown moldings give it a luxurious look.
If you do not wish to add crown moldings all over your bathrooms, there is still a way for you to dress them up. Typically, you'll find crown molding around ceilings, but this isn't the only place it is used.
Cabinets and cabins in the bathroom are being jazzed up using crown moldings. Even vanity mirrors are decorated with crown moldings.
Crown molding is now frequently used to increase the house's worth too. It is an excellent way for people to boost their house's value if they plan to sell it.
This will make your home look attractive in the eyes of the potential buyer if and only if installed correctly and professionally.
Types Of Crown Molding
There are a variety of crown moldings one can get these days. The option you will choose will depend on your bathroom's requirements and the aesthetic you are going for.
Some of the most common types of crown moldings are:
Plaster
Wood crown molding
Polystyrene
Flex crown molding
Polyvinyl chloride (PVC)
Advantages & Disadvantages Of Having Crown Molding In Bathrooms
Using the right crown moldings that are correctly installed can instantly brighten up your bathrooms and hide all imperfections. These are rarely found in bathrooms and are hence a great adornment.
If you find your bathroom quite featureless and simple, adding crown moldings will make it look very posh.
Additionally, it can heighten the ceilings and give the bathroom a sense of space.
The only drawback of having these, especially If you have wooden crown moldings installed, is that due to the high level of moisture in bathrooms they can get destroyed easily and so may require regular maintenance.
Final Words to Putting Crown Molding in the Bathroom
Crown moldings are an easy way to make a simple bathroom look fuller and roomier. Installing crown moldings in the bathroom requires just a little more attention due to the environment. Otherwise, they make a very stunning piece even around your cabinets, mirrors etc.
They come in different material types suitable for every environment, so you have a variety of options to choose from!