You might have seen crown moldings trending on Pinterest or other home design sites for quite some time now, and you may even be inspired to get them for your next home project. However, should they match your baseboards?
Crown molding doesn't have to match your baseboards. There is no one way or "right" way of installing crown moldings. In the end, it's what pleases your eye and your aesthetic rather than following any set rules. You may buy baseboards and crown molding in any arrangement you choose for your project.
With that being said, there are still some things you should be aware of, so let us get started with them!
Is It Better For Both The Crown Molding And Baseboards To Match?
As mentioned above, crown molding and baseboards do not necessarily need to be alike.
However to make cohesion and a unified look for your interior, you can share common features between them. This can be achieved by making the crown molding and baseboards share similar colors, sizes or styles.
How To Make The Crown Molding And Baseboard Cohesive
The most popular choice for inside trim is overwhelmingly white.
It blends perfectly with practically any decor and looks great. You can be confident using white trim if you didn't consider it until the very last minute.
But there are other scenarios where white would not be the way to go. For example, rooms that have dark-colored walls might make the white stand out too much.
Furthermore, white would be very much apparent for old houses with historic design language and instead ruin the theme.
In these cases, you might want to opt for off-white, cream, or wood brown which goes well with dark walls. On the flip side, The same striking difference may be created by a dark trim with a soft wall color.
Additionally, making the crown molding and baseboards with wall color can also be a good choice and would have its special aesthetic.
Some designers prefer making the baseboard similar or close to the color of the wall.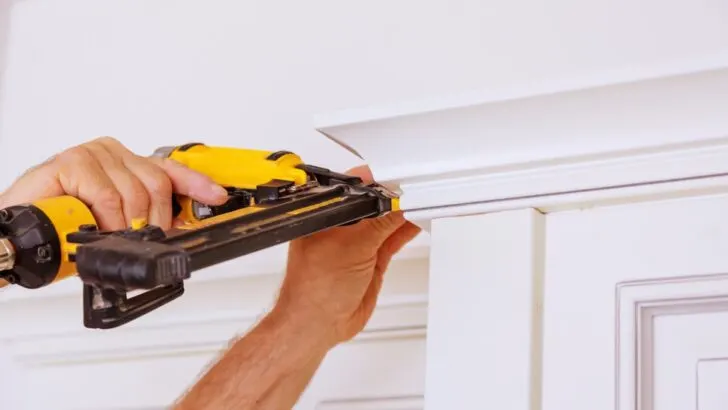 When it comes to color, white or off-white are always safe bets, but don't be afraid to play around with other shades as well.
If you choose a vivid baseboard or casing color, you can coordinate molding features or you can remain quiet and allow the accent colors to stand out on their own.
Lastly, there is nothing wrong with choosing different colors for crown molding and baseboards. It is used by designers on many occasions.
For example, dark baseboards are used to give the room floors feel grounded and look vast. Similarly, crown molding is made darker to draw focus toward the ceiling.
How To Make A Cohesive Interior Trim Style?
Unless you are well-versed in the various types, the style will be one of the more challenging factors to ensure that your baseboards and crown molding match.
If you discover a trim style you like, you may select the baseboards and molding that best fit you from that collection and be sure that they will match. 
Currently, a wide variety of molding designs are available, including bohemian, modern farmhouse, vintage industrial, and more.
How To Pull Off Good Interior Trim Size?
All interior trim sizes vary based on the size of the space and the design aesthetic you're going for. However, it can get complicated, as some older homes and some architectural styles have different ratios than contemporary homes.
There are calculations available for various spaces and architectural designs but as discussed earlier there is no one hard rule to follow. 
Recommendations for the size that should be applied in a room are frequently violated by designers. It is simple to just focus on your room's measurements instead.
Too big pieces of trim may make a space seem claustrophobic whereas very little trim work will be lost in a vast room. Simply decide what suits you the most based on the design of your space.
But it is common to keep at least 5-¼ inches of baseboards for 8 feet high ceilings. They can get larger but making them any smaller would make the room look out of proportion.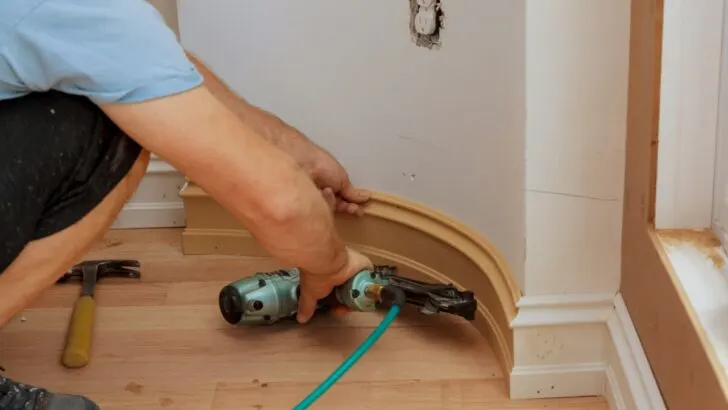 You could either try to establish harmony and consistency by making your baseboards and crown molding the same size or by adding a taller crown molding to provide the illusion of a higher ceiling.
Final Words on Crown Molding Matching the Baseboards
Choosing baseboards and crown molding for the same space requires taking into account a variety of features.
It is perfectly okay for you to use your imagination and combine different sizes, colors, and designs, but it is recommended to make at least one thing common throughout the interior trim.
Further, make sure the colors work nicely together if you decide to use various colors for the baseboards and crown molding.