If you're done with the fumes or want to avoid the hassle of cleaning up the ash of your ordinary fireplace, then electric fireplaces are your perfect choice.
On average, electric fireplaces cost $800. Furthermore, when it comes to installation, electric fireplaces are much cheaper to install compared to traditional fireplaces.
Here are some other things to keep in mind if you're thinking of buying an electric fireplace.
How Much Does It Cost To Put In An Electric Fireplace?
The cost of an electric fireplace is divided into two phases.
1. Installation Cost
Depending on the type and form of the fireplace, whether it is hardwired or plug-in or requires making changes to the space, the electric fireplace's installation costs different amounts.
Small unit installations, such as moving an outlet to a more convenient location, having a handyman mount the unit on the wall, or freestanding unit, hardwiring an insert, or mantel-mounted prefab unit, can cost anywhere from $100 to $500.
Expect expenses to increase to roughly $1,000 for more difficult unit installations, like installing a remote unit without making any alterations or changing the wiring so that a unit has its circuit.
The price for a custom installation can be anything from $1,000 to $4,000, including hiring an electrician to wire the space and having a wall or surround made specifically for the appliance.
On average, the labor cost range from $100-$1000, which makes the total average cost between $500-$4000.
On the other hand, custom installation costs $1000-$4000 for labour and $2500-$10,000 for the total cost.
2. Cost of Building the Fireplace Surround
Having a unique fireplace surround makes your fireplace seem more personal and at home in its setting. For instance, electric fireplaces are unnecessary, and many people opt not to use them.
In contrast, a surround can transform the look of your electric unit into something more akin to a wood-burning one.
The term "surround" refers to whatever is used to cover the area around and above the hearth. A wall-recessed fireplace's surround may extend below the firebox, up to the ceiling, or across the full wall.
A unit can function and be safe without its surroundings. However, they can assist in incorporating it more fully into your house's design.
The most popular building materials for fireplace surrounds are listed below along with their installation price:
Marble – Installation price: $20 to $300
Tile – Installation price: $7 to $200
Brick – Installation price: $25 to $50
Wood – Installation price: $9 to $75
Stone – Installation price: $10 to $300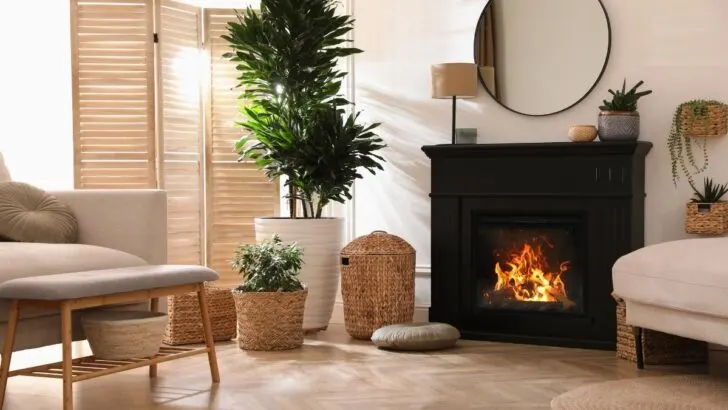 Are Electric Fireplaces Worth It?
If you are new to electric fireplaces, you must be unsure whether or not it's a good idea to have them at your home. Then, we are here to inform you that it's worth it to have them because of the following reasons:
1. No Unnecessary Fumes
Did you know that your wood fireplaces releases harmful gases like carbon monoxide and carbon dioxide in addition to carcinogenic byproducts?
These emissions are extremely harmful to your loved ones, including dogs! Even when you switch to wood meant to provide more heat and less smoke, your home's air quality still suffers from the hazardous smoke.
Electric fireplaces, on the other hand, produce no smoke or other harmful effects.
2. Avoiding Dangers Around Fireplaces
Electric fireplaces can warm a space up to 400 square feet in size, but they can be touched without getting hot.
Electric fireplaces pose no such risk as opposed a traditional fireplaces, which can be dangerous for children and dogs due to their hot metal exterior.
In addition to protecting electronics from damage, automatic overheat prevention helps prevent fires. Safer Plug® and Safer SensorTM are two additional safety measures that may be included in the electric fireplace of your choice.
The electric fireplace's safety feature monitors the plug's temperature, which turns the heater off if it gets too hot. Safer SensorTM avoids overheating similarly.
If something or someone blocks the unit's path to the heat source, it switches off immediately.
3. Uses Energy Effectively
When it comes to heating a home, electric fireplaces are among the most effective options because they generate heat immediately and can warm a room far more quickly than traditional wood fires.
Chimney fires are the conventional method. 
However, they waste heat in the chimney. Most open fireplaces lose nearly 90% of the fire's heat up the chimney, along with much of the heated room air.
Since cold air can enter through the chimney, you may feel the chill return even after heating the room. An electric fireplace can instantly warm a room and keep it warm and cosy for hours.
Do Electric Fireplaces Cost A Lot To Run?
There is a widespread belief that operating an electric fireplace costs a lot of money, but that is untrue. Electric fireplaces, for example, have a very low operating cost (cents per day) compared to gas and wood fires.
An electric fireplace requires roughly 1500 watts when you turn on the heat feature in addition to the flame.
Total operating costs for the flame and heater, assuming the typical cost of hydro (at 50% heater cycling), are around 8 cents per hour.
These sums can change based on the cost of electricity in your area, but they are still quite small. Manufacturers of gas fireplaces frequently promote operating costs of $17 per hour.
The reason for the price disparity is the superior efficiency of electric heating. The heat produced by the device is retained in the space to keep you warm, using all the energy given to it.
Meanwhile, gas fireplaces boast efficiency rates of 70-80%. Accordingly, 20–30% of the energy delivered to the appliance is vented outside.
In other words, 20 to 30 cents of every dollar you spend on gas to heat your home leaves through the ventilation system.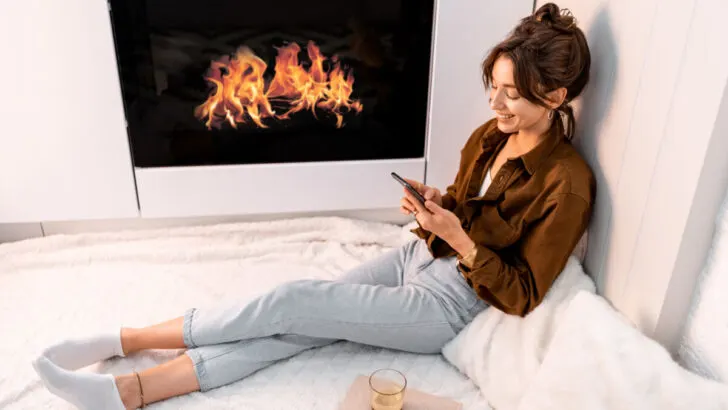 Does An Electric Fireplace Add Value To A Home?
Yes, an electric fireplace adds value to your home in many ways. It's hard to beat the visual appeal of a fireplace if you want to improve the mood of your living room dramatically.
However, a conventional gas or wood fireplace might not be feasible due to construction or financial limitations. In these situations, an electric fireplace is a great substitute.
When compared to gas fireplaces, electric ones have much lower running costs. A gas fireplace also has a higher initial cost than an electric one because of the more complex installation requirements.
Even while a gas fireplace will almost always add value to a home, a deluxe electric fireplace can help a frugal homeowner make a home cosier and inviting without breaking the bank. Thus, a more appealing living environment may result.
16 Electric Fireplaces That You Should Consider Buying
| | | | |
| --- | --- | --- | --- |
| BRAND | MODEL | MATERIAL'S PRICE | INSTALLATION PRICE |
| Pleasant Hearth | Electric Log Insert with Heater | $149 | $100-500 |
| Pleasant Hearth | 48″ barnboard | $329.99 | $100-500 |
| Duraflame | Infrared Quartz fireplace stove | $319-$380 | $100-$500 |
| Duraflame | 1500 watt infrared heater | $90-$159 | $100-500 |
| Xtremepower US | 1500 watt Wall Mounted Recessed | $200 | $100-500 |
| Xtremepower US | 15ppW Electric Insert Heater | $199.99 | $100-500 |
| Dimplex | 30″ Electric Fireplace Insert | $259-$339 | $100-200 |
| Dimplex | Revillusion 20″ Plug-in Log set | $229.99 | $100-500 |
| Dimplex | DFI series 23″ log set | $334 | $100-500 |
| Classic flame | 33″ 3D Infrared Quartz | $277-$620 | $100-500 |
| Classic flame | Helen 36″ | $329 | $100-500 |
| Touchstone | The Sideline Electric Fireplace | $270-$500 | $100-$500 |
| Touchstone | Onyx Electric Fireplace | $289 | $100-$500 |
| Real Flame | Chateau Corner Electric Fireplace | $758-$777 | $100-500 |
| Real Flame | Deland Grand Electric Fireplace | $1957 | $100-$500 |
| Napoleon | Alluravision Slim Wall Hanging | $1599 | $100-500 |
Now that you know the pricing range of different electric fireplaces, we can infer that you may acquire them in the price range of $200-$2000 on an average.
Final Words on How Much Electric Fireplaces Cost
Electric fireplaces create a warm and inviting atmosphere in your living room, making it the perfect spot to relax. 
To assist you in having more comfortable evenings, we have included the average selling price of electric fireplaces, as well as their installation costs.