Home Depot is an excellent choice for many DIY projects, so you may find yourself wondering if they can make keys as well!
Home Depot offers both self serve and associate-assisted options to duplicate the majority of common key types. Both options are affordable and quick compared to visiting a traditional locksmith.
Keep reading to learn more about the process for getting keys made at Home Depot!
Guide to Getting Keys Made at Home Depot
Home Depot is an outstanding all-around key duplication provider! However, they don't offer specialty services for programmable car keys and many older, non-standard keys. Plus, they will not be able to copy your mailbox or PO box keys.
How to get keys made at Home Depot?
There are two ways, and for both, you'll need to bring the actual key with you to the store location.
The cheapest and fastest method is to use the store's in-house DIY key-making machine.
The other is to visit the in-store service desk that features a key-making device staffed by a Home Depot worker.
At the DIY kiosk, the machine will walk you through the simple process of inserting your key and instantly tell you whether it can duplicate the key.
If it can't, walk back to the store's service desk, where they offer personal help for key-making. The staff member will cut your keys or tell you that they don't have the proper blanks in stock.
Keep in mind that it's wise to try the DIY machine first and the in-person service desk second if you want to save a bit of money. But, either method is quick and easy, provided the kiosk or clerk has the blanks to make the keys you need.
Of course, neither the DIY machine nor the in-person service desk can make US Postal Service keys or programmable, chip-type keys.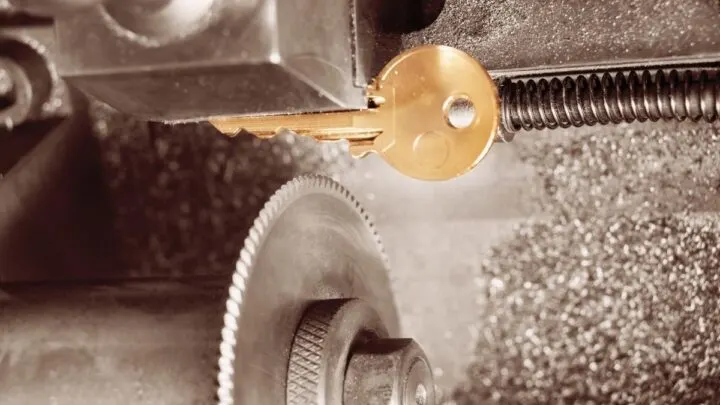 How Long Does It Take to Have Keys Made at Home Depot?
One advantage of getting keys made at Home Depot is speed. They'll tell you whether they can duplicate your keys right away, so you won't have to wait around except during crowded periods. Go at an off-peak time of day to get the quickest service.
If you use the DIY key-making machine, usually located at the front of the store, you might have to wait if it's a busy time of day. There will likely be no waiting if you visit Home Depot at non-peak times.
The DIY machine and the in-person process take just a few minutes to replicate each key.
Expect both Home Depot key-making arrangements to reject your key immediately if it's a postal or programmable version. Plus, if the key includes an inscribed "Do not duplicate" warning, they won't copy it for you.
You'll sometimes have trouble simply because the DIY machine or the in-person kiosk person can't find a proper blank that matches the kind of key you want to copy.
Note that very old or unusual keys often present a problem because it's nearly impossible to find a suitable blank. If that happens, visit a professional locksmith, as noted below.
How Much Does It Cost to Have Keys Made at Home Depot?
If you like saving money, Home Depot is the place to have keys copied. The big caveat, of course, is that the store can't duplicate every type of key in existence. But, if you have standard keys that are not high-tech or issued by the postal service, prices are rock-bottom.
You typically pay between $1 and $2 per copy at the DIY kiosk if the machine has the proper blanks in its inventory.
At the in-person service desk, prices are higher but still very low. The clerk will tell you the cost before copying the key. They generally charge between $2 and $6 per duplicate, depending on the type of key you need.
Another convenient service you'll get at Home Depot is information. In other words, if the clerk can't copy your key, for whatever reason, they'll usually tell you where to go for help. They've seen every kind of key and often know the name of local locksmiths or private hardware specialty stores that copy high-tech and older keys.
Assuming that you have a key-ring with ten keys on it and none of them are programmable, postal, or unusual keys, look to pay between $10 and $60 total to duplicate the entire ring at Home Depot.
Alternative to Home Depot for Having Keys Made
There are four alternatives for getting keys made if Home Depot cannot meet your key-making needs. They are the US Postal Service, a licensed locksmith, a car dealership, and a specialty hardware store.
Make a trip to your local US Post Office branch for mailbox keys and tell them you need duplicates. If you have lost your mailbox key, tell them, and they'll give you another, but there will be a small fee that varies based on the office location.
For high-tech vehicle keys and other vehicle keys that contain programmable chips, visit a dealership based on the make of the car or truck you own. Call ahead because some smaller dealerships don't offer this service, but most do. Expect to pay upwards of $30 just for a single duplicate.
If you have keys that are very old or have odd shapes, even if they're not high-tech, Home Depot might not be able to help you. In that case, you'll need to call a mobile or store-based locksmith. Fees range widely but typically are between $20 and $60 per copy, as well as the locksmith's service fee for a mobile unit to come to you.
Local "mom-and-pop" hardware stores and some of the national chains offer key-cutting services. Many can duplicate high-tech keys and older, oddball types of keys. Fees are lower than car dealerships or locksmiths and run approximately $35 per key.
If you need keys made in a hurry and for a low price, Home Depot can often meet your needs. What if you have chip-style or programmable keys, mailbox keys, or security keys? In that case, you'll need to visit a professional locksmith (or the US Postal Service for an official box key duplicate).
Related Posts