One is the largest home improvement retailer, not just in the U.S., but in the entire world. The other has been one of the most trusted brands in tools for nearly a century.
The two are seemingly a match made in heaven, so this begs the question: does Home Depot sell Craftsman tools?
Home Depot does not sell Craftsman tools. That distinction belongs to Home Depot's fiercest competitor and closest rival in the retail home improvement sector, Lowe's. But in the place of Craftsman, Home Depot offers its in-house brand Husky, along with a number of other major brands.
Anyone taking a stroll down the tool aisles at Home Depot will be greeted by a cornucopia of national brands, many of which are household names. But noticeably absent from the otherwise impressive roster of tool brands sold at Home Depot is Craftsman.
How did this come to pass? The answers are below so read on.
Does Home Depot Sell Craftsman Tools?
With close to 2,300 retail store locations and roughly half a million employees donning the signature orange aprons, Home Depot is not only a retail giant in the U.S., but it is also the largest home improvement chain on the planet.
When it comes to their seemingly limitless offerings, the question should be what don't they sell at Home Depot rather than what do they carry.
But noticeably absent from the extensive list of brands sold at Home Depot is one of the most iconic names in tools – Craftsman. Neither in its enormous retail stores nor through its growing online presence, can Craftsman tools be found for sale at Home Depot.
Where are Craftsman Tools Sold?
Craftsman is one of the most recognizable brands in home improvement, and for decades, it was offered exclusively through another iconic name in the retail game, Sears.
In 2017, in desperate need of a cash infusion to keep its struggling operations afloat, Sears sold the Craftsman brand to Stanley Black & Decker for $900 million.
Under the terms of their agreement, both Sears and Stanley would hold rights to produce, market, and sell Craftsman tools.
Thus, Craftsman tools can still be found where they have always been sold, at Sears locations (though dwindling their numbers may be) across the country and on the Sears website.
But on the Stanley side of things, Craftsman has become far more accessible and available across a growing number of retail platforms including:
Lowe's
Amazon
Atwoods Ranch & Home
Blain's Farm & Fleet
Napa Auto Parts
In particular, Stanley's move to distribute Craftsman through a major home improvement retailer like Lowe's (second only to Home Depot in terms of sales) increases the exposure of the brand while putting it on more store shelves across the country.
In fact, with nearly 2,000 Lowe's locations alone, Craftsman has never been better positioned from a marketing standpoint, finding itself on an enormous stage in front of a national audience nearly a century after its first-hand tools came onto the market.
Why Doesn't Home Depot Sell Craftsman Tools?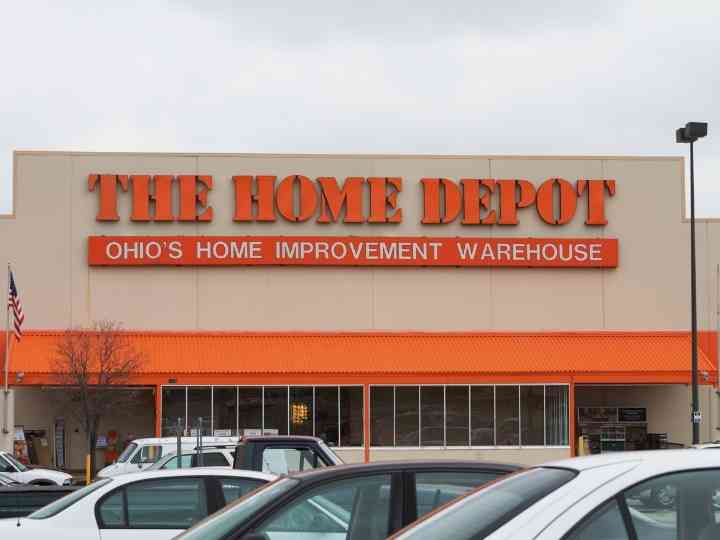 Carrying the popular Craftsman brand among its tool offerings would seem to be a no-brainer, and yet, Home Depot does not sell this iconic line, despite it being immensely popular with do-it-yourselfers and amateur auto mechanics.
At first glance, this strategy may seem a bit baffling.
But upon closer examination, the reasoning becomes clearer, particularly with regard to one specific brand.
One of the major brands for tools and equipment sold by Home Depot is Husky, which has been around since the 1920s when it was known as Husky Wrench. As it turns out, the home improvement giant has owned the Husky brand since the early 2000s.
Thus, Home Depot's decision not to carry Craftsman tools boils down to the desire to promote its own in-house Husky brand. Ironically, what company did Home Depot purchase the Husky name from? Stanley, of course.
What Tool Brands does Home Depot Sell?
In addition to a wide range of tools, equipment, and other products offered under its in-house Husky brand, Home Depot also sells a number of major brands that include the likes of:
DeWalt
Milwaukee
Ryobi
Ridgid
Makita
Stanley
Porter Cable
Bosch
Delta
Hilti
With an impressive line-up of tools offering enough range and diversity to meet any budget and complete any project, Home Depot's selection of tools is a who's who of respected brands (even without Craftsman).
Final Thoughts
For generations of do-it-yourself types, the Craftsman brand of tools has been synonymous with the retail giant Sears.
But that mantle has been passed on to Lowe's and its nearly 2,000 locations. Not to be left out, however, the world's largest home improvement retailer, Home Depot, has built an impressive roster of national tool brands, including its in-house Husky line.
Related Posts