A crucial aspect of woodworking is cutting wood to size. And if you are short on tools for it, you might be thinking if Menards can do the job for you. But can they help cut wood?
Most of Menards' stores will help you cut wood, but there are differences between stores regarding their policies.
But fret not, as in this article, we will discuss everything there is to know about Menards' woodcutting policies and limitations.
Can You Get Wood Cut To Size At Menards?
Menards can help you cut wood, right? Well, the answer may vary from store to store, as different Menards stores have different policies and equipment. While some give the service free of charge, others impose a cut fee.
Further, Menards can cut any wood, but just not plywood. However, each shop mostly has different length and thickness requirements. While some shops offer free wood cutting, most charge $1 or $2 for each cut.
To sum it up, here are some common answers from various Menards stores when asked about their policies and cut limits:
Even if the wood wasn't bought from Menards, one shop claimed it would still cut it for free. The retailer said it will cut the wood to any length of your choice. However, it is unable to cut materials that are thicker than 1 foot. But this limitation is more related to the equipment than a business policy.
Other Menards stated that it would only cut wood bought from their own store. Further, the first five cuts are free, and then each additional cut costs $2. But here there are no length restrictions.
Similarly, some Menards allow 10 cuts for free and then charge an extra cut for $2
One business offers cuts that would cost $1, but it would only offer convenience cuts, which would imply that the wood would only be cut to the extent to fit in your vehicle.
Does Menards Cut Wood For Free?
Every Menards store determines its pricing. Most shops charge $1 per cut whereas others might raise it to $2.
However, some people won't impose any fees at all. They will give you a limited number of free cuts before charging you for any more amounts you require.
The limit in this situation is three or five cuts. They'll start charging you $1 for each cut after three or five cuts. But there are chances that some would charge up to $3. The price might also be impacted by the type of wood and the complexity of the cutting.
The cost of a piece will also increase if it requires more time and is harder on the saw. This is because Menards employees must take time out of their day to complete the work for them.
Menards doesn't want to spend its staff's time making cuts if that means there is less staff is available for other customer services.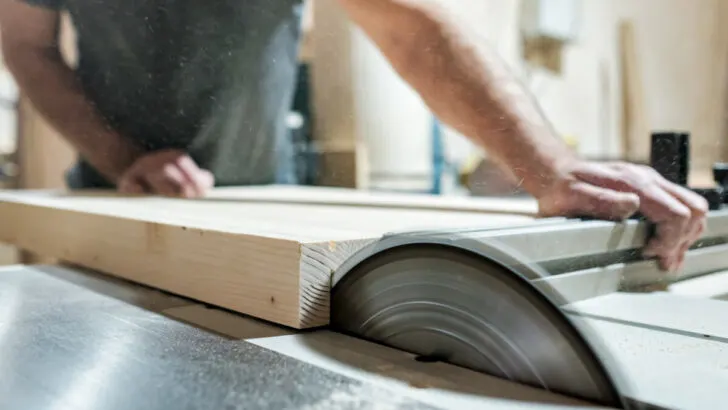 Does Menards Cut Plywood For Customers?
Menards only cuts hardwood, not plywood. The shops are designed to crosscut soft and hardwood lumber for consumers in a range of widths and thicknesses but not for cut plywood.
Places That Will Cut Wood For You
Getting your woodcutting work done commercially is usually advantageous as professional service providers use highly skilled people and cutting-edge equipment which is more than enough to fulfill any sawmilling style requirement.
Expert saw millers are also willing to give customers advice on sawing methods, finishing, and other matters.
Therefore other than Menards, here are some places that provide woodcutting services that you should check out:
Each Home Depot location offers a cutting service that provides straight cuts following the company's wood-cutting policy. However, the quantity of cuts available varies between shops.
For instance, although some stores only provide one cut, your local Home Depot store could offer three or more cuts.
The services are managed by a professional store employee. So, you may anticipate receiving extremely competent services. Additionally, all cuts are performed by Home Depot's saws. Even dimensional cutouts are available.
2. Lumber Yards
Undoubtedly, the finest location to buy and cut wood is at a local lumber yard. The reasons lie in them being lumber specialists and that they hire people with extensive understanding of wood, wood kinds, and wood preparation work.
So they are completely knowledgeable about cutting wood, including the many sorts of cuts and the best cut for each species of wood. More crucially, lumber yards provide unique cuts that are unavailable at hardware stores and big-box retailers.
For instance, Home Depot and most other big-box retailers don't quartersaw wood, which lumber yards do. Further, S4S (surfaced-on-four sides) can also be ordered from a lumber yard that is not provided by Home Depot, Lowes, or ACE.
Lowes is another large box retailer that provides wood-cutting services. It cuts engineered wood before relying on orders, in contrast to Home Depot. But there are some cons to Lowe's wood-cutting services too.
Firstly, Lowe's does not provide free wood-cutting services. At first, the business provided free wood cutting. But the complimentary wood-cutting services were eliminated according to their recent policy review.
As a result, just the first cut is now free, with subsequent cuts incurring a minor price. The main goal is to chop the wood so it will fit in your car or truck. Anything above that incurs a fee.
Secondly, does Lowes make size-specific cuts in wood? The answer to it isn't that simple. You will undoubtedly be charged for the additional cuts.
But more crucially, Lowe's is working hard to increase employee productivity. Therefore, to have your wood cut to size, you must be prepared with the required number of cuts, markings, and measurements.
Summarizing If Menards Cuts Wood
To summarize, the majority of Menards stores do offer woodcutting services. They may be free or can cost up to $3 per cut depending on the specific store policy.
Typically, Menards stores won't do custom cuts or cut plywood and if you want to try other locations for woodcutting you can try home depot, lowes, lumber yards, etc which all offer mainly the same woodcutting services.