Squats are necessary for many workouts, and you will need the right equipment. It is a good idea to compare the half rack vs. full rack vs. squat stand to decide which is best.
Getting or using the wrong rack type could be a problem if you try to lift too heavy on one of them.
If you want to incorporate other exercises into your routine, you can also benefit from specific rack types.
The half rack provides plenty of weight capacity and gives you an open area for lifting. The full rack is best for heavy lifters who want more storage space and exercise versatility. The squat stand, on the other hand, provides limited weight capacity and features, but it is cheap and easy for beginners.
There are many critical differences between a half rack, full rack, and squat stands, and this guide intends to show you what they are.
You also need to consider your lifting experience and how much weight you can do. This will all impact which one works for your lifting needs best.
Squat racks are the most common piece of equipment in a gym. They are used by all types of people and can be found in any fitness center.
So with our industry experience, we can identify the key differences in each type.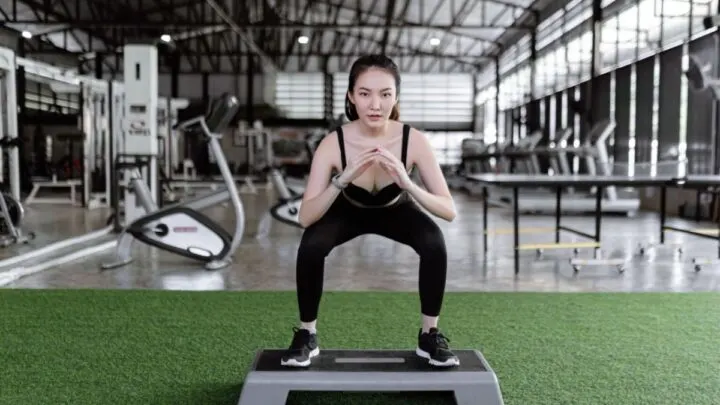 Half Rack vs. Full Rack vs. Squat Stands
There are many different types of racks available in the market, so it is essential to understand the differences between them.
The three most common types of racks are a half rack, a full rack, and squat stands.
The difference between a half rack and a full rack is that the full rack is more versatile and can be used for many different exercises.
The half rack is not as versatile as the full rack, but it allows for some exercise variations. You have the most limitations when using a squat stand too.
Half Rack
When looking at a half rack, you will see sturdy posts with a parallel angle to hold the weights.
The height is adjustable, and the half rack tends to have a similar weight capacity to a full rack.
The half rack is smaller and can be placed in areas where the full rack isn't possible. It's also easier to store and transport.
However, when lifting, there are a few key differences.
If you were to compare this to a full rack, you would notice the posts are closer together, and there are no squat arms for support.
There is also no plate storage for any weights.
The critical difference between a half rack and a squat stand is exercise versatility, durability, and overall strength.
Full Rack
The full power rack for weight lifting is the most advanced of the three rack types.
It allows heavy weightlifters to work alone without friends or workout partners.
This is because the j-cups for racking the weights are stronger and adjustable.
You also have adjustable horizontal safety support arms to catch the weight if you failed on a rep or dropped the bar.
With a full rack, you often have a set of handles for pull-ups at the top or along the front.
This is the best option if you want to perform various exercises at once.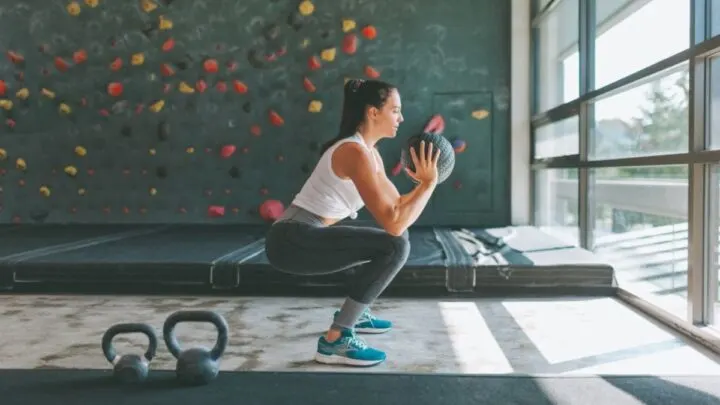 Squat Stand
The squat stand is considered the entry-level squat rack. But this does not mean more experienced lifters won't use it either.
It provided more limitations because it does not include special features like weight racks or support bars.
There tends to be less adjustability as well because you must raise or lower the entire rack at once instead of just the clips.
Lastly, you can also expect less weight capacity than the other rack types.
Half Rack Features
A half rack is typically used for bench presses, shoulder presses, squats, and deadlifts.
It is the best option for someone advancing in weightlifting and looking for a quick upgrade.
It consists of two uprights that can be adjusted from floor to ceiling with a crossbar at the top of each upright, allowing for more exercise variety than a full rack.
Below are some of the features you get when you opt for a half rack as your preferred piece of gym equipment.
Excellent For Space
The half squat rack is a piece of equipment that offers excellent features but takes up less space, making it a great choice for those looking to get similar features but who don't have the room for something bigger.
It will not have the same accessories as a pull-up, but you still have plenty of room to move around while lifting.
This also makes it easier to store and transport, and it's affordable for anyone who wants to purchase one.
Adjustable J-Cups & Height
The half squat rack has an adjustable height and j-cups so you can change where the bar goes while lifting.
These adjustable features mean you can do different types of exercises, or multiple people of different heights can use the rack. It is effortless to change the height too.
Strong Weight Capacity
You should always check the exact specifications on a product, but the average half squat rack can hold between 700 to 1200 pounds.
This is highly reliable and works for almost everybody. This means you will never need to worry about overloading the rack like you would with a squat stand.
It also doesn't limit your growth as you become stronger and more experienced in the gym.
Full Rack Features
The full rack is usually used for squats and overhead presses. It has a bar that can be adjusted from the floor to the ceiling along with uprights on either side of the bar.
This allows for more variety in exercises than a half rack does. You can see all of the features it provides below.
Better Safety With Support Bars
The support bars are the main difference between a full squat rack and other options. This makes them safer and ideal for people who lift alone.
The support bars give you more stability when you're doing squats, meaning that your body is in a better position to handle the weight.
The best thing about these bars is that they are adjustable. This will allow you to change the height based on the exercise type or height.
Pull-Up Bar
Another great thing about the full squat rack is the different features it has for other exercises.
This always includes a sturdy pull-up bar with multiple hand grips for different variations.
You can use this bar to add pull-ups into your workout, or maybe you would rather do some core exercises with it instead.
Depending on the rack type, additional bars on the side or the back could be added along with areas to attach resistance bars.
This could allow you to do a little of everything in one session.
Larger Storage Area
A full squat rack provides a larger storage area for plate weights. It consists of multiple racks on each side to hold them neatly.
The benefits of using a full squat rack include storing more plates and organizing them in one place.
This makes it easier to change the weight quickly and easily without losing your place when you are doing squats or other exercises.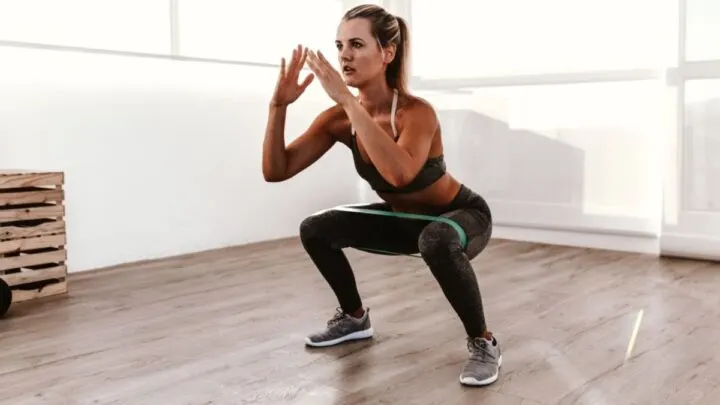 Squat Stand Features
Squat stands allow users to perform squats and other exercises in a safer environment with less risk of injury by providing a stable surface for them to stand on during their workout routine.
This is considered the easiest option to use for home gym owners. They are smaller and not as difficult to move around or use.
There are a few key features they can offer too.
Compact Sizing
Squat stands are a good choice if you want something compact and easy to use. It is considered a popular choice for those with home gyms because of this.
You will also see them in gyms to add more equipment without taking up too much space.
This gives users quick access to get into a squat rack for some of the primary lift types.
The bottom line is that if you want something that is going to give you an effective workout but doesn't take up much space in your home or gym, the squat stand is the right choice.
Easily Customizable
Squat stands are a good choice because they are highly customizable too.
They are also a safe and effective way to build strength.
There is no one-size-fits-all squat stand on the market, so it is important for users to know what they need from their stand before purchasing one.
You can also buy add-ons or accessories to make them better. This means you could add a set of support bars to squat with more safety.
Low-Cost Pricing
Squat stands are an alternative to squat racks. They provide a cheaper and more compact way to store your weights.
However, they also lack some safety features that squat racks have, such as adjustable safety catches.
You can find some of the best squat stands for as low as $300-$400 dollars.
Summing Up Half Racks vs. Full Racks vs. Squat Stands
These pieces of equipment are all great for those looking to amp up their workouts. Half racks tend to be great for giving you a lot of weight capacity, while full racks are better for those who want intense workouts with plenty of weight added on. Squat stands tend to be the most cost effective and safe for beginners, while still giving you lots of versatility.
Make sure you do some research before purchasing one, and happy working out!