Black a very versatile color that can be used in many different ways. But with home design, you may wonder which color cabinets go with black countertops?
The colors you choose for your kitchen will depend on what you want your space to feel like.
Matching the wrong colors could also lead to your kitchen or room being too dark or unwelcoming with the wrong pair.
White, off-white, gray, and wood tone cabinets are all colors that go well with black countertops. In most instances, we prefer white or off-white cabinets for the best look.
But there are other factors to consider like lighting, kitchen layout, and budget that matter too.
Experimenting with different combinations is the best way to find out what colors work well together.
There are no hard and fast rules for this process, so the best thing you can do is just start playing around with different colors until you find something you like.
This guide lists some colors that will work and shows you how to find the right color countertops for your home.
Black is often associated with elegance and sophistication, but it can also look sleek and modern.
It is an excellent choice for those who want a more minimalist look in their kitchen, and finding suitable color cabinets can be done quickly too.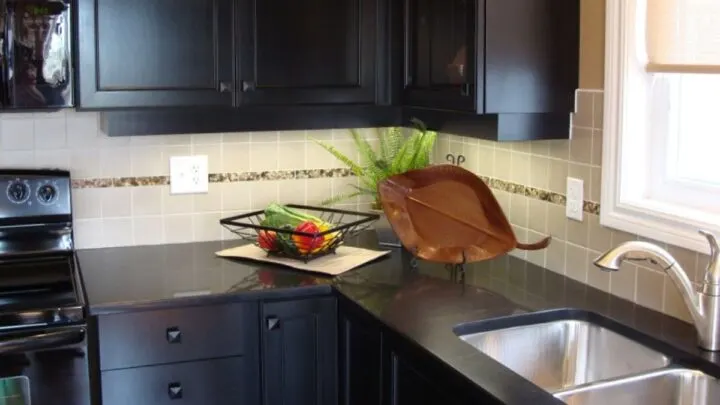 What Color Cabinets Go With Black Countertops?
Black is a classic color choice for countertops that is always in style. But what colors go best with this design?
Black and white cabinets are the most popular colors for black countertops.
However, there are still some specific color combinations that you can choose from. These include off-white, contrast gray, and wood tones.
The best way to choose the right color is to start defining your kitchen aesthetic. Do you want a neutral tone? Or would something brighter look better?
Once you decide, then you can add colors that will complement it.
For example, if your cabinets are black, you can choose white or gray as the primary color.
It all depends on what you want your kitchen to look like.
The critical thing to remember when you're thinking about color is that it's really about your personal preference.
White Cabinets
The obvious choice is to use white cabinets with your black countertops.
This classic combination provides a modern finish with an elegant look.
It looks best when you have stainless steel appliances too. This provides the most flattering look for most homes.
Off-White Cabinets
Off-white cabinets are a popular choice for kitchens.
This is an alternative to the traditional white because it provides less brightness and a more rustic finish.
Contrast Gray Cabinets
If you have a kitchen with solid lighting or lots of sunlight, we love the idea of using contrast gray cabinets with black countertops.
It will give your kitchen a darker feel, but the added lighting makes it possible. Using these neutrals together creates a beautiful design.
Wood Tone Cabinets
There are plenty of wood tones you can use with black countertops. They are perfect for complementing the look and contrast in the kitchen.
If we were to recommend one, oak wood is a solid choice. It is lighter and pairs better for darker kitchens or homeowners looking for a pure finish.
Should Your Cabinets Be Lighter Than Your Countertops?
For your cabinets to contrast with your countertops, they must have a color scheme contrasting to your countertops' color scheme.
This means that if you have black countertops, then you need a lighter color finish. This creates depth and helps to see into an object.
It is an essential aspect of design that has been used for centuries to make objects appear more exciting and beautiful.
This will help create a balanced look that does not overwhelm you with too much color. The perfect example of this is matching white cabinets with black countertops.
But it is not necessary to go this route every time. You can even use darker colors, like dark gray, as long as they are a little lighter.
How To Find The Best Cabinets Colors For Black Countertops
When picking the best color for your kitchen, you must consider the size and design of your space.
The color of a cabinet can change the mood of a room. There are different colors for different purposes, and black is one color that works well with black countertops.
Some colors are perfect for a small kitchen, while others might not work as well.
It's essential to consider the size and design of your space when choosing colors for black countertops.
Lighting
The lighting in your kitchen will determine the best cabinet color to match with black countertops.
The colors of the cabinets should be complementary to that of the countertops.
This can be a kitchen area with lots of windows that allow sunlight or installed lights that shine bright in the kitchen.
When you have bad lighting, you should use light or bright colors to improve the room's aesthetics.
However, you can go darker on the cabinets if you have lots of lighting. Lots of sunlight will make a wood tone or contrasting gray cabinet look nicer.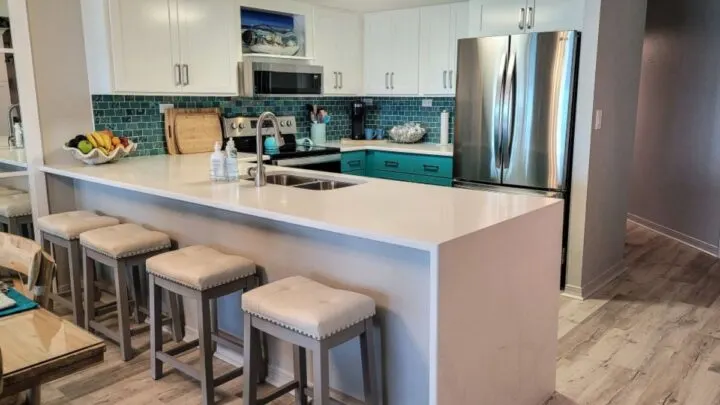 Kitchen Layout
The layout in your kitchen will determine the best cabinet color to match with black countertops. This includes the aesthetic of the kitchen as well.
For example, a modern kitchen design would require different cabinet colors than something more contemporary.
You should know what the ideal look is for the room. Black countertops are versatile, too, so you have plenty of options to make this work.
The other aspect of the layout is how your kitchen is used and how many people are using the kitchen.
For example, white countertops get dirty easier, so upkeep is more of a hassle than something darker.
Budget
You should keep many factors in mind when deciding on the best color for your kitchen. The budget you have is one of the most important ones.
You will tend to find specific cabinet types are much more expensive, potentially limiting the designs you have at your disposal.
Summing Up What Color Cabinets Look Best with Black Countertops
There are a few different routes you can go if you're looking to have your cabinets flow wonderfully with your black countertops. The most common – and often best looking – options include using white, off-white, contrast gray, or wood tone cabinets.
These will help not only your cabinets pop, but will make your black countertops look great as well.