If you don't have a lot of space in your home or apartment, you might have to rent important appliances and tools from hardware stores.
Many people rely on Home Depot and its tool rental program to rent saws, drills, power washers, and industrial lighting. But Does Home Depot rent ladders?
Home Depot does rent ladders to its customers. To rent a ladder, you will have to pick between 4 rental options, provide a credit card, and put down a deposit. If the customer does not return the tools before the deadline, Home Depot will charge the credit card on file.
So, if you have a project in your home and you need a ladder, you can go to Home Depot and rent one. You will have to follow their terms and conditions and make sure to keep their tools in great shape.
Just be sure to get the right ladder the first time you visit Home Depot, as nobody wants to prolong their home project because they have to continue returning to the store over and over again.
What Size Ladders Does Home Depot Rent?
You're in need of a ladder. You asked all of your neighbors if you could borrow theirs and they all either said that they don't have ladders or they don't like you because you play music at 3 a.m.
What are you supposed to do in this situation? Well, if you live near a Home Depot, you can rent one of their ladders.
Home Depot carries several types of ladders, and it even has some scaffolding sets as well.
Most Common Ladder Sizes
Home Depot carries several types of ladders, so you most definitely ‌find one that fits your needs.
The selection of ladders available depends on the store, but here are the most common sizes of ladders available for rent:
375 LB Fiberglass Step Ladder 10′

375 LB Fiberglass Step Ladder 12′

300 LB Fiberglass Twin Stepladder 14′

Compact Extension Ladder 16′

Aluminum Multi-Purpose Ladder 26′

Aluminum Extension Ladder 24′

Fiberglass Extension Ladder 24′

Fiberglass Extension Ladder 28′

Aluminum Extension Ladder 32′
What is the Tallest Ladder Available?
The tallest ladders are extension ladders, which are between 24' to 32 feet tall.
A homeowner looking to clear out their clogged gutters will not need to get this tall of a ladder. Construction crews, building maintenance, and window washers are far more likely to use these tall extension ladders.
Note: When using extension ladders, there needs to be a second person on the ground holding the ladder. Not only will the second person's weight ground the extended ladder, but they also can catch and stop the ladder if it slides to the left or to the right. A person at the top of the ladder cannot balance themselves if the ladder slides.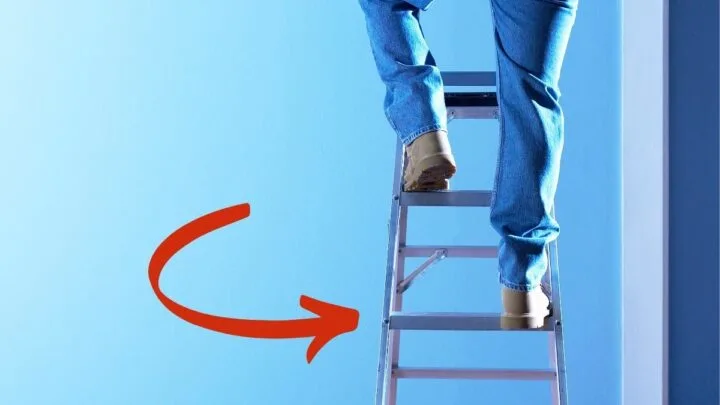 How Much Do Ladder Rentals Cost at Home Depot?
Home Depot has four different options for renting tools:
4-hour option

Per day option

1-week option

4-week option
The store at which you rent the ladder can provide the exact price for each ladder rental option, but you can go on Home Depot's website and see the general price.
Local taxes are the main reason ‌the online and store prices are different.
If you're interested in saving money and you're not really sure how long a project will take, choose the rental option with the greatest savings.
For example, if you need the starter for 4 hours but you're not sure how long the project will take, then choose the 24-hour option just in case.
The 4-hour option for renting a ladder is $30, but the 24-hour option is $50. So, if you need the ladder for 8 hours, it will cost you $60 to rent it for 4-hours twice.
Deposits
The person renting any of the tools will also have to pay a deposit.
Insurance
A deposit on a Home Depot tool is not insurance. If the tool breaks and it is your fault, then the company will bill you the price to repair the tool or replace it.
Damage protection insurance is available at each Home Depot.
How Long Can You Keep a Ladder Rental?
As per the rental option, a ladder can be in a customer's possession for 4 hours, 24 hours, 7 days, or 4 weeks.
If you rent the ladder for 3 days and you need two more days, you can extend the rental by two more days.
Since a credit card is required to rent tools, the store will charge you for additional hours if you pass the 4-hour rental deadline.
Does Home Depot Deliver Ladder Rentals?
No, Home Depot does not deliver rental tools to its customers. The customer will have to visit the Home Depot location nearest to them and pick out the ladder themselves.
If a customer needs Home Depot to deliver the ladder to their location because the ladder will not fit in their vehicle, there is another option.
Anyone with a license can rent a delivery vehicle from Home Depot and then drive the vehicle and tools to and from the Home Depot location and their location.
However, renting a truck or van from Home Depot requires its own separate rental process along with approval of the customer's license and additional deposits and insurance.
Conclusion to Renting Ladders From Home Depot
Customers can rent a ladder and many other tools from Home Depot. The ladders available to rent at Home Depot depend on the location. There are 4 different options for renting ladders.
When renting a ladder, you will have to pay the rental price along with a deposit price. You also can extend the time frame if you need to keep the ladder for longer, but will have to pay another fee.