Perhaps one of the most exciting tasks that you look forward to while designing a home is being able to decorate and paint it the way you want.
A color palette that is in sync with the style of your home, along with allowing for good contrast, works well in making your space look more prominent and brighter.
Painting the cabinets a lighter or similar shade to the walls can help to open up the space for smaller kitchens, especially if it has less natural light. However, painting the cabinets a darker shade can give the whole room a more dramatic and eye-catching look.
Here are some points to keep in mind when deciding on the color of your kitchen cabinets.
Should Wall Color Match the Kitchen Cabinets?
If your kitchen cabinets should match the wall color of your home all depends on the look and feel that you're going for.
If your kitchen has exposed brick or a red or a darker color, it is better to contrast it with off-white, white, or other light-colored cabinets. However, if the wall color of your kitchen is white, your cabinet color may match to give a monochromatic modern look.
In this case, a contrast with brown-colored shelves, barstools, or silver appliances may give the contemporary modern look that you are going for.
Also, if there is less natural light coming into your kitchen, cabinets matching the wall colors will give a brighter and more spacious look to the kitchen.
Should Kitchen Cabinets And Walls Be The Same Color?
It is not necessary that the kitchen cabinets and walls are the same color. At times, cabinets a shade or two darker than the wall and ceiling can also give a modern and clean look.
You can also contrast a lighter wall color with natural wood cabinets if you are going for a traditional and warm look for your kitchen.
However, if the walls are darker and you have a smaller kitchen, do not make the mistake of matching the cabinets with the wall color, as it might make it look stuffy and even smaller.
Are Dark Or Light Cabinets Better?
Whatever shade you pick for your cabinets depends on your preference and the look you opt for.
There are some good wall and cabinet color combinations, some of which we go into below.
Dual Colored Cabinets With White Walls
Dark maroon and white kitchen cabinets are a great combination with white or off-white walls. These colors should be placed alternatively along the kitchen, with the center of the kitchen having white cabinets.
This combination is great for creating asymmetry in the kitchen which can create a modern, aesthetic appeal.
You can also experiment with light gray and white combinations with white walls, or with light blue with white walls if you want to go for a softer look.
Dark-Colored Cabinets With White Walls
Dark-colored cabinets with white walls are a style statement. The combination of black cabinets with white walls can be really make the kitchen pop.
If you want to give a colorful look to your kitchen, you can also go for maroon or blue shades combined with white walls.
Light-Colored Cabinets With Dark Walls
If your walls are bricked or a darker shade, you might want to go for lighter-colored cabinets. You can choose shades like light brown, white, or off-white so that it pops from the dark canvas.
For example, dark wooden flooring paired with lighter-colored walls and cabinets will look great.
Colored Cabinets With Colored Walls
If you have colored walls like brick red or green, pairing it with a similar shade of cabinets will give a monochromatic look, which is also becoming more and more trendy.
Red bricked kitchen walls can also be contrasted with light colors like blue or green. While colored cabinets give a busy look to the kitchen, they are great if you want a homey and traditional look.
Dark-Colored Cabinets With Colored Walls
If you want to add a dramatic look to your kitchen, pairing colors like emerald green walls with black cabinets will give a great look.
Also, pairing it with earth-colored accessories, like a planted pot, will help balance out the bold look of the kitchen with a soft touch.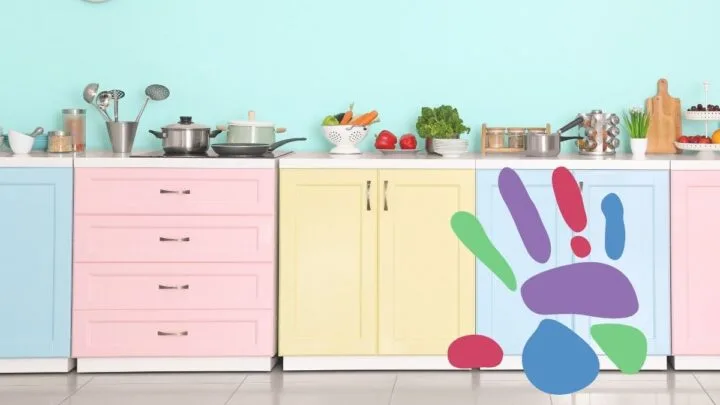 Tips To Choose Wall And Cabinet Colors
Here are some useful tips to choose wall and cabinet colors when you are set to vamping up the space:
1. Colored Walls Go Well With Matte Cabinets
If your walls are bold in color, like green or purple or even lined with red bricks, make sure you choose a matte cabinet color to blend in well with the impact that the colored walls make.
2. Glossy Cabinets For Matte And Lighter Walls
If you want to make your cabinets more prominent, go for a glossy material or finish, but only if you have matte painted or lighter-colored white walls.
3. Tiles Or Glossy Walls With Matte Cabinets
If your walls are glossy, which means they have a satin finish or are tiled, you need to pair them with matte-colored cabinets. It doesn't matter if it's light or dark-colored.
4. Light Up The Space
If there is little natural light flowing into your kitchen, make sure that you have sufficient indoor lighting to give a spacious and bright look to your kitchen.
Summing Up If Kitchen Cabinets Should Match the Walls
An open kitchen is an important space in your house to make an impression. So, choosing the color palette for your cabinets that goes harmoniously with the walls is a necessity.
There are a lot of colors that you can experiment with, however, some useful tips are to choose glossy cabinets only if the walls are matte. Otherwise, the glossiness will become overbearing.
Some other tips include combining matte cabinets with glossy walls and colored cabinets with colored walls.