You spend over 1/3 of your day in your bedroom. So, the idea is to make this space the most comfortable so you can unwind and let go of the stress accumulated throughout the day.
But if the bedroom is stuffy and crowded, you won't be comfortable. Also, if your bedroom is small, chances are it won't fit all the necessary furniture you need to keep your belongings neat and organized.
So, if you're getting your house remodeled or you're moving into a bigger house, you must ensure that your bedroom is large. But how big is a large bedroom?
Large bedrooms are considered to be at least 20 feet on each side, or 300-350 square feet at the very least. These rooms can have large storage spaces, a seating area, a king-sized bed, and a large dresser or mirror.
Read on to learn more!
What Size Bedroom Is Considered Large?
Rooms considered large are at least 20 feet on each side or 300-350 square feet at the very least.
The space between the furniture items in a large bedroom makes it look spacious and neat. A large bedroom that is well-organized can help you to de-stress as well.
If the bedroom is not rectangular or square and has a separate dressing area, you can consider it a large bedroom.
This is because this kind of bedroom eliminates the need of having a separate wardrobe in the bed area. So, you can have a seating space along with a queen-sized bed in the bedroom without making it feel stuffy or uncomfortable.
How Big Is An Average Bedroom?
An average primary bedroom in American homes is almost 14 feet by 16 feet, or 224 square feet. A room of this size can accommodate a large queen-sized bed, an average-sized dresser, and a wardrobe.
But a room of this size would not have a lot of spacing. Therefore, you can't pick furniture that is so large that it takes up the entire space. If you do so, the room will end up looking cramped and stuffy.
However, the size of secondary bedrooms averages 11 feet by 12 feet. While a bedroom of this size can have two single beds, it won't be sufficient for putting up a large bed.
Why Should A Primary Bedroom Be Large?
So, the primary or master bedroom of the house should be large since you need space to organize. You can give the secondary bedroom to the kids.
If the room is smaller than 11×12 feet, putting up a double bed to accommodate two children can make space for other furniture.
But there's no harm in allotting a larger bedroom for the kids to share. It is a clever use of space since kids need space to store their toys and a space to play with them comfortably as well.
What Is A Good Size Bedroom For A Queen Bed?
Sleeping comfortably on a queen-sized bed after a long hard day is a treat to your body.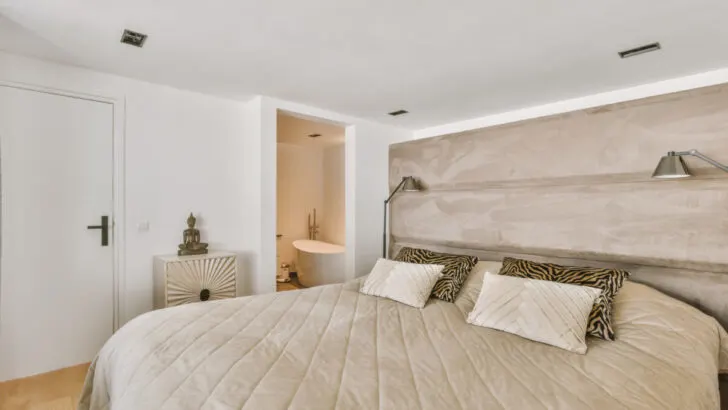 Therefore, a large bedroom and a comfortable queen-sized bed is a must for adults. If you're thinking of getting a queen-sized bed, make sure that your room has adequate space to accommodate a bed of this size. If not, you will have to move around some furniture to make room for it.
If you have an option of getting a bigger sized room and furnishing it with a queen-sized bed, you should go for a room that is 10×14 feet in size.
This will leave adequate space for moving around the room and also accommodating other furniture.
So, a good-sized bedroom for a queen bed is 10×14 feet. Queen-sized beds can also fit in rooms as small as 9.6×10 feet.
But in this case, the bed would take up the most space, and even though you'll have ample space on the bed, you won't have enough space to walk around or get a big dresser or wardrobe.
So, you'll have to look for other storage options for your bedding and even clothes.
When you're getting dressed in the morning and have to rush outside the room to fetch things, the distress of a good night's sleep on the queen-sized bed will vanish in no time.
Summing Up How Big Large Bedrooms Are
A large bedroom with windows facing soothing scenery is a dream. Many want to realize this dream and get a large bedroom where they would spend more than 1/3 of their day.
While everyone has their perspective of how big a bedroom should be to be considered large, technically speaking, a room with more than 20 feet on each side is a large bedroom.
However, if you want to accommodate the essentials including a queen bed, a room of 10×14 feet is also sufficient.
FAQs
Is a 10×10 Room Big?
A 10×10 room is sufficient for accommodating a queen-sized bed. But it will not leave ample space for walking around the room or adjusting any large pieces of furniture like a large dresser or a large wardrobe.
You will have to make do with a small dresser and accommodate your wardrobe elsewhere if you want to accommodate a queen-sized bed in a 10×10 feet room comfortably.
Is A 12×12 Bedroom Small?
A 12×12 feet bedroom is fairly large and gives almost the same square footage as 10 feet by 14 feet bedroom.
However, a 12×12 feet bedroom would not be considered a roomy bedroom. In a 12×12 feet bedroom, putting up a queen-sized bed, two side tables, a dresser, and a wardrobe will take up most of the space. If you want a seating area, you will have to consider going for a bedroom that is at least 20 feet from all sides.