A master bedroom is where you spend most of your sleep and rest time. Therefore, choosing the right size and environment for your needs and interests is important. Rather than trying to reinvent the wheel, you may find yourself wondering what the average master bedroom size is!
In the United States, the average master bedroom measures 300 square feet. Because master bedrooms are relative in size to the overall home, their dimensions can vary.
For reference, the average master bedroom in a home with 2,500 square feet of floor space is 300 square feet or roughly 12% of its overall square footage.
If you are still confused about what affects your average master bedroom size, allow us to walk you through it.
What Factors Affect The Master Bedroom Dimensions?
There are several things to consider while planning your master suite layout.
1. Cost
A larger financial investment will be necessary to realize your vision of the ideal master suite. Find out what size bed you'll need before picking a bedroom layout.
Consider whether you'd prefer freestanding cabinets or a walk-in wardrobe. The necessity for, and the size of, a master bathroom is another factor to think about.
The overall price of your master bedroom, as well as whether or not you'll be able to afford the design you want, will depend on each seemingly insignificant particular.
2. Size Of The Home
There are a few rare exceptions. Still, generally, the master bedroom will be larger according to the size of the house.
If you have a larger master bedroom size, you will have more room for additional furniture, creating a spacious walk-in closet and master bathroom.
A small master bedroom may require some staging to give the impression that it is larger, which may necessitate the removal of some pieces of furniture.
In the interest of minimalism, you might have to forego the luxury of a master bedroom complete with a suite bathroom and walk-in wardrobe.
3. Your Interior Design Preferences
After a long day, your bedroom will be your private sanctuary, so you must determine what you desire and require.
Some people prefer a more compact space because they often only use their bedroom for sleeping and would rather have a larger living area.
On the other hand, some individuals desire a master bedroom that is more like a palace, complete with couches, fireplaces, a sizable walk-in closet, and a master bathroom with walk-in showers and a Jacuzzi tub. Talk about spacious dimensions!
Because you and everyone else have unique preferences and senses of style, you must decorate your master bedroom in a way that reflects who you are as an individual.
To learn more about master bedrooms, make sure to take a look at my full article on master bedroom size!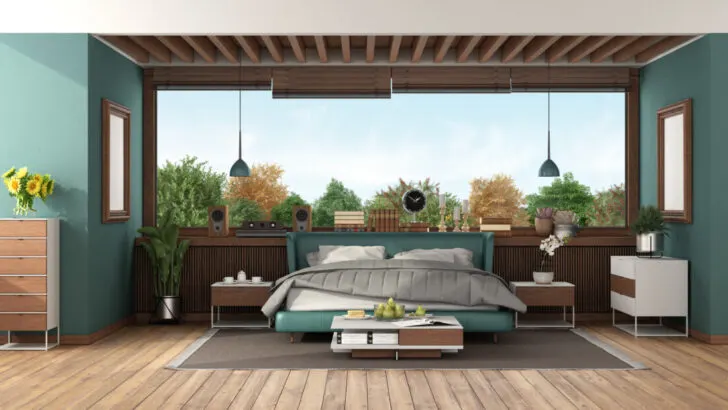 How To Design An Ideal Master Suite Size
Diversity reigns in the world of perfection, where every detail is well-planned and no element is left to chance.
To start building your ideal master bedroom, think about the distance needed for accessibility and ease of mobility, such as watching television.
Here are a few considerations:
1. Focus On the Function, Features, and Flow
A master bathroom with your preferred amenities, such as a separate tub and shower, lots of countertop space, and a private toilet room or an alcove, is included in the specifics and measurements of your ideal master bedroom.
More simply put, think about interior design!
These specifications are based on your specific preferences. House Plans Helper recommends at least 10 square feet of floor space per person with a queen-sized bed and two nightstands on either side.
Also, a bedroom should be at least 12 by 12 feet to accommodate a king-sized bed and two bedside tables.
The main entrance to the bedroom, a sizable walk-in closet, and the master bathroom may all be accessed through a shared vestibule.
This layout eliminates the need for many doors, which would otherwise take up valuable real estate on the bedroom's interior walls and may disrupt sleep or seclusion.
Since 2,500 square feet is the average size of a home in the US, according to Doorways Magazine, they only looked at smaller dwellings.
They discovered that bedrooms with a queen-size bed in smaller dwellings in the United States are typically 11 by 12 feet or 132 square feet in size.
The average master bedroom dimensions were 14 by 16 feet, which is a substantially larger size. A king-size bed and other furniture can fit comfortably in a master bedroom that size, leaving plenty of area for open space and walking area.
2. Long-Term Bedroom Size Decisions
You should start with a total bedroom measurement of around 22 by 20 feet if you want to use ample space in your master bedroom and include a king-size bed and a sitting area. You can change the size necessary to adhere to the home's current layout and roofline.
There is a wide range of possible sizes for a master bathroom, from under 100 square feet to above 200 square feet, with additional features, including a sunken tub. 
A walk-in closet at least 7 feet wide has enough room for at least 2 parallel hanging rods and may be expanded to any extent to add built-in shelves and more storage space in various configurations.
3. Furnishings For A Relaxed Bedroom Environment
Ensure that the items you utilize in a master bedroom that has been thoughtfully planned have a comfortable scale and are easy to access.
Your bed is the most important piece of furniture in your bedroom, and for maximum use and comfort, it needs to be situated next to the lighting fixtures and the nightstands.
Choose a king-size mattress, as this is the most appropriate option for a bedroom that serves as a master bedroom.
A California king-size bed measures 72 inches wide by 84 inches long and is slightly shorter and narrower than a traditional king bed, which measures 76 inches wide and 80 inches deep.
Make sure there is enough space to walk around the bed and the dresser.
Final Words on the Average Master Bedroom Size
The average size of the master is 300 square feet. You can adjust the measurements according to your liking or the available area.
Whether you are planning to build a house or buy one, choosing the size of your master suite is crucial.
Therefore, make sure the area you are choosing is big enough for you and your partner and functional for hectic weekday mornings.
Average Bedroom Size Frequently Asked Questions (FAQs)
What is a good size for a master bedroom?
A good size for a master bedroom is at least 12 feet by 12 feet or 144 square feet. However, many people opt for larger master bedrooms, ranging from 150 to 200 square feet.
Is 12×12 a good size bedroom?
Yes, 12×12 is a good size bedroom. It is large enough to accommodate a bed, dresser, and other furniture, while still providing enough space to move around comfortably.
How big should a bedroom be for a king bed?
A bedroom for a king bed should be at least 10 feet by 10 feet. This will provide enough space for a king bed and additional furniture such as a dresser, nightstands, and a chair.