Tired of looking at the grimy, old, out-of-date tile in your bathroom or kitchen? It's time for the contractor to break up all that tile, and replace it with gorgeous new tiles!
You've been calling around your area for quotes on replacing tile to start the project by the next month or two. But all the contractors were a little expensive and installing your tiles needs to stay within a budget.
What about Home Depot? What is the cost of tile installation at Home Depot?
According to Home Depot's website, a 5ft by 8ft bathroom costs up to $1,500 to replace the floor tile. Several factors influence the cost of tile replacement, including the square footage, the type of tile, and if the contractor discovers damaged wood or another issue after removing the original tile.
Read on for everything else to know about using Home Depot to install tile!
What Is the Cost of Tile Installation at Home Depot?
Unless you're redoing every floor in your house and you're using the most expensive tile, installing new tile is generally not going to break the bank. Depending on how handy you are, you could even remove and install the tiles yourself.
But most people don't want to do that, as there are plenty of contractors that would remove and install tile for them.
Home Depot has tile installation services, but there are no flat rates. The price depends on a couple of factors.
Tile installation Cost
Home Depot does not provide a flat rate for tile installation, unless there is a big sale or promotion. Sometimes, relation jobs can cost as low as $1,500 and other installation projects can cost more than $10,000.
Types of Tiles
Different tiles are available at Home Depot and each has its own designated area.
Floor tiles
Wall tiles
Shower tiles
Backsplash tile – on walls behind or lining fixtures like toilets and sinks
Flooring Tiles Promotion
As of November 2022, Home Depot is hosting a tile installation promotion. The promotion says Home Depot will automatically price floor tiles projects at $5.50 per square foot.
The promotion includes the carpet and the floating floor removed if needed.
Any nailed glued or adhered flooring will require additional fees, but they will cover up to 1/4 in cracks and dips.
This promotion is only for flooring tile and not for shower, backsplash, or wall tile.
Tile Installation Cost Per Square Foot
The average cost of installing tiles in a home can cost anywhere between $4 and $14 per square foot. But the price jumps depending on the type of tile. More expensive tiles like ceramic or porcelain tiles will cost more and raise the average amount.
According to Home Depot themselves, the usual cost of tile installation is about $6.50 per square foot.
How Much Should Ceramic Tile Installation Cost?
The average price to install ceramic tiles is $7 to $14 per square foot. It is one of the more expensive types of tiles to purchase. But they are quite beautiful and many people are happy with their ceramic tiles.
A 200 ft floor with new ceramic tile installation will cost $3,400 or more.
Factors That Impact Tile Installation Cost
Four major factors will influence the cost of tile installation, including:
If the contractor has to remove the old flooring,
If issues require the floor to be repaired before installing the new tile,
The square footage of the project area,
The cost of the tile,
If the project involves a backsplash, the numbers of walls, shower, floors, or a combination of two or more.
Another factor that few people know is the schedule of the contractor performing the retailing. If it is a slow season for them, then the price can drop so that they entice people to order from them. But if the schedule is busy, then the same job can cost more.
An additional fee, you can ask the contractor to install everything in one or two days instead of the usual time, which is about 4 to 7 days.
Ways to Save Money on Tile Installation
If you are working within a budget and it looks like you might go over, there are some things you can do to lower the cost of your tile installation project.
You may have to sweat a little and take on some of the project yourself, but that's what you have to do when you're working on a budget.
Remove the Tile Yourself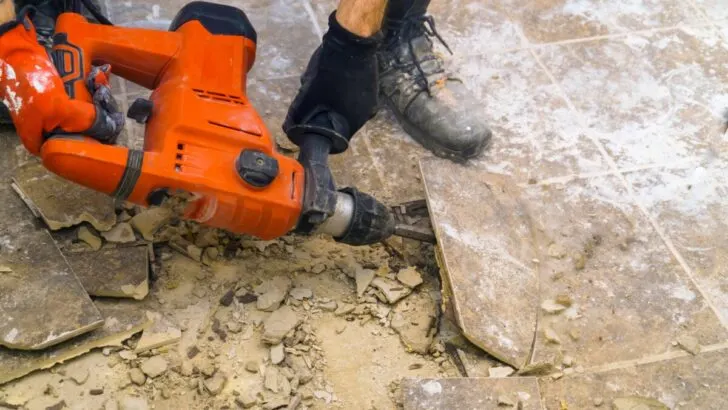 Removing the old tiles on your floor, shower, or backsplash is incredibly easy and fun.
However, we suggest removing the tile the day before the contractor comes to set the new tile. If you know the contract is coming at 12:00, you can wake up at 8:00 in the morning and remove the tile then.
Sales Are Your Friend!
Another way to save money on tile is to purchase tile during a great sale. Search for tiles sales as soon as you can. Do not wait until you have the full funds for the entire installation project. Many people purchase practically brand-new tiles from Habitat for Humanity.
Buy Cheap Tiles From Another Business
Since you are hiring a contractor from Home Depot, you can use Home Depot gift cards to pay for the title installation! Ask everyone in your family to donate Home Depot gift cards for a beautiful new master bathroom or a gorgeous new kitchen.
How to Get a Quote from Home Depot
There are two ways to get a quote from Home Depot so you can know how expensive the tile installation project will be.
First, measure the area you want to redo. Then, include the size and material of the tiles. Also add the age of the home, if there were any previous renovations or retellings done to the area that you know of, and also any damage that is common to the area.
You will include all this information in an email to the health services at your nearest Home Depot. You can also call Home Depot's customer service line.
The second method is to schedule a home visit. It is possible to request someone from the tile installation services at Home Depot to visit your home and measure the area for themselves. They'll be able to give you a quote.
In order to schedule a home visit:
Go to HomeDepot.com, go to services and then tile installation.
In an orange and white box in the right-hand corner, there is a button labeled Schedule. Click on it.
The page will change and you will type your ZIP code.
Then, select the nearest Home Depot store.
On the next page, include the number of bedrooms, staircases, bathrooms, closets, dining rooms, living rooms, kitchens, and other areas in the project.
Select the type of flooring you would like.
Select the flooring type, which is tile.
Add your first name and last name and then put in your email address and phone number.
With all this information, an employee from the title installation services from the Home Depot you requested will contact you. You will set up a date and time in which they can come over to your home and survey the area.
Do you need a toilet installed as well? Click here to learn about toilet installation!
Conclusion to How Much Home Depot Charges for Tile Installation
How installation from Home Depot averages around $6.50 per square foot. The national average can be anywhere between $4 and $14 per square foot. Sometimes Home Depot has a promotion or the flat rate is $5.50 per square foot.