Searching for a contractor to install new floors in your home is time-consuming. Who has the hours to search for local contractors, get prices, compare services, and then find new flooring patterns and designs?
However, if you live by a Home Depot, they do have floor installation services. How much do Home Depot's floor installation services cost?
Home Depot installation services are usually around $5.50 per square foot for tile installation, but the price can range anywhere from $4 to $6.
The average cost for a fully finished floor installation job is around $2600. If you book a floor installation consultation, a professional from Home Depot will visit your home and take estimates. The estimates are free.
Every home is unique and will require their own special services.
Home Depot will service most homes, regardless of the square footage. However, if you are looking for specialty services, Home Depot may not be the place for you.
How Much Does Home Depot Charge?
It is so much easier to visit a Home Depot and hire an expert to install floors in your home. It may not be as cheap as other floor installation contractors, but Home Depot services are reliable and professionally done.
Sure, you can ask your family members for the names and numbers of their contractors.
But then you have to spend hours setting up appointments, inviting contractors into your home, giving them tours so they can take measurements, and negotiating prices with them.
When you hire Home Depot contractors to install your floors, they will simply walk into your home, quote an estimated range of price, and leave.
If you're at a time crunch, hiring the Home Depot's services is without a doubt a simple decision.
How Much Does Flooring Installation Cost?
The price that Home Depot charges their customers for floor installation depends on the type of flooring, the size of the floor, any damage that needs to be repaired, and the materials and labor.
Professional Home Depot service people can install new floors on most areas of the home. Home Depot services can even put the final touches on unfinished flooring.
Unfinished floors are okay to have in your home, but they will need to be replaced more often than finished floors, as they will decay faster.
Home Depot can also repair old floors and make them look good as new.
One major benefit of using Home Depot's floor installation services is the price will be the same around nearly every part of the country.
Home Depot buys their supplies in bulk and transports these supplies to all of their stores. Compare that to a local contractor, who will purchase their materials from a local hardware store.
The price of materials will be significantly higher.
Your contractor may even buy the materials from Home Depot themselves. By hiring Home Depot to do your floor installation services, you can cut off the middleman and save money.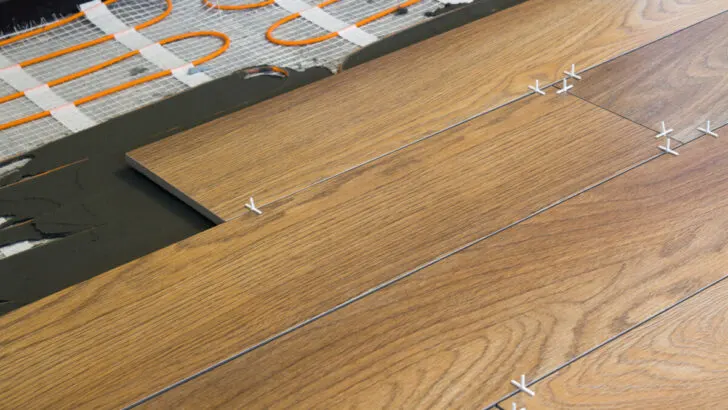 What Flooring Types Can Home Depot Install?
On Home Depot's website, they provide information on each type of installation services.
Home Depot can provide services for:
laminated flooring
carpet
vinyl flooring
hardwood flooring
They can do bathrooms, patios, carpeting, bedrooms, kitchens, living rooms, and basements.
To learn more about which flooring types Home Depot can install in a home, visit the Home Depot flooring installation center in your nearby Home Depot, or you can call the customer service number.
You can also email Home Depot's customer service.
Does Home Depot Install for Free?
Home Depot rarely, if ever, gives away free floor installations. If you would like Home Depot to install new floors in or outside your home, you will have to pay them.
However, Home Depot allows their customers to use gift cards to pay for floor installations.
So if you have a very generous extended family, you can ask them for Home Depot gift cards to help pay for your floor installation service.
How Much Does it Cost?
There is no one set price that you can rely on when researching floor installation services.
Each contractor can't set the wrong price. The price depends on a variety of factors, including availability of material, the type of material required, the season, if there's any damage underneath the flooring, the age of the home, the necessary add-ons needed to preserve the flooring, and the cost of labor.
Installing a brand new kitchen floor can cost anywhere between $3 to $22 per square foot.
Most homes will only range from $3 per square foot, and the price of installing a new kitchen floor for the average home will be $4,500.
However, this price can change drastically when installing floors in a bathroom.
According to kitchen and bathshop.com the average cost per square foot for a bathroom floor is $2.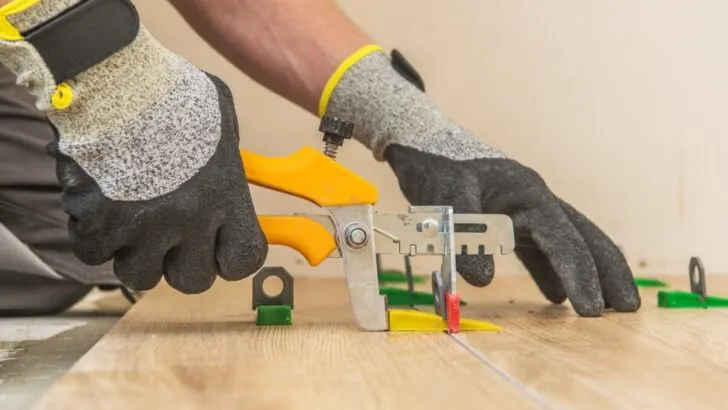 If your bathroom floor is around 120 ft, then the most it will be to install new floors in that bathroom will be around $2,000.
That's usually the average price, but it can be much more expensive, depending on the materials required to install the bathroom floor.
Estimates also depend on the contractors. Two contractors estimating a 500 sq. ft job can give wildly different prices.
Conclusion to Home Depot Installing Flooring
Home Depot can provide floor installation services for vinyl tiles, carpeting, laminated flooring, hardwood flooring, and more. The average price of a kitchen floor installation is around $2600.
Home Depot does not provide free floor installation service. Only estimates are free.