Have you moved into a new home but there are no curtain rods? How do you install them? Do you even need them? If you don't want to go through the hassle of putting in curtain rods, you can actually hang your curtains without a curtain rod.
Some individuals like having curtains around their windows, but they don't want to put in the extra effort required to install a rod. A few ways to install curtains without a rod include using a tension cable, using drapery pins, or using a magnetic rod.
So, here's how you can hang curtains without a rod.
Three Ingenious Ways to Hang Curtains Without a Rod
With the following mentioned tension cable, screws, and magnetic rods, you can style your window curtains without having a curtain rod.
1. Use a Tension Cable
Curtains with rod pockets, grommets, tab tops, or ring clips can all be supported by tension cables. It's the ideal option for hanging sheers or lightweight curtains over large windows or to create room separators.
You could buy everything you need in a convenient kit from stores like IKEA, or you can pick it up piece by piece at your local hardware or home improvement store. 
Take two turnbuckles, two wall hooks, two wire clamps, plastic-coated wire cable (get at least 1-and-a-half to two feet more cable than you think you'll need, as it's preferable to have too much than too little), and anchors or screws to attach the hooks to the wall.
Steps to Do This
Install the hooks by screwing one into the wall on either side of the opening in the window.
At the cable's ends, make loops approximately 5 to 7 inches in diameter and secure them using wire clamps.
Grommets, tabs, or rod pockets on the curtain should be used to pass the wire through.
Connect the hooks and the tension cable at either end of the turnbuckles.
To achieve the right tension, cut the extra wire, and tighten the turnbuckles.
Pros:
Simple to install and doesn't need any hardware or measuring.
Adjustable cafe curtains can be hung from the middle or top of the window.
When hanging sheer or light curtains, tension rods work best.
Cons:
For thick drapes or blackout curtains, tension rods are insufficiently sturdy.
Over time, tension rods may become slack and slip.
Your window size may require you to acquire custom rods, which might be expensive.
2. Using Drapery Pins And Hook-Eye Screws
Using hook eye screws can help pleated curtain panels to keep their professional appearance without requiring a curtain rod to be installed.
Steps to Do This
Fix the top of the curtain panel with drapery pins.
Count the number of pins spaced out along the curtain's upper edge to determine its breadth.
Use a pencil to indicate the pin locations above the window.
At each pencil mark, attach an eye hook, finishing with an eye that is twisted horizontally to accommodate a drapery pin.
Pros:
Compared to conventional curtain rod hardware, coat hooks are simpler to install.
Cheap coat hangers provide a distinctive décor accent.
You don't need to drill holes to install coat hooks.
Cons:
They require correct measures to be distributed evenly. This measuring procedure can take some time.
Hanging drapes on coat hooks makes them awkward to use.
3. Using a Magnetic Rod
There are many different kinds to choose from, and some of them have adhesive strips so the rods can be attached to other materials.
Steps to Do This
Purchase the proper magnetic rod.
Ideally, look for a magnetic curtain rod that is both long enough to enclose your window and sturdy enough to support your drapes, and attractive enough to be hung on the wall.
Now install the rod on your wall in the second step. Make sure the curtain rod is in the desired location and is firmly fastened to the wall.
Next, remove the rod to allow your curtains to hang, and then secure the rod to the wall once more for fixing.
Pros:
Accessible in a range of widths
Cons: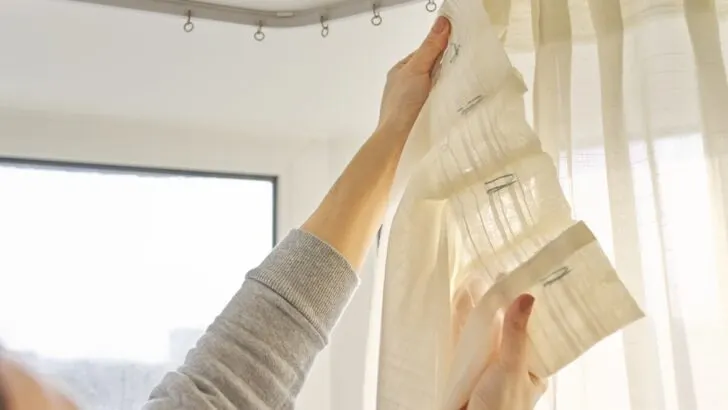 Magnetic curtain rods, like Command Hooks, aren't intended for use with heavy drapes. The curtain rods in this image can only support eight pounds.
Using it in a busy place may cause it to shift out of alignment.
To control cloth sway, top-and-bottom rods are recommended.
Costlier than alternative no-drill curtain choices.
Final Words on Hanging Curtains Without a Curtain Rod
Curtains give your home and window an aesthetic look that you should not upon. Therefore, if you're in no mood to hang curtains rods or drill holes, you always have the option to choose its alternatives.
For instance, you can use screws, hooks, or magnetic rods as discussed above to hang your curtain without using a curtain rod.
Related Articles