Painting your home can be a big job! Not only is it costly, but it is also time-consuming, therefore you will want to make sure you have the right color of paint before you begin.
This may leave you asking, can you get paint samples from Lowe's for free?
Paint samples are not free at Lowe's, but there are several ways to get paint samples at a very low cost. Select brands will occasionally run specials at Lowe's that allow their paint to be sampled for free.
So if you are looking for the lowest cost method of sampling some paint in your home before you begin a large paint job, this article will cover all you need to know about getting paint samples from Lowe's.
Can You Get Free Paint Samples From Lowe's?
Unfortunately, while paint samples were once free from Lowe's, they have since stopped this practice. Currently, you can only get paint chips for free from Lowe's.
Paint chips are small pieces of dry paint which can help you to get an idea of what the paint will look like when it's dry. Of course, this is not quite as good as painting a small piece of your wall with an actual paint sample.
Sometimes, certain brands like Valspar will offer free samples through Lowe's. This is, however, a limited special that the company pays for.
While you can always go into a Lowe's and ask if there are any companies running a free paint sample special, you should not rely on this being the case when you start a large paint project, as these free periods are few and far between.
How Much Do Paint Samples Cost At Lowe's?
Although they aren't free, you'll likely find that it isn't too expensive to buy paint samples from Lowe's. Most paint samples start at just a few dollars, and they rarely cost above $5.
The cost of the samples will vary depending on the brands and colors you are shopping for.
Because you do have to pay for them, it is a good idea to take the free paint chips first since they are free, and compare these in the room you wish to paint.
Once you have narrowed down the colors, you can buy the samples of those one or two colors to compare. And who knows, by that time may be one of the paint brands you like will be running a special which will allow you to try it for free!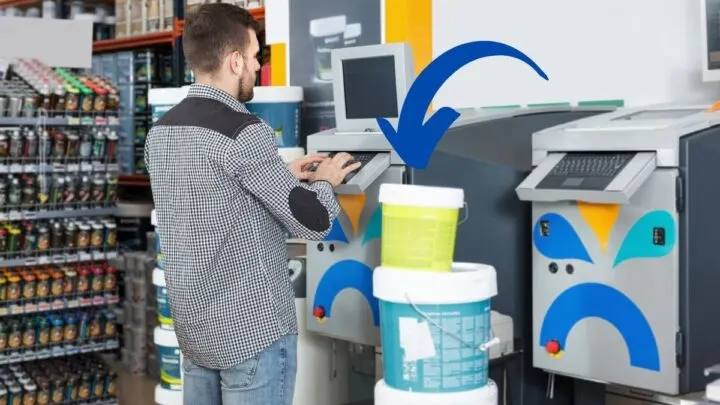 Does Lowe's Make Custom Paint Samples?
Looking to match a color that might already be on your walls? No problem, as Lowe's does offer custom paint matching services. They use computerized matching in order to ensure you get the exact color you are looking for.
For best results, provide Lowe's with a sample of paint from another store in the color you are looking for, and they will mix it for you.
They do know that sometimes this isn't possible, however, so they will work to match the color of a paint chip you provide.
Once they find that match, they will be able to mix a custom sample for you, but this will not be free. They will charge you for the custom paint sample, and the price will vary depending on the brands of paint used to make the sample.
The nice thing is if you do purchase a paint sample from Lowe's, like the color, and then return to buy a larger size of paint, Lowe's will guarantee this purchase.
This means that if you paint the entire room and find it isn't the same as the sample you painted, you can get refunded by Lowe's for your purchase.
Final Thoughts on Lowe's Paint Samples
Overall, paint samples are no longer free at Lowe's, but you will find that shelling out a few dollars for samples at the beginning of a large project is worth it. This ensures you are getting the exact color that you want for your home.
Whether you already know what color you want, or you want something customized, Lowe's is able to handle all sorts of paint requests.
Therefore, if you are looking to paint a room in your house, there is no reason not to head into your local Lowe's to get a few paint samples to try before you commit to painting an entire room.