Since technology has progressed by far and beyond, it is no wonder to see new products being added to home tech every day.
People are now moving towards making their homes machine-oriented.
If you're also one of those people who are actively trying to improve their home, you need to look into Nest thermostats.
At first, it might come off as just another fancy investment but once it actually starts to contribute to your house, you'll find yourself recommending it to all your friends.
A Nest thermostat can automatically switch between temperatures according to your preference. All you have to do is set the temperatures and the time you want it to change.
The thermostat will then do the exact changes on the time set up, without you even noticing.
Not only does it add to the aesthetic of your house, but it also controls the temperature in a way that'll leave you completely satisfied.
Since this tiny device might make its way into your home sooner or later, here's all you need to know about them.
What Are Nest Thermostats?
Invented by Nest Labs, this tiny thermostat can be made in charge of switching between hot and cold temperatures in your house.
The smart device can be connected to your phone and also has eco modes that can significantly reduce your bills.
It is compatible with almost all kinds of HVAC systems, and easily available to a large audience because of its little to no prerequisites.
You might have to monitor its performance initially, but give it a week and it'll learn to keep up with your routine.
Its system is designed to analyze and store data from its surroundings so that it can control the temperature accordingly.
For example, once it has your indoor and outdoor activities figured out, it'll keep the temperature warm when you're home and automatically turn off when the house is empty.
This results in energy conservation and also allows you to change the temperatures to different settings if you like.
When you're out and are heading home a little earlier than usual, you can just tune the settings on your smartphone from miles away, in order to be welcomed by a warm house.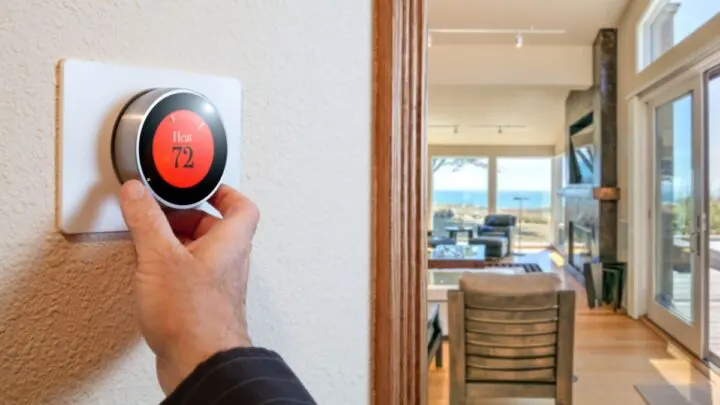 How Does The Nest Thermostat Temperature Schedule Work?
The Nest allows you to fiddle with the temperatures on either the device itself or the app on your phone.
Traditional thermostats used to have standard settings for maintaining temperatures and would have you get up for every little change.
Nest, on the other hand, is half the hassle because of its smart configuration.
For your daily routine, you can set up a standard timetable that the device can follow until you make any further changes.
You can have it set to be turned off during nights or when you're away so that you don't have to excessively pay for the energy you're not even consuming.
The eco temperature setting on the device works in a similar fashion, controlling the temperature when you're home and automatically turning it off when you're not, thanks to its sensors.
You also don't have to worry about buying a new thermostat in case of shifting houses, because the routine settings and data can be updated or changed any and as many times as you want.
Each device is designed for personalized use which prolongs durability and also ensures better performance.
Nest can also facilitate you if you're confused about how to design a schedule for yourself. Just go to the Auto Schedule settings in the app and watch it propose timings that are very close to your actual activities!
What Are The Different Nest Thermostat Temperature Modes?
The smart thermostat's temperature modes depend on which model you buy but generally, it has five modes. Heat, cool, heat plus cool, and off are some modes that you can easily choose on your thermostat.
Other than these, there's also an eco mode available that allows you to operate the device in a sustainable way.
Not all Nest thermostats have the eco setting though, so if energy conservation is a top priority of yours, make sure you choose the thermostat model that is compatible with that mode.
You'd also have to do a little back and forth initially though because some modes might show up on the thermostat and some only on the mobile app.
Once you're accustomed to your specific thermostat's features, you'll see that navigating around is as easy as eating a piece of cake.
What Else Can A Nest Thermostat Do?
Want a thermostat that serves multiple areas around the house? Nest will be a perfect choice!
Here are some features that set it apart from conventional thermostats:
Can be tuned to control the temperature of your water tank

The app can be used for turning tap water on and off.

The thermostat provides you with usage history and reports every month. This helps you keep track of your energy consumption which eventually benefits in directing your usage. If at any time you are unintentionally using the thermostat excessively, you don't have to worry about it going unnoticed for a long time.

The user interface gives you an insight into weather conditions, time, and temperature units.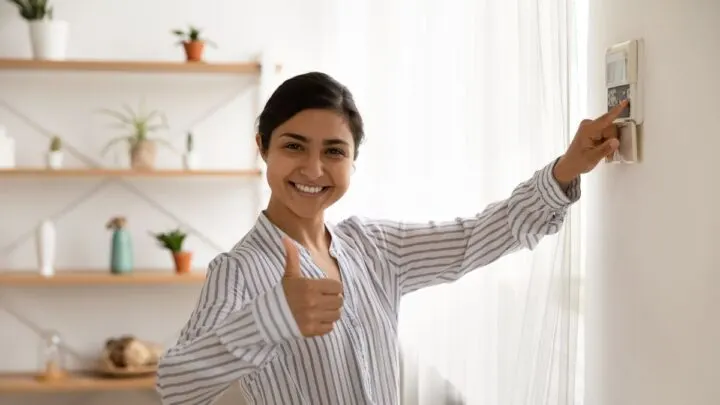 Final Word on Nest Thermostats
Everybody wants to have extra help around the house but very few people invest in products that don't add to the misery.
If you don't want to end up with a mediocre product that doesn't do its job properly, make sure you properly analyze home tech so that your choices are narrowed down to only the best.
Smart tools around the house like Nest thermostats don't just make your life easy, but they also add to improving your living conditions.
After all, what is better after spending a long tiring day, than coming back to a warm, cozy house? Happy buying!