Penny tiles might be tiny pieces of perfection installed on the backsplash, entire walls, or flooring, but they are a tough job to maintain.
Because the pieces are small, the grout around them collects debris and dirt over the years, and it can be hard to clean them out.
Also, if the penny tiles are installed in the flooring of a high foot traffic area like the entrance of the house or the bathroom, they are likely to wear out in some places.
Penny tiles, if widely spaced, are hard to keep clean because the wide spaces means more grout filling in between. Although there are a lot of penny tile sheets that have penny rounds more closely together to reduce the effort put in for cleaning, the classic look of penny tile is in wide, even spaces in between.
This guide will show you how to keep penny tiles clean, and how to avoid debris buildup.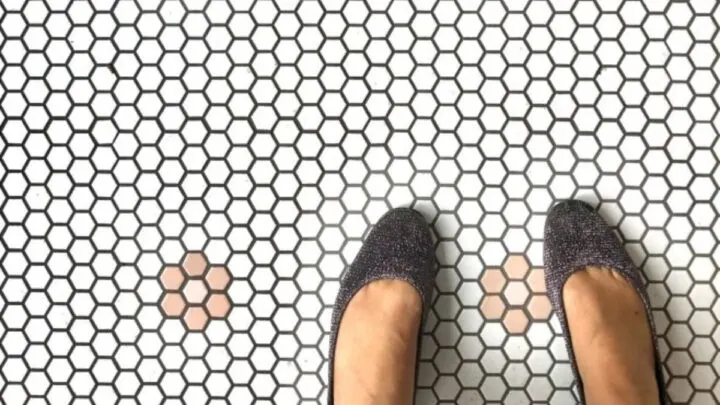 How Do You Clean Penny Tiles?
Cleaning penny tile flooring should not be too tough if you are cleaning it regularly.
This means using floor cleaners to mop on the floor at least once a week. Also, you can incorporate cleaning penny backsplash and floor with a textured cloth into your weekly cleaning routine to help keep the mold and mildew away.
Here are some steps to help you maintain the look of your gorgeous penny tile wall or flooring over the years:
Step 1: Clean With A DIY Grout Solution
The first step is making a DIY grout cleaner at home to keep the grout free from residue and dirt.
This DIY cleaner includes 3/4th cup of baking soda, 1 tbsp liquid dish wash, and 1/4 cup hydrogen peroxide. Mix these ingredients together and apply this mixture with a cloth.
Wait for 10 minutes for the solution to do its magic, then use a brush or a toothbrush to clean up the grout lines nice and good.
This method is usable for all kinds of penny tiles including marble, glass, and even ceramic.
Step 2: Remove The Stains
If your penny tiles have stained due to exposure to any chemical, it is important to remove the stains so they look new and bright as they were when you first installed them.
This mixture includes 2 1/2 tablespoons of oxygen bleach combined with 2 cups of warm water.
Sponge this mixture onto the grout and wait for 10-15 minutes before scrubbing it.
Step 3: Clean The Stubborn Stains Deeply
Sometimes grout has stains that are hard to clean. The best way to get rid of these stubborn stains is by making a paste of hydrogen peroxide and baking soda.
Once you have applied this mixture onto the grout, spray it with natural white vinegar.
The spray of vinegar creates a foam that targets grout stains and also kills mold and mildew that can give an old greening look to the penny tiles.
When the foaming subsides, scrubbing the area with a brush, then rinsing it off with water leaves the grout fresh as new.
However, this method is not recommended for marble or other natural stone penny tiles. For these, another method using steam can help get rid of tough stains.
Method 2: Use Steam
Steam, or a warmed up mop is a safe way to loosen the dirt and debris from the grout and then clean it with water.
Marble or granite penny tiles are best cleaned with this steam method. For ceramic and glass penny tiles also, this method is a good way to loosen debris.
However, it is not as effective as the baking soda and hydrogen peroxide solution that cuts through the dirt and mold.
How Do You Clean Black Penny Tiles?
Black penny tiles accumulate more dirt in the white grout. The dirt and debris also impacts their matte or gloss finish.
Using a mix of hydrogen peroxide, baking soda, and white vinegar is perfect for keeping the black floor tiles looking sharp.
This mixture also cleans without leaving marks or residue.
The white grout in black penny tiles can also be cleaned through steam which will not damage the color of the penny tiles and clean the grout fresh.
Is Penny Tile Good For Bathroom Floors?
Penny tile is a great addition for the bathroom floor.
While glass penny tiles are best used for walls and backsplash because they are prone to breaking, ceramic penny tiles that come in different colors can be a great anti-slip flooring. It also gives a texture which is perfect for wet surfaces.
However, since the bathroom is a high foot traffic area, it is recommended not to use colored or grout tiles that may have color wear out from some places.
White or gray penny round tiles on the bathroom floor gives it a clean and roomy look, and also gives a good look over the years if they are kept clean.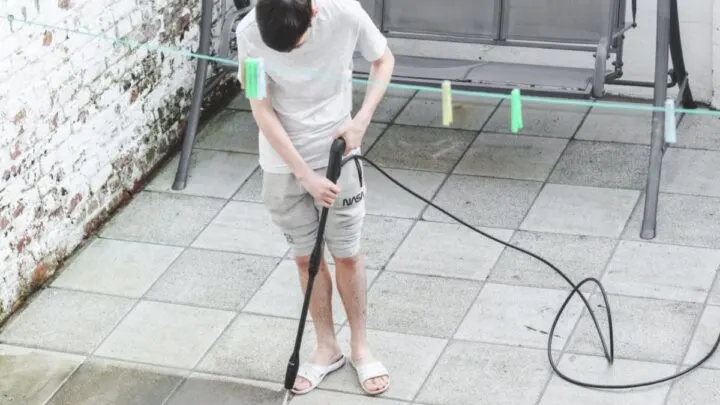 Which Floor Tiles Are Easiest To Clean?
Porcelain tiles are the easiest to clean when compared to natural stone or marble tiles.
This is because porcelain is micro sealed when it is produced, therefore, it is resistant to damage, discoloration, and does not require much maintenance to keep looking as good as new over time.
Penny tiles are hard to keep clean unless you clean them regularly and also do a thorough annual or bi-annual cleaning routine.
Regular cleaning means less time required to clean them each week.
However, if you have little time to clean up bathrooms, penny tiles are probably good for the walls where it is safe from the wear and tear that happens on the flooring.
Summing Up Cleaning Penny Tiles
Penny tiles are a great addition anywhere in the house. However, they can be a nightmare to clean because of the grout lines in between the small round tiles.
A regular cleaning routine and a thorough bi-annual clean can leave penny tiles looking as fresh as new over the years.
However, if you cannot maintain cleanliness regularly, or at least once a week on a penny tile floor, it is recommended that you install a low-maintenance porcelain tile and penny tiles on the backsplash or the walls.