When it comes to weight loss, one of the most important things you need is the best home exercise equipment for better workouts and an easier journey.
Having no guidance or understanding of what works when exercising is a bad feeling.
It can lead you to lose motivation and quit, so finding the right equipment is necessary to keep you toward your weight loss goals.
A Peloton bike, jump rope, and rowing machine are three of the best and most popular pieces of home exercise equipment to buy for weight loss. They provide an intense workout that focuses on burning calories.
Other options include kettlebells, resistance bands, stationary bikes, or treadmills.
Weight loss is a complex process and requires a lot of dedication and effort from the person trying to lose weight.
That is why they must have the right equipment to help them in their journey.
This guide aims to provide you with the top-rated and most effective home exercise equipment for weight loss.
Weight loss is a common goal for many people. It can be achieved through diet and exercise. However, some factors can hinder your weight loss journeys, such as lack of time and motivation.
This is where home exercise equipment comes into play.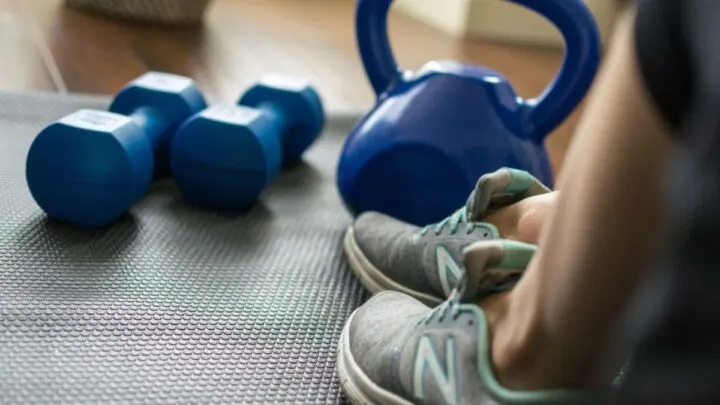 The 7 Best Home Exercise Equipment for Weight Loss
Weight loss is one of the most popular goals for people looking for a new exercise routine.
However, finding the best home equipment for weight loss can be difficult and expensive.
This is a complicated process that involves many different factors. Some of these include the type of exercise, diet, and lifestyle changes.
Many people work out in a gym or at home, while others might be able to get into shape with just a few simple exercises.
There are many options in the market today, ranging from the most basic to the most advanced. What you buy is determined by budget and fitness level too.
There are many different types of home exercise equipment for weight loss, and they are used by people of all fitness levels.
The best exercise equipment for weight loss will be easy to use and provide the user with enough resistance for effective workouts.
Below we list the best exercise equipment you can buy for weight loss to improve your fitness.
1. Peloton Bike
Peloton bikes are great for people who want to get into shape without joining a gym. The bikes provide detailed workout guides for a small monthly fee.
They are designed with the latest technology, making them more efficient than other traditional exercise machines.
However, you should expect to spend a lot on this bike. If you are on a stricter budget, consider other options first.
2. Jump Ropes
You can buy a jump rope to get started if you want to keep the budget low and start off with easier workouts that you can gradually make more intense.
You can find workouts on YouTube and get started anywhere. They are cheap and perfect for beginners.
3. Rowing Machine
Rowing machines are an effective way to tone your muscles, lose weight, and increase endurance.
It provides a full-body workout that helps burn calories and tone muscles while providing a great cardio workout.
This is not the cheapest piece of equipment compared to smaller items. But it is practical and easy to use.
4. Kettlebells
Kettlebells are a trendy piece of home exercise equipment for weight loss.
They are used in many different workouts, including bodyweight exercises, kettlebell swings, kettlebell cleans and presses, kettlebell snatches, kettlebell lunges, and deadlifts.
They can be used by anyone, from beginners to advanced athletes, because they can be used as either single or double kettlebells.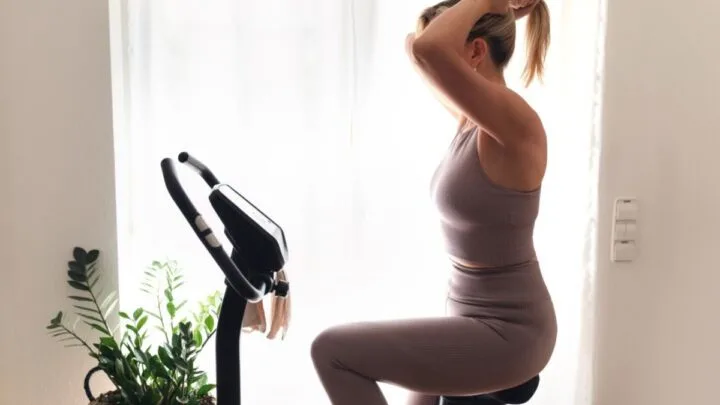 5. Stationary Bike
The stationary bike is an excellent way to burn calories and tone your muscles, and can be used as a replacement for other forms of exercise, such as running or cycling.
They are often used by people who want to lose weight and improve their cardiovascular health.
You can get a solid lower body workout with this machine too.
6. Resistance Bands
Resistance bands are an excellent addition to any home gym. You can get these bands for cheap, and they can be used in almost any type of workout.
For example, you can put these bands on your legs and do squats to increase the intensity and burn more calories faster.
7. Treadmill
The treadmill is a popular piece of home exercise equipment for weight loss. It allows people to walk or run on a moving belt without worrying about their surroundings.
There are many benefits of using the treadmill, such as being able to burn calories quickly and work out at home without needing any special gear or gym membership.
How To Find The Best Home Exercise Equipment for Weight Loss
The best home equipment for weight loss can often be found online. There are a variety of options that you can choose from, and they are all affordable.
You should consider your lifestyle, the amount of time you have available to use it, and your budget. It ultimately depends on the person's needs, budget, and goals.
There are many types of exercise equipment that you can use to help you lose weight. You just need to find the best exercise equipment for weight loss.
Below are some key factors to remember when looking for home exercise equipment for weight loss.
Budget
The cost of home exercise equipment depends on the type and brand. If you are looking for something highly effective, you must spend more money.
If you are just looking for something to move your body, you can use a cheaper piece of equipment.
However, an affordable piece of equipment might not last long and not yield good results.
Workout Experience
Home exercise equipment is a great way to stay fit and healthy without leaving your house.
It can help you stay motivated and inspired by the workout routine.
However, there are many different options for choosing the best home equipment for weight loss. Some of these options include elliptical trainers, treadmills, and stair steppers.
Consider your workout experience when choosing home exercise equipment for weight loss.
It can help you stay motivated during your routine and save time by eliminating the need for gym memberships.
Body Type
Your body type will matter when deciding what equipment you need. It factors into your exercise level and what kind of goals you have.
An overweight person with weight lifting experience can opt for something focused on lifting and cardio.
Meanwhile, someone who never lifts weights would be better suited to using a treadmill or jump rope to start.
Home Gym Size
When choosing the best home exercise equipment for weight loss, there are a few things to consider. The number of pieces of equipment you have in your home gym is one of them.
The size and layout of your home gym can be crucial in choosing the best home exercise equipment for weight loss.
Whether you want to use a treadmill, exercise bike, or elliptical machine in your fitness routine, it should be easy enough to reach and use without walking through a crowded room or up and down stairs.
Fitness Goals
When it comes to choosing the right home exercise equipment for weight loss, there are a lot of factors that you have to consider. You need to know your fitness goals too.
Losing weight is a broad goal. Instead, you should set more specific goals like losing 20 pounds in 3 months.
This will allow you to develop a more detailed workout plan and routine, so you can buy the proper exercise equipment to make accomplishing the goal possible.
What Are The Benefits Of Exercising At Home?
People who want to stay fit and healthy can now do so without needing to go outside. There are a lot of benefits that come with exercising at home.
Exercising at home helps to improve mood, increase focus, and reduce stress levels. It can also help you sleep better and have more energy throughout the day.
Given these benefits, many people choose to exercise at home instead of going to a gym.
No Commute To The Gym
A home gym is an excellent addition to any household when you don't have time or access to a public gym.
It's convenient, and you can save on transportation costs and time. Plus, it's an excellent way for you to stay fit and healthy at home.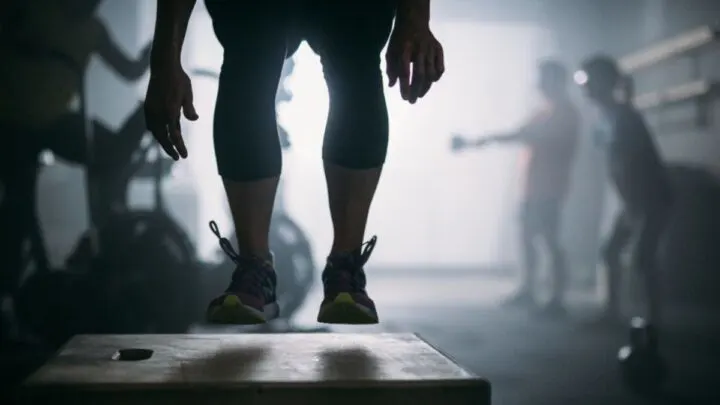 No Battling Crowds In A Gym
A gym is a place where people go to work out and get fit. It is also a place where they can socialize with others.
However, if you have home exercise equipment, you do not need to battle crowds at the gym.
There are many benefits of having your home exercise equipment, such as saving time and money and getting a workout tailored to your needs.
Summing Up The Best Weight Loss Exercise Equipment
Everyone's weight loss journey is different, and everyone might need slightly varying equipment.
However, some great staples for anyone wanting to start working to lose weight include kettlebells, a jump rope, a rowing machine, and a treadmill, if your space and budget allow it.
Good luck with your weight loss journey!