There are many different types of shoe racks, and some that have been growing in popularity are slanted racks. Why are these types of shoe racks being used more and more? What made them so popular?
Slanted shoe racks are adjustable, allowing them only to take up as much space as needed and be customizable for what each person requires. Slanted shoe racks also let you see and find more of your shoes at a glance as well.
There are a few reasons why anyone should choose a slanted rack over any other shoe rack.
1. Easy To Find
With a slanted shoe rack, all your pairs are neatly stacked and not on on top of each other. They aren't even in a box, but out in the open. Slanted shoe racks allow shoes to be showcased conveniently.
It's easy to find the pair you are looking for if you have a slanted shoe rack.
2. Keeps The Closet Clean
Slanted racks are used in most luxurious closets as well, as they are known to keep everything neat and clean inside.
It's very hard to keep a shoe rack clean, but you can easily achieve a neat and luxurious look by fitting a simple yet effective slanted shoe rack in your closet.
3. Popularity
Most influencers and celebrities have slanted shoe racks in their closets, as they like to show off their storage spaces.
This has made the slanted shoe racks extremely popular. So, if you want a designer look, a slanted shoe rack is what you need.
4. Accommodates Any Kind of Shoe
Some racks are good for heels, whereas some are great for flats, but slanted shoe racks are suitable for all types of shoes.
They are especially ideal for tailor-made shoes, as the racks easily and stylishly protect them.
5. They Are Adjustable
Modern slanted shoe racks are highly adjustable, meaning you can change the angle as you see fit. This can help you save space in your closet or other areas you end up placing the rack, like in a crowded hallway.
Mostly they are set at a definite angle, but many modern slanted racks come with the option to change the angle or even lay it flat to save space.
6. They Preserve Shoes
The biggest reason of all to have slanted shoes in your closet is that they keep the shoes as good as new. When you place shoes on top of each other, they bend and disfigure.
You can easily fix that by installing slanted shoe racks.
7. They Look Great with Most Decor
Most slanted shoe racks, although only gaining popularity recently, look good with any type of decor.
They are clean, organized, and can be made of wood or metal, allowing them to match many different styles.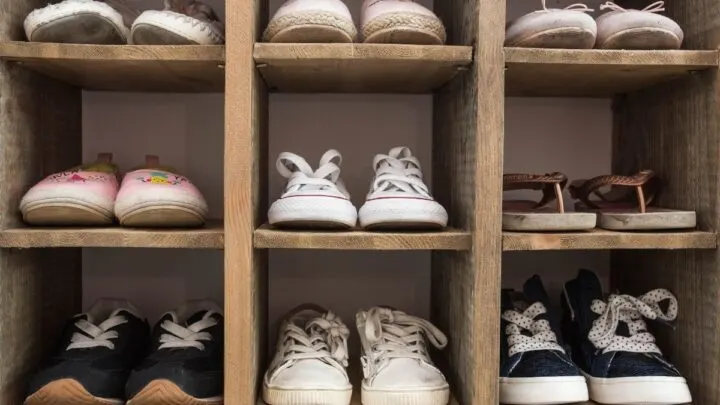 What Angle Should a Shoe Rack Be?
The angle of the slanted shoe rack is the most crucial thing when placing the shelf. You can't mess with the measurements, or your whole wardrobe will look off.
The angle isn't only to make the rack look good and make the shoes easy to find, but it's to make the shoe rack efficient.
Most people keep their heels on slanted shoe racks. If the rack is too steep, the heels will topple over every time you try to place them on the rack.
If the rack isn't high enough from the back, the shoes won't look as good as they should in a slanted rack. The angling is everything when you are installing a slanted shoe rack.
Ideally, the slanted rack is placed at a 20-degree angle. The height should be 12 inches for the shoe rack to look great and store shoes conveniently.
Which Way Should the Shoes Face?
Most people install slanted racks in their open wardrobes to show off their expensive collection of branded shoes.
The shoes should always face outwards, where you can see the color, design, and brand of the show cleanly.
This isn't only to show off the shoe, but also to make them easier to find. One quick glance is enough to find the pair you are looking for.
Slanted shoe racks are trending everywhere; for anyone who has a good collection of shoes, the slanted racks are a must.
Conclusion on Why Shoe Racks Are Slanted
Slanted shoe racks allow for each person to adjust them to what their home requires, and they're also a great way to show off your shoes. Slanted shoe racks can keep shoes cleaner as well, as the racks won't allow for shoes to be stacked.
They're not only to store shoes with convenience, but also to showcase them in the best possible way.