Have you been recently planning to renovate your kitchen or are you in the middle of remodeling?
Have you come across the option to have semi-custom kitchen cabinets but aren't sure if you should get them or not? Well then let's find out what they are and what are their pros and cons.
Semi-custom kitchen cabinets are often identical to those already in stock, but you have the freedom to make them more personalized and add details. For instance, you can change the cabinet's depth or other dimensions as per your liking.
As kitchens are the heart of the house, you should pay more attention to this area.
However, there are a lot of features to choose from, and semi-custom cabinets should be your top choice. Why? Let's take a look in detail.
What Is The Significance Of Customization?
When it comes to remodeling, customization is an important aspect as it improves your space's efficiency and utility. Also, it increases storage accessibility while reducing fillings and dead space.
However, the standardized measurements and the styles may not precisely fit a kitchen space when you use stock cabinets.
This necessitates the use of fillers in between cabinets. With semi-custom cabinets, you have the options of greater dimensions and sizes. This eliminates the need for additional fillers while also resulting in a cleaner, more even appearance.
Customization also enables you to organize a space that is entirely your own and of your choice. It gives you the freedom to select ideal colors, door types, and measurements for your home.
Though personalization might result in a higher cost, instead of asking yourself "how much I can save by only buying in stock," think about it as "how can these customizations increase the value of my home?"
This will assist you in determining whether or not specific kitchen customizations are required or useful for your kitchen.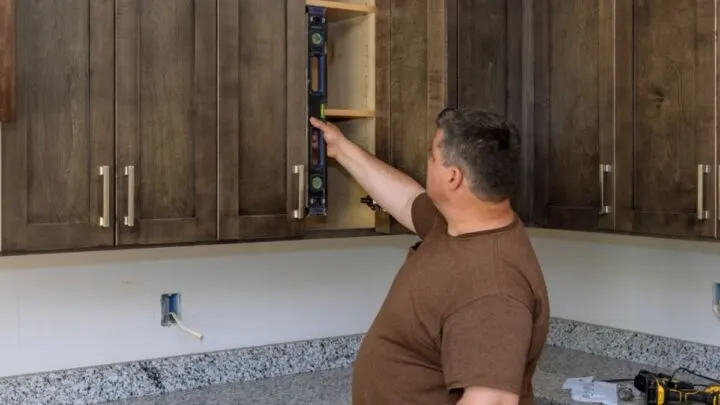 Advantages Of Using Semi-Custom Kitchen Cabinets
Semi-custom cabinets are a good alternative for your kitchen as they are much more reasonable and less expensive than custom cabinets.
They can save your money while helping you relocate the perfect fit for the kitchen cabinets. These cabinets come in a variety of finishes, pricing points, and styles.
Moreover, the flexibility in the form of alterations and extra features aids in the creation of a space that is more personalized and comfortable for you.
Also, you can get an adequate share of both worlds with semi-custom cabinets. These include an individual style, sturdy construction, personalization, and quality, without the higher prices of custom cabinets.
The versatility and timing of semi-custom kitchen cabinets are something that distinguishes them from the rest of your regular kitchen cabinets.
Although the stock cabinets are usually plentiful, demand can make obtaining your cabinets more challenging.
For the most part, custom cabinets may be made to fit in any design of cabinet. Preferences, details, and styles are as unique as one might imagine.
The upper and lower bounds are determined by how much one is ready to spend for all the little details.
You pay not only for the material but also for the labor to cut and install cabinets when you go with the choice of full customization.
Kitchen cabinets are typically gray or white. However, the semi-custom option lets you experiment with unusual graining and colors that are not widely available.
Customers can choose distinctive finishes without spending the entire remodeling budget on the cabinet by going custom without going via a cabinet maker.
Disadvantages Of Using A Semi-Custom Kitchen Cabinet
However, with some advantages, semi-custom cabinets also have some disadvantages. One of these disadvantages is a lengthier wait time when compared to stock cabinets.
On the other hand, semi-custom have a shorter lead time than custom. In comparison to custom cabinets, there are fewer possibilities for finishes and styles.
While semi-custom cabinets offer a lot of customization options, bespoke cabinets allow for more modifications to develop unique storage solutions.
Custom cabinets can be customized in an infinite number of ways, including door style, wood species, and finish. Some bespoke cabinet lines even include color matching services.
Semi-custom cabinets, on the whole, lack the features, functionality, and resources that custom cabinets do.
Are Semi-Custom Kitchen Cabinets Low Quality?
It is a common fallacy that all stock and semi-custom cabinets are somewhat inferior to completely custom cabinets in terms of quality.
However, this is not the case with semi-custom cabinets. Generally, you get for what you pay. The quality of a low-cost stock or semi-custom cabinet will be low.
Custom cabinets in the upper price range, on the other hand, will be of considerably greater quality in terms of materials, construction, and finish.
Many homeowners want to discover a semi-custom line that will match their demands to balance quality, cost, and the opportunity to modify.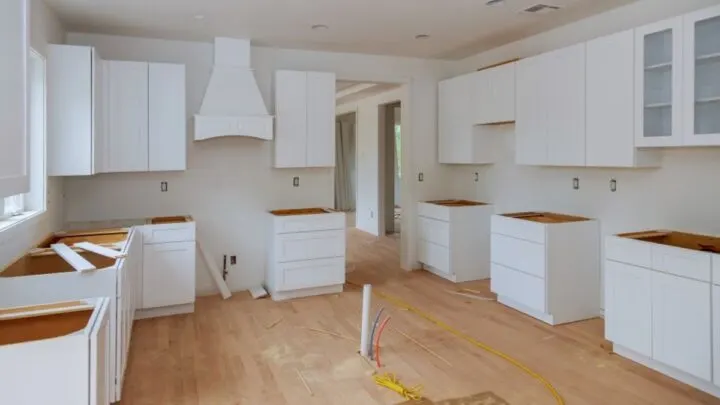 How To Customize Cabinets
Semi-customs frequently provide a wide range of customization choices.
Semi-custom cabinetry has a higher amount of personalization than the stock line, although fewer options than the bespoke cabinetry.
Semi-custom cabinetry also comes in a wide range of popular door finishes and types, as well as choices of sizes and customization options.
There are numerous glazes, stains, and paint colors to choose from, and some brands even include specialist processes like distressing in their finishes.
These cabinets are frequently a good fit for homeowners due to their wide range of options.
Semi-custom cabinets feature more options for accessories and inserts, such as cutlery trays, organizational tools, pullouts, and spice racks, in addition to a wider range of door types and finishes.
You can also spice up the look by adding distinctive decorative pieces, molding, and hardware in addition to your main cabinetry and interior elements.
Final Word on Semi-Custom Kitchen Cabinets
One of the most crucial decisions in any kitchen renovation project is selecting kitchen cabinetry.
You should take your time to consider why semi-custom cabinets are a good fit for you, and then get them installed for their advantages if you do decide they're the way to go. They offer much better versatility than general in stock cabinets, while cutting down on the costs of fully custom cabinets.
With that, you can get your ideal colors which set a perfect theme for your kitchen.