Wouldn't it be great if IKEA listened to your ideas and implemented them on your kitchen cabinets?
The giant home retailer offers plenty of kitchen cabinet options, but do they offer customizable cabinets?
IKEA does not offer custom kitchen cabinets. They only have the in stock options available and won't customize them for you. However, you can add custom fronts to them yourself! This way, you get IKEA's amazing quality and the exact look you want at the same time.
IKEA can also facilitate your custom needs by providing you with doorless cabinets which you can use to make any design you want.
Not only do you get a luxurious-looking cabinet for almost half the price, but you'll also have full control over going back and forth to get the exact look you want your cabinets to have.
Don't like teal green? Paint it yellow! That's how simple it is to customize your cabinets.
Amongst the three cabinet types, IKEA specializes in stock cabinets, which is easy and complicated at the same time.
If you plan on purchasing IKEA cabinets to tweak them later, here are some things that will help your process:
Why Should You Choose IKEA If You Want Custom Kitchen Cabinets?
There's no doubting the fact that IKEA is a popular choice amongst the masses but what makes it stand out? Here are two of the major reasons:
Economic Viability: IKEA is one of the few handfuls of companies that provide awesome solutions in an affordable range.
The IKEA kitchen cabinets specifically stand out because of their low prices and other perks.
Flexibility & Trendy: The amount of flexibility that IKEA provides with its products is something that many other companies fail to do.
Take the cabinets, for example, there is no hassle involved if you fail to find a cabinet according to your liking; IKEA can still help you find your perfect option by providing stock cabinets.
At the same time, the modern and trendy furnishings alleviate the look of the house to a large extent.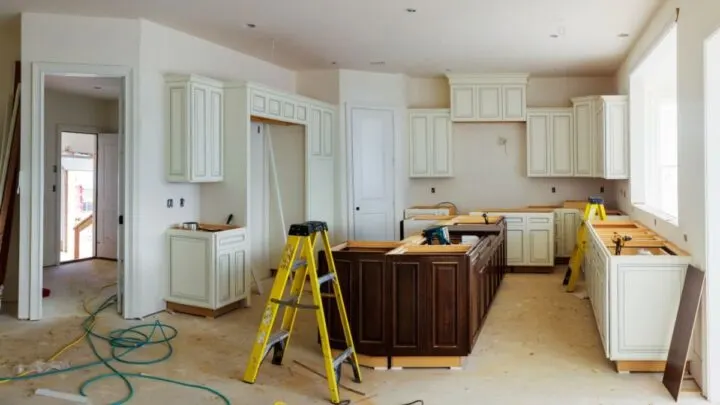 What Is The Quality Of IKEA Cabinets?
Since IKEA generally uses particle board for its cabinets, people often doubt its quality.
With the low prices, it's not unusual to be suspicious about its durability but here are some factors which prove that the cabinets are a worthy investment:
MDF vs. Particle Board
Since the general preference is toward MDF, it'll come off as a surprise that most of the cabinets are made of particle boards. This proves that it is a durable material and also comes in cheap.
You can go as far as getting a wooden cabinet made by yourself but the cost and effort it involves are far more troublesome than just getting a particle board cabinet.
This is also because its durability and performance are quite similar to particle board so why bother with all the extra effort?
Mechanics and Hardware
The major perk of an IKEA kitchen cabinet is the high-quality hardware involved.
The hinges, dampers, and framing all work so effortlessly that you'll fall in love with the quality.
Unlike other companies, where the hardware starts to rust or smell just after a few months, IKEA provides you with a cabinet whose drawers slide in and out without making the slightest of noises.
Such great hardware quality is rarely found at cheap prices, making IKEA an obvious choice.
Who Should Opt For An Ikea Custom Kitchen Cabinet?
If you're supervising the construction of your house, then it's easy to tweak wall openings or niches according to the furniture you've chosen.
However, if you're renovating your house or are in need of revamping your kitchen cabinets, as in most cases, customization might be a great option for you.
You may not be able to change the layout of your kitchen, but you can definitely opt for an L-shaped cabinet that aligns with your walls
Final Words on If IKEA Offers Custom Kitchen Cabinets
Learning about the possibility of customizing your kitchen cabinets can be very beneficial.
This is because you never know when you'll be in need of revamping your kitchen and customization becomes an important factor to consider in such cases.
Customizing kitchen cabinets can also be beneficial if your house interiors follow a certain theme. You wouldn't want woody cabinets to disturb the monotones of an all-white house!
To avoid such cases, make sure that you give custom kitchen cabinets a try. IKEA doesn't offer them, but you can always invest in their pre-made ones and customize them yourself!