For home building, there are many standards and rules to follow. The same is true when installing kitchens and the average kitchen countertop size.
We know that the size of a kitchen countertop is essential, but there are many more factors that affect the decision.
A small countertop can create a cluttered space, while a large one are generally more expensive to install.
The average kitchen countertop size is 30 square feet in total. This includes an average of 25.5 inches in countertop depth, with 15 inches of clearance above the counter, and 36 inches in height.
The average countertop edge overhang is 1.5 inches too.
There is a recommended size for a kitchen countertop in the United States based on guidelines and rules in place for builders.
It is also considered the standard size that most people use in their homes. This guide explains more about kitchen countertops and the average size you can expect.
The size of the kitchen countertop is one of the most important factors to consider when buying one.
It is crucial to keep the size within the standard so you can get the most use out of it and your kitchen in general.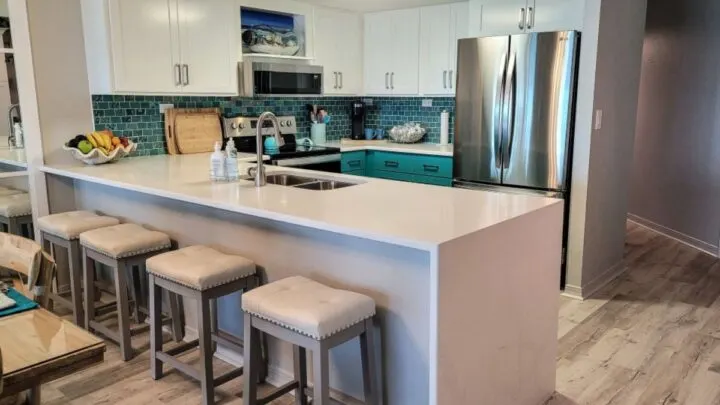 What Is The Average Kitchen Countertop Size?
The average kitchen countertop size can be defined in a few different ways. For example, the average kitchen has 30 square feet of countertops.
The size of your kitchen is determined by the size and shape of your kitchen countertop.
You need to dip deeper to understand what these 30 square feet represent too.
This equates to a total of 4,320 square inches in the average kitchen. The average countertop depth is about 25.5 inches too.
Your countertops also need to have at least 15 inches of clearance above to avoid contact with any obstructions too. The average countertop is about 36 inches raised from the ground.
If countertops have any type of hang over the edge, there needs to be a minimum of 27 inches of clearance for your legs or knees.
The average overhang is 1.5 inches. This will depend on the countertop type and if you have any seating there.
What Is The Standard Depth Of A Kitchen Countertop?
The standard depth of a kitchen countertop is typically 25.5 inches.
Kitchen countertop depth measures the distance from the wall to the end of the countertop surface.
This is commonly confused with the actual thickness of the countertop.
The depth is important because without knowing the average, you could go too small, and your countertops could be unallowed by building contractors.
This standard depth makes it easy for your countertop to serve its complete purpose and allows your kitchen to be fully functional.
The standard cabinet depth is 24 inches, and as mentioned, the overhang depth average is 1.5 inches.
How To Measure The Size Of A Kitchen Countertop
A kitchen countertop can be measured in a number of ways. The most traditional way is to measure the length and width of the countertop to calculate the total area.
In order to measure the size of a countertop, you need to know its dimensions. Follow the steps below to do this efficiently.
1. Gather Required Tools
Before starting, be sure to get all the necessary tools that are needed to measure the kitchen countertop size.
This includes a tape measure, pen or pencil, and paper. You can also keep a calculator handy for determining the total area of the counter later.
2. Break The Countertop Into Sections If Needed
Next, you should create sections on your countertops when measuring. It is not possible to measure everything in one shot.
So you can measure all rectangular areas as their own. Once you create the sections on a piece of paper, you can move on.
3. Use Tape Measure To Get Countertop Dimensions
Now you can start taking actual measurements. When measuring a rectangular or square area, measure both the length and the depth (height).
Always write down the measurements for each section too. This makes adding them up later much easier.
4. Calculate The Area
Once you measure every section, calculations need to be taken. You can also do this after measuring each section individually.
The area is calculated by multiplying the length of the counter by the width (depth).
5. Add Up All Sections
Once you have the area of every section, you can add them all together. The final number you get after doing so is the total area you have in your kitchen.
6. Write Down Countertop Size
Before you write down your countertop size, consider converting it into square feet instead of square inches.
This is a quick formula, and you can divide your total square inches by 144 to get the total square footage of countertops.
Factors That Determine Kitchen Countertop Size
The size of the kitchen countertop is dependent on many factors such as appliances, wall space, and more. The number of people who are going to be using the kitchen is also a factor worth considering.
Below we have listed all factors worth mentioning that impact your kitchen countertop size.
Cabinet Size
The cabinet size will impact your countertop size for a few reasons.
First, it matters because you need to ensure there is enough clearance between the cabinet and countertop.
The other reason is because of the backsplash details and how this will impact your countertop depth.
You must consider cabinets when looking at countertop sizes.
Appliances
Your appliances will have a major impact on your kitchen when adding countertops or making any upgrades.
Be sure to include these in any of your measurements for the most accuracy. It can also limit what areas of the kitchen allow countertops.
Kitchen Size
The size of your kitchen also matters. For example, if you have a smaller kitchen than most, you shouldn't expect to have 30 square feet of countertops.
Countertop Type
The type of countertop you have could change the sizing slightly.
For example, quartz or granite will have different depth options when compared to other options.
Why Does Kitchen Countertop Size Matter?
The size of a kitchen countertop is an important consideration because it can affect the usability and design of the space.
The size of your countertop will determine the amount of space you have for cooking.
This is important because kitchen counters are where a lot of people spend a lot of time.
But when discussing countertop size, this also includes the thickness of the material finish at the surface too.
This will impact how durable the countertop is and how long you can expect it to last over time.
For this reason, you need to know what customization options you have available to you for countertop thickness.
What Is The Average Countertop Thickness?
The average countertop thickness is 1.5 inches, but you have multiple customization options that you can choose from.
This is because of the need for the countertop to have a certain amount of strength, and even though the thickness might seem thin, it can handle a lot of weight.
If you want something with more overhang or better durability, you can opt for increased thickness. It will also be heavier material for an installation.
It also depends on the type of countertop you get. This standard is for most granite or quartz countertop designs.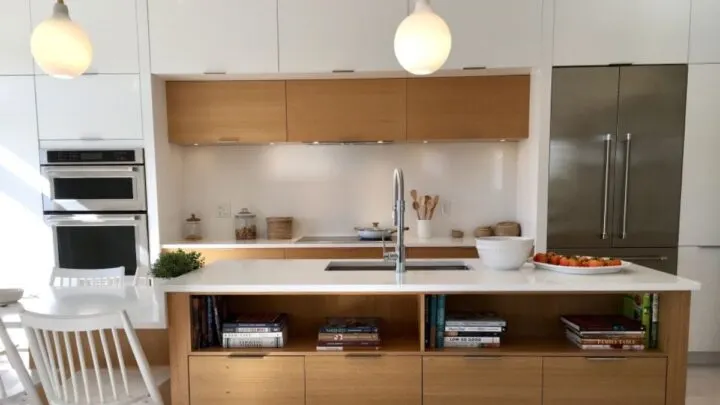 How Does Kitchen Countertop Sizes Differ From Other Countertops?
The size of the kitchen countertop is a common question for many homeowners.
There are many factors that should be considered in determining the size of a countertop.
These factors also apply to other countertop types you find in your home. This could include your bathroom countertop, kitchen island countertop, or bar countertop.
Bathroom Countertop
Bathroom countertops have a much wider range of sizes, and the average is a little harder to make exact.
However, you will mostly see them either 32 or 36 inches up from the ground. The depth is smaller, with the average being only 21 inches.
The bathroom size will change the countertop size too. It is possible to find smaller bathroom vanities with a depth of only 16 inches if needed.
Island Countertop
The height of a kitchen island can vary depending on the needs of your kitchen design.
The average size of a kitchen island is 36 to 42 inches of clearance from the ground.
The smallest islands are about 11 square feet, with the average size being double this and closer to 22 square feet.
Bar Countertop
Bar countertops are much smaller, but they are a popular table type you will find inside many homes.
The average size is about 16 inches in width, but they can get much larger depending on the bar counter type.
They also rise higher off the ground compared to other tables, with the average being about 42 inches or more.
Summing Up the Average Size of Kitchen Countertops
Most kitchen countertops are 30 square feet in total, which includes all parts of the countertop in the kitchen, even if the space is broken up by things like appliances.
There are some bigger and smaller countertops for sure, including bar countertops, or just those in bigger or smaller houses. Make sure you measure accurately so you know how much material you'll need to install.