Are you bored using the same old-style tiles in your home that do not add uniqueness?
Then step up your game by adding penny tiles in your kitchenette, bathroom, floors, or whatnot!
The penny tile, also called a penny round, is a little tile with a hexagonal or round pattern that you can use to add visual interest to any room in your from the bedroom to the guestroom and the kitchen to the bathrooms.
Although the penny tiles have been around for a long time, due to their infrequent use in old houses, many people are just now learning about them.
As more tile artisans explore a variety of materials in penny shapes, the style is currently experiencing a rebirth.
We are now starting to see them at the hottest clubs and the trendiest coffee shops.
Why? Like any good tile, they are low maintenance in even the wettest areas and add an interesting aesthetic to your home.
Let's take a look at some of the main key takeaways from penny tiles.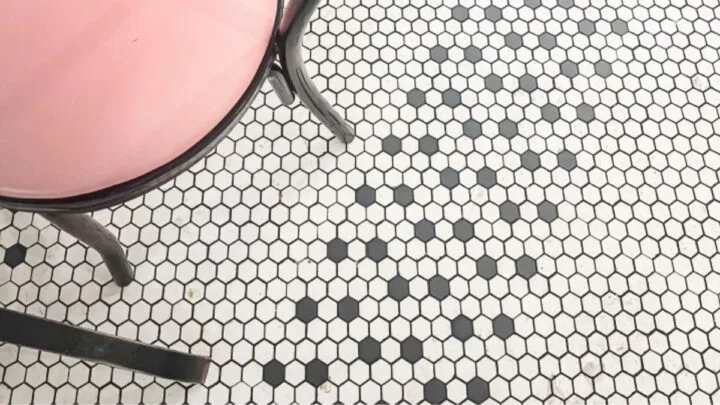 Pros And Cons Of Penny Tile
Now that you are familiar with the fundamentals of penny tiles, let's move on to some of the pros and cons of penny tiles which makes the reason why they are still regarded as an excellent option.
Pros
Here are some of the pros of penny tiles:
Durable: Penny tile flooring is incredibly resilient. This is brought by gluing coins or tiles to the flooring that already exists. It is then followed by finishing the floor with tile sealant or epoxy resin.
This complete procedure of installing penny tiles to your homes results in a sturdy floor that holds up even in places no matter the pressure or force exerted on them.
They are prone to hold up high traffic which makes them extremely durable as compared to other tiles.
2. Matching: In terms of adaptability, the penny tile flooring has the power to adjust with any design from traditional to contemporary, giving your place an aesthetic feel.
Not only this, but they can be found in different hues which makes them stand out from competition as they will blend in with the interior of your home without any effort.
3. Unique: With the numerous colors available in the market, installing a penny floor would undoubtedly make your floor stand apart from the rest.
Despite the fact that they are still common in reality, their instagrammable touch has given them success over other tiles.
4. Stylish: The ingenuity and originality are at an all-time high when genuine pennies are used as the flooring. They give a unique and stylish look to your floors.
Cons
Now all the glitter that shines is not the gold, penny tiles with their exceptional beauty come with some cons. Let's take a look at them:
Expensive: Although it might seem that utilizing something as inexpensive as pennies would save you from financial crisis as it would reduce the total cost, doing so actually results in higher cost than simply using ordinary tiles.
If you compare it to the pre-installed tiles that are easily available in the market, you would probably choose tiles rather than genuine pennies for the flooring base, as they would break your bank because of the higher cost.
2. Not Easy to Maintain: Penny tiles require a lot of care as there is a bunch of grout to clean, particularly when you have to set them up in a busy place.
You have to combine one part scrubbing powder with one part hot water to wipe out all the stains from penny tiles.
Not only this, you will have to use a gentle brush to scrub the area, and then rinse it with warm water to clean them which becomes hectic at times.
3. Installation: In addition, it takes an absurd amount of time to lay out all the pennies or tiles. Therefore, it is suggested to start with a small room if you are doing this project yourself as the laboring cost will wear you out.
This way, you will understand what you are getting yourself into.
Also, to avoid acquiring a grid effect, you might have to hire a professional to install penny tile.
Is Penny Tile Outdated?
Though they are not new in the tiling game, many people might believe that they are outdated.
Penny tiles, a relative of the hexagon tile, are said to be a classic alternative that first adorned many kitchens and bathrooms in the 1900s.
They have been popular for more than a century which makes them not that new and has been adding the uniqueness to the floors in old homes.
However, in the world of modern tiles, they are making a strong comeback.
It appears to add contemporary and stylish graphic expressions to your walls, floors, and splash backs. Which makes them once a classic, always a classic.
How Do Penny Tiles Work?
The versatility of penny tiles is another thing to adore. As they are slip-resistant, penny tiles work beautifully on the walls or floors of kitchens and bathrooms.
They can also be mounted on decorative borders, curved surfaces, and wall niches.
Here are some illustrations of how nicely penny tiles blend with your kitchen and bathroom.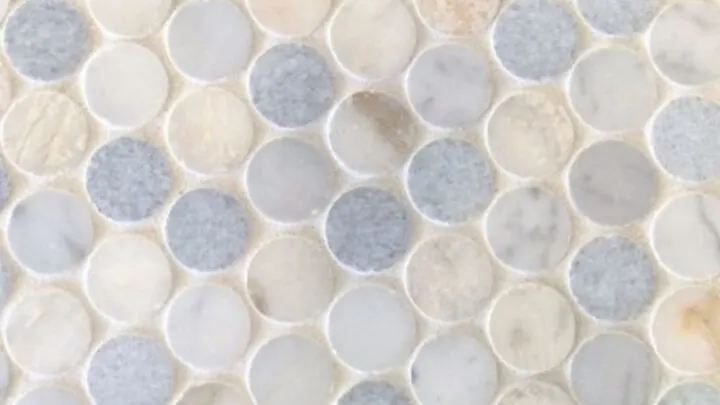 Penny Tiles in the Kitchen
Even if the penny tiles are not often the first options for your kitchen, you may build patterns that are the perfect fit for your kitchen's design, as they have a wide range of tones and colors available.
A backsplash made of penny tiles is a wonderful method to draw attention to your interior design. This can undoubtedly lift up your kitchen, even if it is fairly plain and white.
Penny Tiles in Bathroom
Penny tiles are without a doubt the most attractive bathroom tiles when it comes to the renovation of bathrooms.
These tiny tiles look equally attractive in vintage or even classic bathrooms as they do in contemporary ones.
Penny tiles give a beautiful texture underfoot when used as bathroom flooring.
They are also a terrific option for accents; use them as shower stripes or just below the mirror to give the area a brighter and bigger feel.
You can even make a more striking and dramatic statement with your decor by extending the tiles from the floor to the walls of your bathroom.
How Expensive Is Penny Tile?
Depending on the material selected and the extent of the area you are aiming to cover, penny flooring tiles might come in a wide range of prices.
They are most commonly made up of some common materials like ceramic or porcelain; this material can start from as little as $5 per square foot.
Other than this, the mosaic variant comes with vibrant colors and will cost you roughly $10 per square foot.
However, if you go above this, the marble ones with expensive materials will cost about $12.
Also, a DIY project using actual pennies will cost you a bit cheaper, about $2.50 per square foot.
This is due to the fact that you will be using genuine coins directly as the components and their pricing can not change.
The price of tile sealers and the grout that must be applied in order to hold the penny flooring effectively are not included.
Other tiles are more affordable than utilizing actual coins because they range in price from $1-$2 per square foot.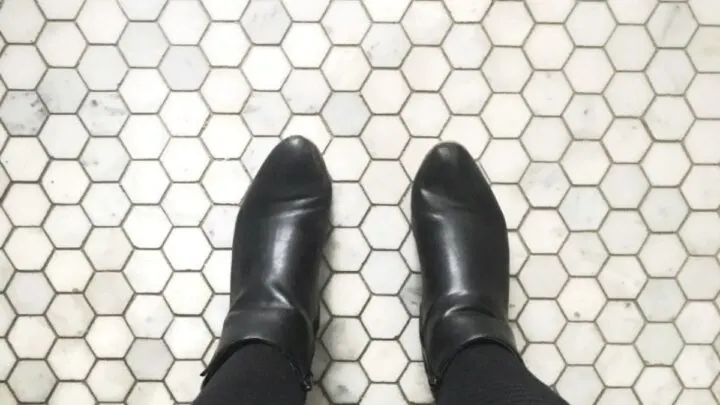 Final Words on Penny Tiles
Penny tiles are making their comeback way stronger than before, as they make your place attractive by adding vibrant hues with a classic touch.
However, their installation might cost you bucks which makes you think about your decision twice.
But with the right installation plan, you can ace your project within the budget to make a bold design statement.