Chimichurri steak, a traditional dish of Argentina and Uruguay, is a classic grilled steak dish combined with freshly made herbal chimichurri sauce.
While the impeccably delicious flank or skirt chimichurri steak is good on its own, when served with a perfectly complementing side dish, you are guaranteed to have dinner straight from heaven!
But figuring out what side dish to make can be confusing. So, to help you decide, we have compiled a list of 17 delightful side dishes that you can pair your steak with!
1. Fried Potatoes/French Fries
Let us start with fried potatoes, as this is a combo which you can never go wrong with. The versatility of the ways that fried potatoes can be served is what makes it a popular choice.
Common seasonings for this dish include salt and pepper which tastes well with any type of meat. You can prepare hash browns, potato wedges, or french fries.
French fries with steak is a pretty commonly chosen dish and it's understandable why. But these fries won't be any boring old fries, when paired with the chimichurri sauce they have that little bit of Mexican flair.
2. Fried Vegetables
Fried vegetables are colorful, delicious, and nutritious. All you require is a mixture of your preferred vegetables, followed by some garlic or herb seasoning.
Zucchini, for instance, is among the most popular options. These vegetables are roasted till they're crisp and may be served with some chimichurri sauce for a flavor boost.
3. Lemon Dill Potatoes Salad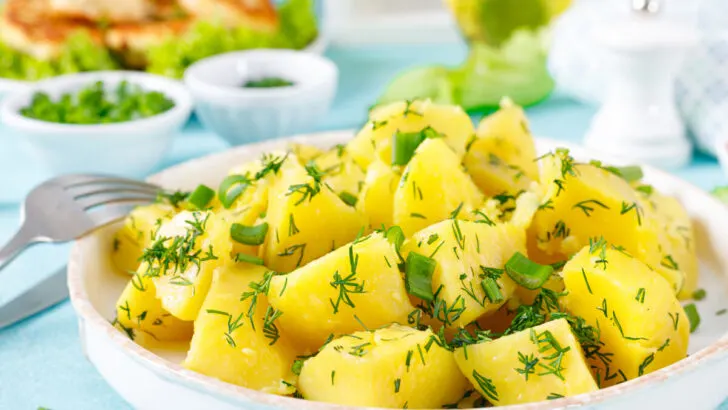 It is hard to find anyone who doesn't like a good potato salad. Potato salads with a lot of mayo would likely be too much for a steak with chimichurri sauce.
However, this potato salad is light and citrusy. The dominant taste on the platter will still be your chimichurri sauce.
You might never return to the conventional mayo-based potato salad once you've tried this one with lemon and dill.
4. Coleslaw Salad
Because both the steak and the coleslaw are made to complement beef, they go well together. Coleslaw salad is often made with carrots, raw cabbage, and mayonnaise.
Similarly, apples or raisins can occasionally be included. This salad, when served cold, makes the best flavor.
Although most favor the addition of sugar, potatoes, or sweet corn in their coleslaw salad, you don't need to add anything to it. This side dish would still be delicious even when eaten simply.
5. Fruit Salad
A fantastic side dish for grilled meats like steaks is fruit salad. This fruit bowl typically should be ready before the steak is grilled. On a grill, it normally takes 30 minutes to cook steaks and the salad should be ready 20 minutes prior.
Fruit salads come in a wide variety of styles with this dish. Mango, apple, and honeydew are a few of the most popular options.
When making these salads, keeping the fruits fresh and noticeable is key, therefore many chefs try not adding several fruits or pairing them with noodles or pasta.
6. Fried Rice Or Noodles
Steaks go well with a variety of fried rice and noodle dishes.
For instance, Chinese fried rice is currently popular. Boiling rice is used to make fried rice, which is then cooked in a skillet with oil.
Before serving, it is common for people to add soy sauce to the dish to enhance its flavor.
The noodles are boiled in water before being converted into fried noodles. Similar to fried rice, they are typically fried with eggs and veggies to make them crispy and appetizing.
7. Tomato And Peach Caprese Salad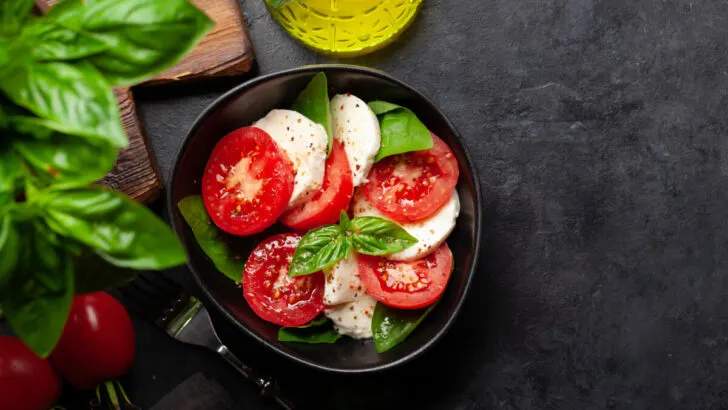 Caprese salad with peaches and tomatoes is a quick and easily prepared dish. Some peaches and tomatoes are chopped into small pieces for this dish and then the salad is seasoned with salt for taste.
After this, some olive oil is added to the salad to make it crispy. Lastly, you have the option to serve it as a side dish or to include it in a larger meal.
8. Herbed Flatbed With Feta
Herbed flatbed with feta is a good option and provides the perfect opportunity if you are sick of eating the same bland carbs with your steak.
It gives your steak a wonderful, elegant touch, and the whipped feta pairs scrumptiously with the chimichurri sauce. Herbed flatbreads are quickly made too.
9. Lemon Herb Couscous
The lemon-herb couscous is ideal for spicing up meals during the workweek.
Unfortunately, couscous is frequently overlooked despite being simpler to prepare than rice and pasta.
It is pretty versatile and can be turned into a salad or used beside a filling stew. Additionally, they create a wonderful bed for the steak. With the chimichurri, the chopped herbs work beautifully.
10. Potato Hash With Egg
Despite being breakfast for dinner, the combination is too good to ignore in this list.
Your herby sauce will combine with the velvety egg yolks, bathing the steak in deliciousness.
Likewise, the bacon will give the meal some smoky aromas and it can work as an amazing Sunday brunch too.
11. Butter Lettuce Salad
For your weekend steak dinners, this makes a simple and delectable side dish.
Nothing is simpler than a salad at the dinner table. It ensures that the steak is the show's star and is light and refreshing.
This butter lettuce salad is quick to prepare and contains all the standard ingredients: a vivid vinaigrette, some salty cheese, and some crunchy croutons.
12. Pico de Gallo
With a well-cooked chimichurri steak and some of this crisp pico de gallo, you can't go wrong.
To complement the flavors of the herbaceous chimichurri sauce, something equally lively is necessary.
This tangy tomato salsa meets the criteria. If you want a sweeter or spicier salsa, increase the number of tomatoes or jalapenos.
13. Garlic Butter Rice
Rice and steak with chimichurri combination is always a decent candidate for dinner. And fluffy rice that has been expertly seasoned with butter and garlic is a definite hit.
It's cheap, filling, and has lots of potential for customization.
14. Brussels Sprouts
Not everyone is a fan of brussels sprouts but it might be because you haven't cooked them properly.
So don't be shy in giving them a go.
Their harsh flavor is softened by roasting them, and the balsamic glaze adds a level of sophistication that pairs beautifully with the flavorful steak.
15. Blackberry Goat Cheese Salad
Blackberry goat cheese salad has a wonderful texture and the ideal ratio of sweet and savory ingredients and it takes only 15 minutes to put this blackberry goat cheese salad together.
It's a scrumptious salad that you may serve at any dinner party and is guaranteed to wow your guests.
Further, the chimichurri sauce will make the dish even more appetizing.
16. Grilled Potatoes
Grilled potatoes present well on a dish, particularly when accompanied by chimichurri sauce. It is a low-fat dish and those who wish to reduce weight should try this out.
The traditional approach when serving them with this steak is to heat them with butter until the potatoes are brown from both sides.
Additionally, potatoes topped with chimichurri sauce enhance their flavor. To suit well with chimichurri sauce, the potatoes are heated in less oil or butter so they are crispy on the outside and soft inside.
French fries are also prepared using this technique.
17. Creamed Spinach
Creamed spinach is a very common side dish to be prepared with steak.
The mild, buttery, and cheese-filled spinach pairs beautifully with the delicate meat.
Additionally, it only takes 20 minutes for this dish to be prepared from start to finish. This delectable creamed spinach is sure to become a family supper classic.
Final Words on What to Serve with Chimichurri Steak
No matter whichever side dish you opt to try, they all are amazing. Salads are usually skipped but they can make your meal healthy, tasty and perfect for Instagram stories.
All of them are super quick to make, so do try different side dishes each time.
In case you are making chimichurri steak for an event or guests, you can try serving them with several of these side dishes.