Oxtails are the tail of a cow, and they offer a robust flavor that is ideal for savory meals due to their association with beef. They are also very soft making them simple to prepare in the kitchen.
And when it comes to cooking additional dishes as a side that goes well with oxtails, there are many options.
Out of several choices, we have penned down 15 easy side dishes that you can serve with your oxtails to elevate its powerful flavor. So, without any further ado, let's get started.
1. Steamed White Rice
Rice is both versatile and one of the staple foods that is consumed the most frequently all over the world.
Oxtails are one of the many dishes that pair particularly well with plain white rice. You can just elevate the taste of oxtail gravy by soaking it into your freshly made steamed white rice.
2. Yellow Rice
Do you know what gives yellow rice its bright yellow color? It's turmeric! South African sultana yellow rice, often served with oxtail, is a delicious side dish.
Your entire family will be pleading for more of this dish if it is presented at the weekend meal accompanied by stew. The golden ingredient known as sultana is responsible for the dish's distinctively fruity and sugary flavor.
3. Creamy Mashed Potatoes
No matter how you prepare them, potatoes are a delicious addition to a variety of side dishes.
However, the traditional, velvety mashed potatoes take first place on this illustrious list.
There are a variety of savory mashed potato preparations to choose from.
It is possible to achieve variations that are lower in fat and calories without sacrificing smoothness. You can also season it to taste with salt, pepper, and herbs if that's what you want.
4. French Baguette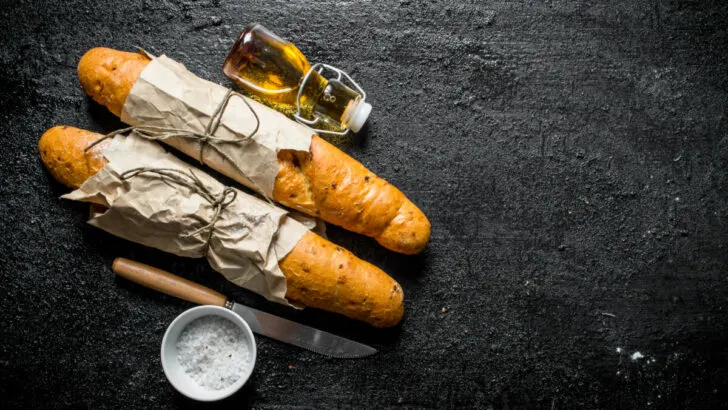 While it is possible to eat oxtails with different kinds of bread, the baguette from France is the bread that the vast majority of people like to use.
Yeast, salt, flour, and water are the classic components of French bread, but you may flavor it with a wide variety of things and it will still taste delicious.
Its crunchy exterior and chewy interior make it the ideal companion to oxtails, which are juicier, more tender, and more flavorful than most meats.
5. Cheesy Bacon Brussels Sprouts
Brussels sprouts is another delectable and healthful vegetable that may be prepared in a variety of ways.
They taste fantastic whether roasted in the oven or grilled on the barbecue, but they are even better when they are smothered with cheese and topped with bacon.
This dish is ideal for gatherings of all kinds because it can be prepared quickly and requires few ingredients. As crispy bacon pairs well with the soft Brussels sprouts.
We like to utilize a variety of cheeses that each have their distinct flavor and texture. The result is a savory and cheesy side dish that everyone will enjoy immensely.
6. Buttered Noodles With Herbs
There is nothing quite like the feeling of comfort that comes from eating a bowl of noodles.
The flavor is elevated to an entirely new level when herbs and butter are used in the recipe.
These buttered noodles can be prepared quickly and with few ingredients, making them ideal for any gathering. You only need some noodles, butter, herbs, salt, pepper, and spices of your choice.
Although, many people choose parsley as their herb, you can substitute any other herb of your choice. This recipe may not look complicated, but it packs a tonne of flavor.
7. Savory Green Beans
Green beans are adaptable vegetables that may be prepared in a variety of different ways when they are cooked. They are fantastic when roasted in the oven or grilled over an open flame, and they also make an excellent side dish that can be served with meat, fish, or even poultry.
However, our preferred method of preparing green beans is to sauté them in olive oil with garlic and onions. This uncomplicated recipe can be prepared in a matter of minutes, and it is suitable for use in any setting.
The green beans are crisp-tender until they are tender while maintaining a slight crunch, and the onions and garlic contribute a deliciously savoury taste to the dish. 
You can also season them to taste with salt and pepper, or you can serve them with a straightforward sauce or vinaigrette.
8. Steamed Broccoli With Lemon Butter
This is yet another simple and speedy dish that may be served as a side. Only butter, broccoli, garlic powder, lemon juice, salt, and pepper are required to make this dish.
This tasty side dish also happens to be nutritious with your oxtails as it compliments the fats in oxtails.
The broccoli gets a sharp flavor from the lemon butter, which is a flavor that goes well with oxtails. In addition, the preparation time is simply approximately ten minutes.
9. Cheesy Garlic Skillet Rolls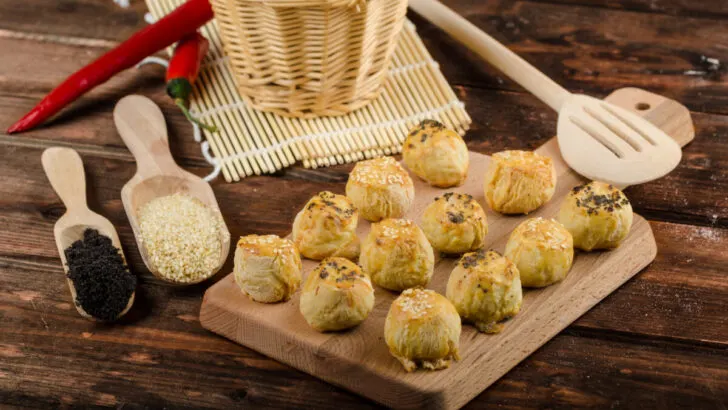 Garlic, cheese, and warm, soft rolls are a winning combo in cookbooks. Many people just can't say no to them. They will elevate your oxtail stew to the level of a true soul-satisfying dish.
Although mozzarella cheese is ideal for this dish, you may substitute any other sort of cheese that you have on hand without any problems.
Serve with some sticky oxtail smothered in a sauce made from red wine, or even better, dip it into pineapple-mango sauce that is usually served with jerked oxtail. It will take your main course to a whole new level. 
10. Butternut Squash Risotto With Sage
Risotto looks like one of the extravagant restaurant dishes, but it's rather simple to make.
You can put it on the table any time of the day as a tasty accompaniment to the oxtail stew you are serving.
Also, we are aware that foods made with oxtail already have a robust flavor profile. However, even a small amount of this similarly flavorful side dish will elevate the quality of your main course to a whole new level.
11. Beetroot And Orange Salad
Salads are always a great choice for sides as their dressing can be prepared in advance. And so is the case with this salad.
Alternatively, you might have some fun by switching out one ingredient for another each time you make the meal. For example, you may substitute parsley for cilantro or spinach, and oranges for avocado.
12. Mashed Cauliflower
You don't need to feel guilty about indulging in cauliflower mash because it is a nutritious and delicious substitute for mashed potatoes.
And if you want it to go especially well with your braised oxtail, all you have to do is add a small bit of grated parmesan cheese to make it extremely rich and creamy.
13. Polenta With Roasted Vegetable
Polenta is a type of porridge traditionally prepared with cornmeal. It is a kind of velvety affair, and when accompanied by braised oxtails, it will take your oxtails to an entirely new level.
It is decadent, delicious, and has the ideal consistency to sop up any sauce that may be left over on your plate.
14. Creamy Polenta With Gorgonzola
This velvety side dish is sure to win over everyone in your household.
The dish's versatility means it pairs well with various proteins, including beef, chicken, and pork.
The dish is easy to create, and the total preparation time is approximately 15 minutes. Moreover, it is quite creamy because of gorgonzola cheese and cream, which makes it a perfect side to go with oxtails every time.
15. Cucumber Tomato Salad
Who doesn't love to eat salads? And when they are served with oxtails, it's a love affair! You can eat them at any time of the day to enjoy juicy and tender oxtails paired with a crisp and fresh salad.
The preparation time for cucumber and tomato salad is quite short, and they are an excellent accompaniment to grilled or roasted meats.
In addition to cucumbers and tomatoes, you might add red onion, cheeses such as mozzarella or feta, and fresh herbs like dill, basil, cilantro, and parsley.
Final Words on What to Pair with Oxtails
Oxtails are a great source of meals if you are on a high-fat or low-carb diet.
Many people have their preferences, and no matter how you prepare oxtails, every side dish featured on this list is the perfect partner. If you are hosting a special occasion dinner, we suggest you prepare plenty of sides.
Or if you frequently eat oxtail dishes at home, you might want to look into some additional meals that go well with them. So what are you waiting for? Let's cook those sides to make your dinner memorable!