Are you looking for a truly unique look for the exterior of your home? Painting your home is one way to make your house feel like a unique family lives there. One idea is to paint your garage doors black, but is this a bad idea?
Black garage doors can be a unique and beautiful look, but know that your door will be hotter than usual, as the sun as the black paint will absorb more of the sun's heat. However, a pre-made black garage door will be heat-resistant and damage resistant.
Few people have black garage doors, so you will have to plan your aesthetic change carefully so that it looks great. But if you have the right aesthetic, and maybe change the garden a bit, black garage doors can be truly unique and beautiful.
Are Black Garage Doors a Bad Idea?
You want to change the color of your garage door to a color that will stand out but is still elegant. Would a black garage door be a bad idea? Black garage doors are not for every house, but for people with modern-style homes, a black garage door can look great.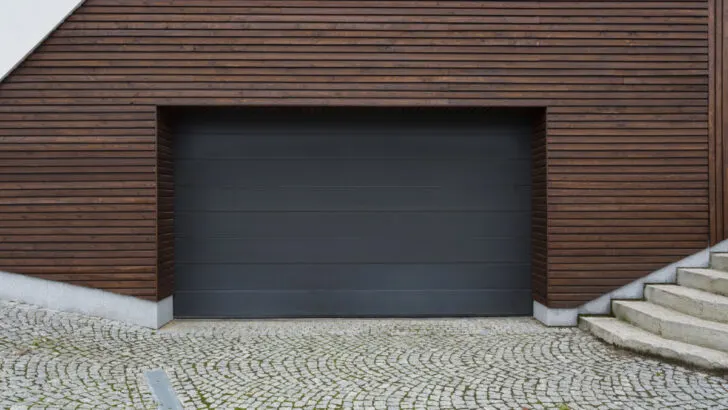 There are two ways to have a black garage door. The first way is to paint your existing garage door black. It should take less than a can of paint to color the entire garage door, so you won't have to spend too much money.
The second way to have a black garage door is to purchase one that is pre-made. These are designed to resist heat buildup inside the garage and resist color fading.
Painting your garage doors black might seem fun, but it can quickly become a bad idea. However, purchasing a prefabricated black garage door might be a good idea if you buy a high-quality heat resistant black garage door.
Black Garage Door Pros
So what are some benefits of having black garage doors?
In the wintertime, your garage will be warmer than the rest of your home. The black doors will absorb the cold rays of the winter sun and make the garage warmer.
If you love painting, then you enjoy painting your garage door.
A black garage door can add a unique look to your home, especially if your home's exterior is painted in darker colors.
Black Garage Door Cons
In order to have a garage door that will not retain heat inside the garage and is resistant to elemental damage, purchase a brand-new door
If the black garage door is not treated for heat resistance, then the inside of the garage will reach sweltering temperatures.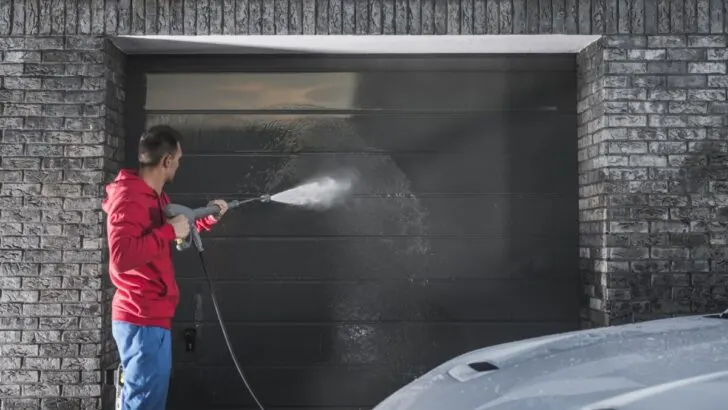 A brand-new garage door may not be in your budget, as the average cost of a brand-new garage door, along with installation, costs around $750 to $2500.
Does a Black Garage Door Look Good?
Black garage doors will only look good if the rest of the exterior matches the aesthetic you're going for.
The trim of the home, the garden's vegetation, and the window frames and door frames must all have a similar feel, so that the black garage doors don't stand out negatively.
Are Black Garage Doors Trending?
As more and more Millennials and even some Gen Z move into homes of their own, they want to transform the exterior of their new homes. They're not interested in the cookie cutter suburb look that the previous generation embraced.
Black garage doors are trending and they actually look better than most people once believed. As long as the other colors on the exterior part of the home aren't too different, the black around the door will actually look well with the rest of the exterior.
Where Can I Find Design Ideas for Black Garage Doors?
If you're on the Internet, then you already know the answer to this question. The number one place to search for any design idea is on Pinterest. Pinterest has every single design idea you need. It is a massive visual database where designers of homes, food, fashion, garden, etc., love to post their creations.
Sign up for a Pinterest account and you will be shown hundreds of pictures of black garage doors of all shapes and sizes.
Not only that, you also see articles on how to care for garage doors, how to maintain a black garage door, and colors that will flatter your black garage door, just in case you feel like painting the rest of your house.
Two other websites that we recommend are great design ideas are HGTV.com and CreativeDoor.com.
Can I Install a Garage Door Myself?
If you are a DIY fanatic and you've successfully performed several major electrical projects in your house over the past few years, then you may be able to install a garage door with your own two hands. But if you're not familiar with anything electrical and you're only looking up this question because you want to save a buck or two, don't do it.
Installing a garage door is not for a beginner or for people who don't want to spend money. You could end up electrocuting yourself, breaking the door, and installing the automatic garage door opener incorrectly.
So not only will you have done a poor job, you'll have to pay someone to both install the garage door and fix the mess you made before the real installation can begin. So, no. Do not install a garage door yourself.
Pay a professional to do it for you.
Conclusion to Painting Your Garage Doors Black
What exterior colors go well with black garage doors? Anything is possible if you have the right look, but black garage doors go well with beige colors and colors that are darker than beige.
You don't want a white wall surrounding or black garage doors, as it will look like an aesthetic nightmare. If you have a modern home, the exterior of the modern home should be painted gray with white lining or the lining should be painted black and the walls can be off white.