If you think black windows are going out of style, think again. They're still everywhere you look, and people love their appeal. Of course, several factors will affect this choice of interior design, but to be honest, it's hard to see them taking a backseat.
Will black windows go out of style? I'm not seeing it in my lifetime!
Black windows have a long history of beautifying our buildings. They started from the factories and warehouses in the 19th century, but today you can find them in anything fancy and astonishing.
From suburban duplexes to loft condominiums, rural towns to inner cities, black windows are a trendy choice catching everyone's eye.
Advantages of Black Windows as a Trend
When a specific interior choice is around for long enough and has made the rounds, it's not far-fetched to expect it to take a back seat. But black windows seem to be increasing in popularity.
Admittedly, there's a rise in the demand for styles with classic roots, and black frame windows play directly into this.
Are black windows a trend? Yes, they are.
Look into decorative magazines these days, and you see them in surplus. They are exemplified in just about every sort of building, and they seem always to look good.
If you're worried about their longevity before choosing them for your home, I can relate. There are many reasons why black windows work a lot of the time and keep working. Let's dive in.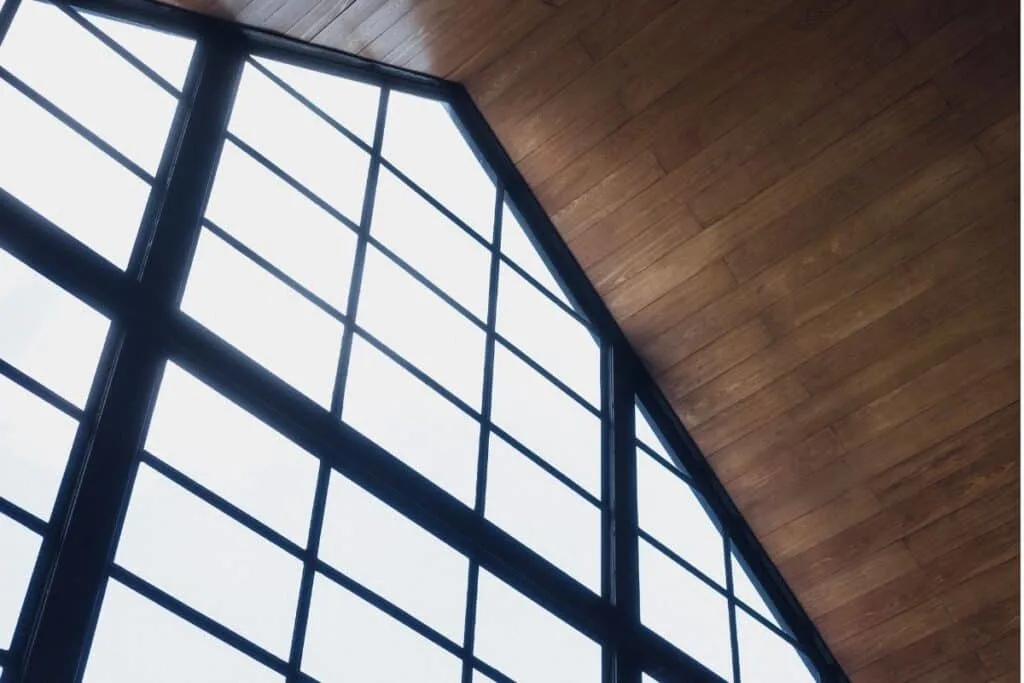 #1 They are the Definition of Style
You can be sure you can count on black windows to keep your home looking stylish because they are the definition of style. They add a distinctive effect to your home because of this quality.
They aren't exactly the loudest fixture in any home, so they don't scream. But trust me when I say that they are designed to make noise. If you were to put the same building beside itself in a catalog, with the only difference being the presence of black windows, you'd be struck by how dramatic the effects are.
Black windows are traditionally styled with white walls; these provide an undeniably compelling contrast of sorts, giving them a modern art gallery effect. They also offer undeniable contrast with lighter interior fixtures or light-colored countertops.
#2 They have Styling Consequences on the Outdoors, too
Notice how a simple black frame can turn your attention to the painting inside it?
This is because of black's negative properties that are responsible for the disappearance of the interior sash and grid. They work as an optical illusion and are very powerful, drawing your eyes to the outside view.
They also give an insanely good view from the outside, thereby enhancing curb appeal. Black windows look spectacular from the outside when you match the entry door with the grilles and window frames.
#3 They Don't Require Window Treatments
If you are not big on follow-up routines, like window treatments, black windows are the perfect fit for you. Since these trendy windows are made specifically for display, there's no point in covering them up with some additional treatments.
With black windows, you can ignore blinds or heavy window treatments. If you're considering privacy, you might want to stay away from this trend. Personally, I'd recommend you get fancy bathrobes because these windows are definitely worth it.
Here's another privacy hack; you can get white interior finishes. This can help to boost your confidence in these fancy windows. Just remember to stay consistent on the outside colors regardless of what color sashes you pick for your interiors.
#4 They Will Give Your House a Dramatic Effect
Are you looking to give your house an overall dramatic effect?
Then you need black windows. I particularly subscribe to this trend because of how intensely they can draw attention and turn your home from "just there" to an overwhelming "wow."
Black frame windows typically add a pop of drama and extraness that brings rooms to life. They are even more stunning with a white-black interior or any other contrasting interior design, allowing the other colors to pop against the black frames.
#5 They Play Well with White
This is more like an extension of the previous point but is such a big deal that it deserves its own number.
Most homes that settle for black windows contrast the interior with a lot of whites. And boy, do they look good!
Modern farmhouses are extremely attractive with double-hung black windows and their white exteriors. Sometimes they feature light colors which aren't specifically white, but they are a knockout either way.
#5 They are Pretty at Night
The view from outside into a room with black frame windows, light interior, and golden lights is spectacular. They have a warm and inviting homely feel that's to die for.
They look so beautiful that many people purchase and install black windows just to achieve that look!
At dusk, the windows reflect the sunlight and clouds, creating a memorable scene of breathtaking sunsets.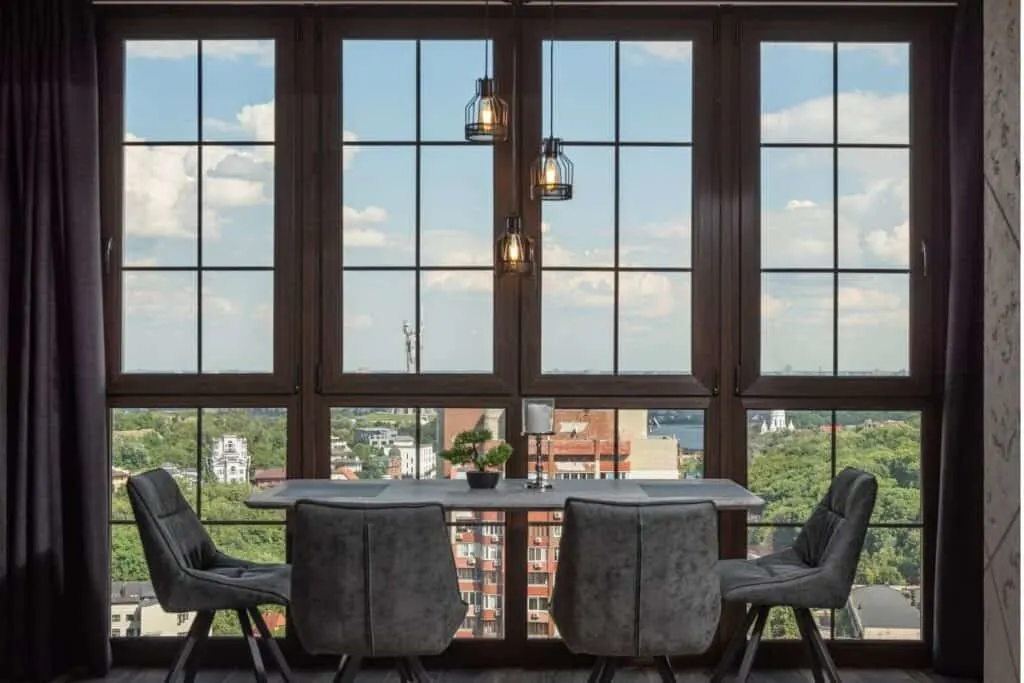 5 Considerations Before Installing Black Frame Windows
For all the reasons for black windows to stay in style, it's also a fact that some hold-ups might make them a less than trendy choice for your home.
#1 They are an Additional Expense
If you choose to use black steel window frames, expect to spend a bit more than you might have intended.
Of course, wood and aluminum are more cost-effective options, but they won't quite get you to that industrial look that you're going for.
#2 They Absorb Heat Easily
Something to note is how black windows are more prone to heat absorption, just like the color black is.
If you live in a warm climate, this might be worth considering. Black window frames might make your rooms hotter in the long run.
#3 They Might Mess with Your Cohesion
To style your home with trendy black frame windows, consider how they will affect the overall experience inside and outside.
If there's a lack of cohesion between the interior design and the windows you are considering, you might want to stick with something that matches the overall feel. That is, except you want to redesign the whole place.
#4 They Might Not Give You Enough Privacy
Black frame windows are typically without privacy. I consider it a shame to cover these gorgeous windows with treatments. Still, you might want to take light control and privacy into consideration.
You can find window coverings that can fully be drawn away during the day. You can also consider using roller shades or roman shades that you can always pull above the windows.
If you decide to use window treatments, try combining vinyl windows with white interiors and black exteriors. With this, you can avoid messing with the distinctive lines inside when you add roman shades. You can also add plantation shutters or patterned drapery.
#5 They Might Create a Black Hole Effect
If you are going with interior coverings on black windows, consider how sunlight plays against your home's facade.
With shaded black windows, you might have a black-hole effect on your hands which will negate your overall goal in styling with these frame windows in the first place.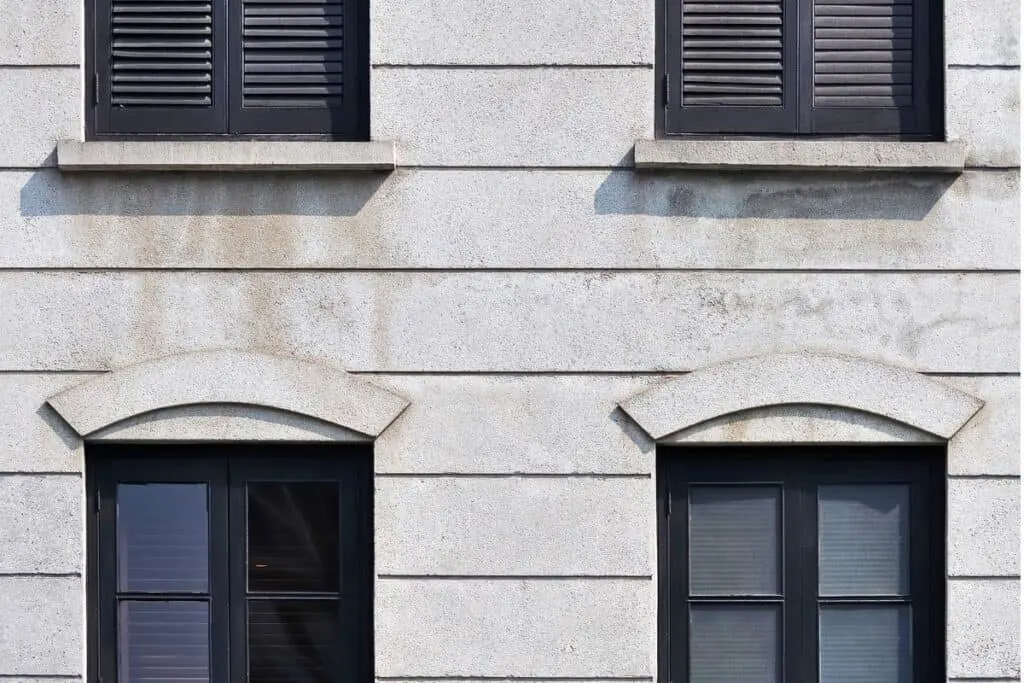 Final Thoughts
My initial point still stands; black windows are a trend that will likely not go out of style. If you look through decorating catalogs, you will find my point buttressed.
They fit in everywhere now, too— from contemporary styles to industrial appeals to modern farmhouse finishes. Use these trendy window choices to give your house an excellent finish.
Related Posts