Do you want to paint your old boring tiles with new fresh ones but are confused if it's a good idea or not? Then worry not!
Painting tiles have become popular in recent years among home blogs and DIY. You can also do this DIY in a relatively cheap way to freshen up worn-out tiles.
But a lot of users are not sure if they can do the same with their subway tiles.
You can paint subway tiles in order to give them some new life. If you are tired of the texture of your subway tiles and they don't have too many chips or cracks, then you can paint them.
These special paints made for subway tiles will cling well to the ceramic surface.
Also, you will save money by making this straightforward yet effective change.
Let's take a look over some easy steps to paint your subway tiles: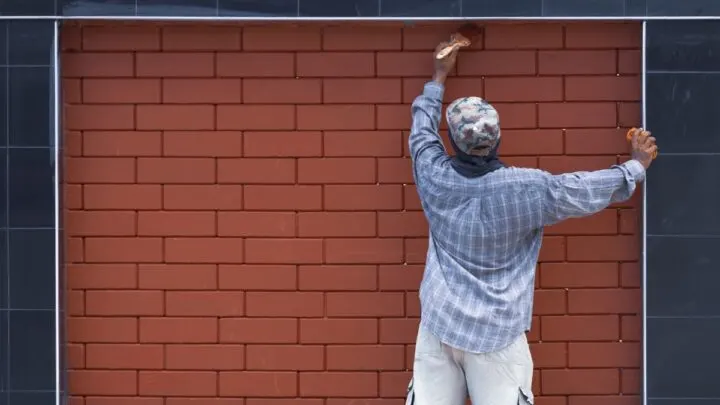 How To Paint Over Subway Tiles Yourself
You've decided to paint your subway tiles, and you've chosen the color, but you're not sure whether to hire a pro or do it yourself.
Then it is advised to pick up that paintbrush and start doing it yourself.
This will save you bucks and if you follow the steps mentioned below, it will also give you a finished painted subway tile.
Step 1
Before starting your DIY project, you have to:
Apply the degreasing foam to your subway tiles

Use a clean and dry cloth to gently wipe off each tile

Add two drops of dishwashing soap to the warm water

Cover each tile with soapy water

Then at last rinse with clear water and dry it with a soft cloth
Step 2
After you are done cleaning and wiping off all the dirt from your tiles, it is time to apply isopropyl alcohol to a paper towel.
Now use this saturated paper to wipe out the coverings of the tiles.
Step 3
After using isopropyl, your tiles will be free from any remaining dirt and are ready for painting.
You can use the paintbrush to coat the subway tile with the enamel surface conditioner. Be careful when applying the conditioner.
Make sure you are doing it in the right way to apply an even and a thin layer. After this, give the conditioner 15 minutes to dry out.
Step 4
Now, when your conditioner is dried, apply a lightly loaded enamel paint onto the paintbrush.
Avoid touching the grout in between the tiles as you carefully paint around the tile's perimeter.
Fill a thin and even coat of paint to the interior of the tile and then repeat the cycle with all of your subway tiles.
Now when you are done painting, let your paint dry for at least a day.
Step 5
Utilizing the same application method, it's time to paint the subway tile with a second coat.
It is crucial to remember that you should give at least a day to dry out the paint after each painting process.
After this, apply a third layer of paint to your tiles if needed and leave it for another day to let it completely dry out.
Step 6
To give your subway tiles a shiny appearance, use a paint brush for applying the enamel gloss sealer on the tiles.
Before touching the tiles, wait for another 24 hours for the sealer to dry.
Also, give your painted tiles a 10-day cure period before hopping to clean them.
How To Prep Your Subway Tiles For Painting
One of the most important yet overlooked parts of painting your subway tiles is prepping.
A lot of people are in such a rush that they miss this extremely important step. Other than this, the people who know the importance of this step, don't know how to pull it off.
In prepping, you must thoroughly clean your subway tiles before painting them.
Any dirt, dust, mold, soap scum, or any other debris that might have been covering the tiles should be eliminated.
As dirt can obstruct paint's ability to adhere to the tiles' glaze therefore they should be removed at any cost.
However, after washing the tiles you should completely dry them and wait for 24 hours before starting painting the grout if you want to update it as well.
This will give the grout line enough time to let any moisture evaporate.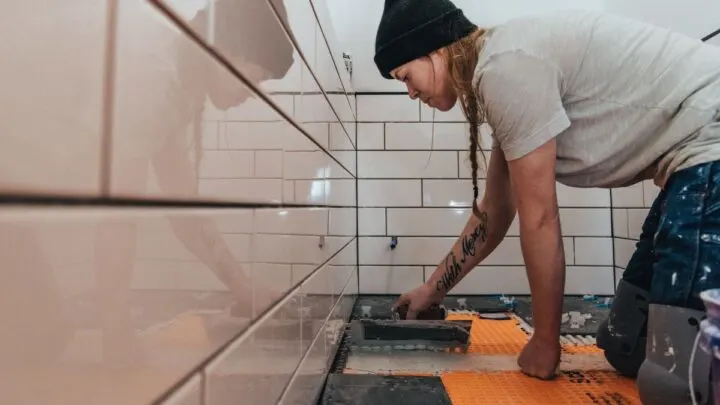 How To Seal Your Paint Over The Subway Tiles
Now another important step when you are done with your painting process is sealing your tiles.
Applying a sealer to your tiles will make the tiles water-resistant and protect the paint for years.
But before rushing to apply the sealer you should wait for at least a day or two to completely dry out the paint.
This will ensure your paint does not dry tacky either. Also, utilize a paint roller, and apply urethane sealer all over the installation.
To ensure complete coverage, slightly overlap each of your strokes. To help your tiles resemble glazed ceramics you can use a glossy sealer.
There are also matte sealers that will only give the tiles a slight sheen.
If you are confused about which one to choose, you can test them by applying both on a loose tile and then match it with your wall to see which one looks better.
Final Word on Painting Subway Tiles
Painting your tiles gives them a new life and you can do the same with your subway tiles.
But before starting the process make sure to follow the above-mentioned steps.
These will give your tiles a finished look without extra effort.
So what are you waiting for? Let's begin the painting to give your homes a fresh look.