The kitchen is the heart of the home, and everyone wants to decorate it to reflect their style.
The cabinets are the focal point when it comes to kitchen decor, which is why many homeowners prefer customized kitchen cabinets over pre-built or semi-made alternatives.
Lowe's is the most preferred choice when it comes to kitchen cabinets, but the question is, do they offer customized cabinets?
Lowe's does offer custom kitchen cabinets. Lowe's professionals can create unique designs for you based on your preferences, with an endless range of colors and finishes.
There are a variety of customized designs available, ranging from shaker to glass front. You can even collaborate with the designer to create a design for your kitchen cabinets that is personal to you and complements your space.
That being said, let us discuss buying customized kitchen cabinets from Lowe's in detail to help you make the right decision for yourself.
What Are Custom Cabinets?
Before we start, it's important to discuss what the word "custom" actually entails in terms of kitchen cabinets. Custom cabinets are cabinets that can be created to practically any shape or specification.
They are perfect for people who may desire a one-of-a-kind item to serve as the main focus in their kitchen, or who might have had a place that is too small or slightly curved for a standard or semi-custom design.
Professional cabinet makers will create the designs from the ground up.
Regarding length and arrangement, people have the option of selecting a framed or frameless design, a drawer front form, the sort of base layer, and the color and final finish of the cabinet.
However, because of this, bespoke cabinets can be quite costly, and the time it takes to get a customized cabinet ready totally depends on the timetable of the furniture maker.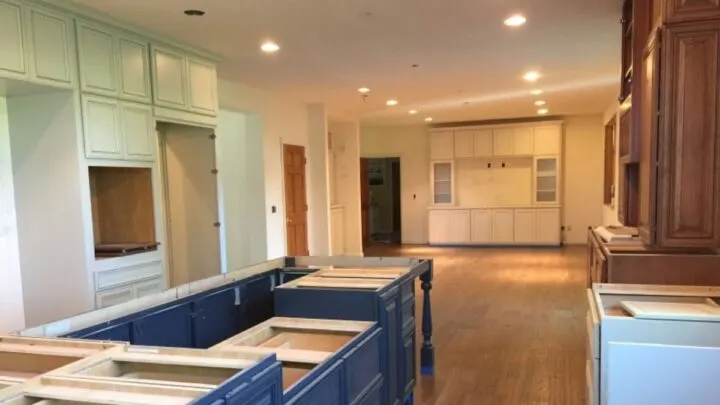 Why Choose Lowes For Custom Cabinets?
There are many reasons why Lowe's should be your choice of brand for customized kitchen cabinets. The first and foremost is their professional designers.
The designers at Lowe's will assist you to create your perfect kitchen, incorporating personalized features and on-trend designs.
You can choose from a variety of designs and finishes, and the designers will make certain that the cabinet style you choose compliments the rest of your kitchen, making it unique and appealing.
The customizable doors are available in several styles to enhance the appearance of your kitchen.
The company knows the significance of bringing designs to life and makes it a point to value the clients' feedback.
Advantages Of Choosing Lowes Kitchen Cabinets
Lowe's is still one of the largest essential home furnishing stores. Here are a few compelling reasons to shop for kitchen cabinets at this business.
Unfinished Cabinets
At Lowe's, you can find a wide variety of completed and unfinished cabinet designs that will look great in your kitchen.
Unfinished cabinets are a good option if you would like a unique style of color and if you're collaborating with a group that will customize your cabinetry more.
Colored Finished Cabinets
Lowe's also sells finished cabinets in a variety of colors. Choosing one of them will save you a lot of time because all you have to do now is match the color of the cabinet to your kitchen wall.
However, the company offers other options if it is not for you.
Good Range Of Cabinets
Lowe's carries a variety of kitchen cabinet models, allowing them to offer a variety of styles. The majority of these are well-known.
You can learn more about the different varieties by going through the website.
Wall cabinets and base cabinets come in hundreds of shapes and sizes with and without doors.

Customized cabinets seem to be the best option and come with many options and modifications.

Outdoor cabinets are innovative, long-lasting kitchen cabinets for outdoor kitchen design.
What Type Of Quality Does Lowe's Provide?
Lowe's cabinet quality has made waves in the market with its smooth and chic designs.
Lowe's kitchen cabinets are available in four different brands which are project source, design house, Cambridge and Diamond Now.
Diamond Now cabinets are on the lower end of the construction spectrum. The upper section and bottom are crafted of particle board, which can be a downside for some.
The constructing material is known as a furniture board because it is commonly used in low-cost furniture designs.
One thing to remember is to keep the cabinets free of humidity. It won't be a problem unless your kitchen has a leak that causes it to swell over time.
The furniture boards are not the best when it comes to holding screws so it will be best to stick with pre-drilled holes in the furniture.
The diamond now collection features solid frames and drawers. When looking at Cambridge and design house brands, you will notice top-end designs such as plywood renovation, hardwood doors, and drawer slides.
Final Word on Lowe's Offering Custom Cabinets
There may be many reasons why a person cannot have custom cabinets in their kitchen thanks to the interior and space of their home.
However, with Lowe's customized services, this may no longer be an obstacle for one's dream kitchen cabinets.
Their customized cabinets offer solutions that complement one's kitchen and give a person a chance to explore their style.