Do you have plans to renovate your kitchen? Or maybe your faucet is damaged, and you want to get a new one? Then, you might be curious about how much Home Depot installations cost. Then we're here to help you out!
The average price to install a new bathroom from Home Depot or kitchen faucet ranges from $150 to $400. However, you can reduce the price with less expensive models, which will cost you as little as $50.
Let's find out how much Home Depot will charge you for your project and their hourly price.
How Much Does It Cost To Have A Faucet Replaced By Home Depot?
The price of installing a new faucet ranges from an average of $120 to $300, and this price covers the cost of removing and replacing the present faucet as well as making modifications to the water lines.
The labor cost to replace or install a faucet in a kitchen, bathtub, or bathroom can range anywhere from $45 to $150 per hour, and the vast majority of plumbers will charge for a minimum of two hours' worth of labor for the entire job. On the other hand, the price of a single new faucet can range anywhere from $100 to $350.
What's Included In Faucet Replacement?
At Home Depot, the installation of a faucet starts at $119 and goes up from there, depending on the type of faucet. However, removing and disposing of an old faucet or caulking application can increase the installation cost.
In addition, they will take care of everything, including removing the old faucet, taking it to the dump, and installing the new one for you. They can also connect the supply lines, test those connections, and clean up the mess after the testing is complete. However, you should be prepared to pay an additional buck if the drain needs to be repaired, the supply lines need to be changed, or the shutoff valves need to be replaced.
In addition, before hiring them, you need to be aware that they will only install sink faucets acquired directly from Home Depot.
Also, the price of the faucet itself is not included in the installation cost. Furthermore, as a return on investment, they offer consumers various financing options and a labour warranty valid for one year.
To provide you with a more realistic price for wall-mounted and bespoke sink faucets, they may need to inspect the location where they will be installed.
How Long Does a Faucet Replacement Take?
It shouldn't take you more than half an hour to remove the outdated fixture and replace it with the new one. On the other hand, if you have a dripping faucet or if you uncover new problems while you're working on it, the amount of time could increase to up to an hour.
In addition, if you are installing a new faucet in addition to the drain and plumbing for the sink, the process could take up to two hours to complete.
Consequently, installing these particular sorts of faucets may require you to exert more effort than is typical.
Can A Handyman Install a Faucet?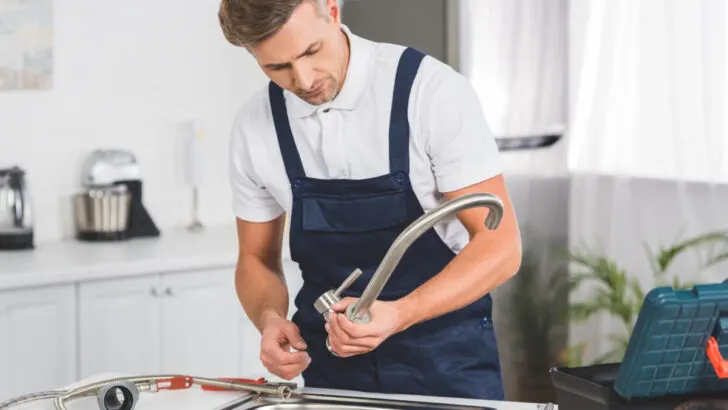 Because they are skilled in various jobs, including plumbing, handymen are often referred to as "jacks of all trades."
The vast majority of handymen can complete the tasks on your daily to-do list, such as repairing that faucet that constantly drips, upgrading your toilet, and adjusting the temperature of your water heater.
Therefore, if you are only replacing an existing faucet, a handyman in your region can carry out the task on your behalf. You should hire a professional plumber if the work requires making adjustments to or replacing components of your home's plumbing system such as pipes or other portions of the plumbing system.
On the other hand, if you are considering hiring a handyman to replace your faucet, here are a few considerations you should think about first:
Some states have laws preventing handymen from doing any plumbing work. This restriction was put in because a poor plumbing job done by a non-plumber could severely affect your house
No matter how skilled a handyman may be at other tasks, he or she typically lacks the essential training to deal with plumbing obstructions and other issues
If the handyman makes a mistake that results in damage, your homeowner's insurance policy might not be able to cover the costs of fixing it
Since handymen are not required to have a license to perform plumbing work, whereas most plumbers are, you may anticipate that there will be problems as a result of their inadequate training
To become a master plumber, one must complete 2 years of vocational school or serve a lengthy apprenticeship of at least 4 years, whereas a handyman does not have this training or education
Some homeowners may try to save money by hiring a handyman to install or repair plumbing, but this strategy often backfires when they have to hire an expert plumber to remedy the problem they caused
Final Words on the Cost of a Home Depot Faucet Installation
One of the many kinds of installations that customers may have at Home Depot is the installation of new sinks and faucets.
If you are also thinking about doing this, the cost of the installation process could range from $150 to $400 for you, depending on the kind of fixtures and the whole duration of the project.
Additionally, if you want to reduce the cost, you can hire a handyman; nevertheless, you need to consider the above factors because employing a handyman can be risky at some point.