You've just finished your kitchen remodel and are ready to add the finishing touches, but you don't know how to choose kitchen cabinet hardware to match decor.
It's hard enough to choose new kitchen cabinets, but adding cabinet hardware can feel like an impossible task.
With so many different shapes, sizes, and finishes to choose from, how do you know which ones will look best in your kitchen?
You want to select kitchen cabinet hardware that will enhance your kitchen's overall look and feel. This means matching your hardware to the kitchen's overall color scheme, style, and décor.
Choose a complementary finish to your appliances and countertops. Don't be afraid to mix and match different styles of hardware.
When renovating your kitchen the type of hardware that you choose for your cabinets can make all the difference.
It can be tricky to find hardware that matches your decor, but it's worth taking the time to find something that looks good and functions well.
In this article, we'll discuss some tips on how to choose kitchen cabinet hardware that will complement your existing decor.
We'll also provide some examples of different types of hardware that are available on the market today.
Prioritize The Finish
The first thing you should consider when choosing cabinet hardware is the finish.
You'll want to find something that matches the existing finishes in your kitchen.
For instance, if you have stainless steel appliances, opt for hardware with a brushed nickel finish. If you have brass fixtures, look for cabinet hardware that has an antique or oil-rubbed bronze finish.
There are also many finishes available in between these two extremes, so don't be afraid to experiment until you find something you like.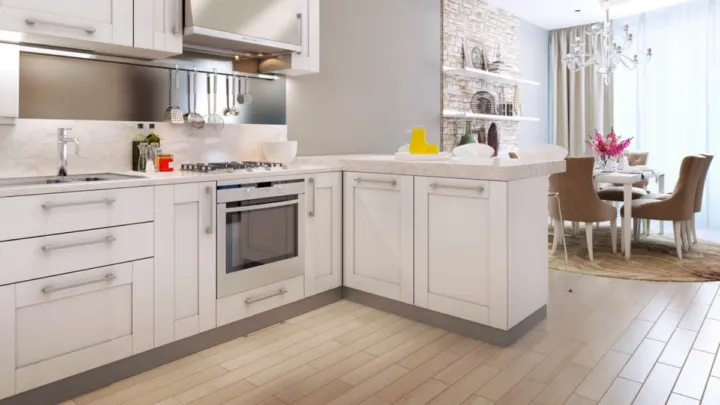 Think About the Style of Your Kitchen
When you're trying to choose hardware for your cabinets, it's important to think about the overall style of your kitchen.
The hardware you choose for your cabinets can have a big impact on the overall look of your kitchen.
If you want a sleek, modern look, then you might want to choose stainless steel or glass knobs.
If you're going for a more traditional feel, then brass or wood might be a better option.
And if you're really looking to make a statement, then you could try something bold like copper or black iron.
No matter what style you're going for, there are plenty of options available on the market today.
Size and Position of Handles
Choosing the appropriate size and position of cabinet hardware is an important consideration when choosing kitchen cabinet hardware that will match the overall decor.
Factors to consider when choosing a handle include the width of cabinets and shelves, along with how often those cabinets are used or opened.
Utilitarian designs, such as pull handles on upper cabinets, should be mounted near the ceiling, while knobs may work better on shorter cabinets closer to eye level.
In addition, it is also important to carefully consider the design and finish of handles to ensure that they will match other decorative accents in your kitchen.
Ultimately, by considering size and position alongside style and finish when selecting cabinet hardware, you can find hardware that makes a seamless addition to any kitchen.
Coordinate Fixtures and Appliances
Another important factor to keep in mind when choosing kitchen cabinet hardware is how the fixtures and hardware you choose will work together to create a coordinated look for your space.
This involves considering not only the individual components, such as faucets and sink styles, but also incorporating elements like window treatments, light fixtures, and even countertops and appliance finishes.
Ideally, you should look for fixtures that are cohesive across each part of your design plan to help create a seamless aesthetic that allows each element of your kitchen to flow together beautifully.
Ultimately, coordinating all aspects of your design will not only help make your space feel more polished and put-together, but it can also have a significant impact on its function and usability.
Take Your Time
When it comes to choosing kitchen cabinet hardware, it's important to take your time and really think about what you want for your space.
With so many options available on the market today, it can be tempting to just choose something because it's trendy or because it's what everyone else is doing.
But if you take the time to carefully consider all of your options, you'll be much more likely to find something that you love, and that will stand the test of time.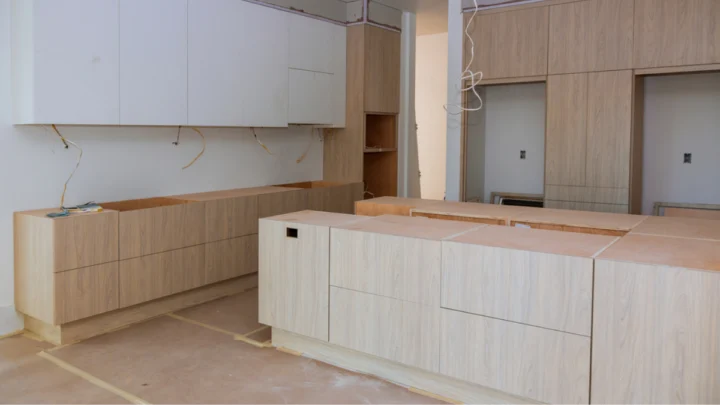 Types of Kitchen Cabinet Hardware
There are many different types of kitchen cabinet hardware available on the market today.
Some of the most popular options include:
Knobs
Kitchen cabinet knobs are small handles or hardware that are attached to cabinets.
They're easy to grip and provide good leverage when opening doors and drawers. Cabinet knobs can be made from different materials such as glass, metal, or plastic.
While most people opt for the typical round or square cabinet knob, there are many other options available, including oval, rectangular, and even novelty-shaped knobs.
Kitchen cabinet knobs are usually sold in sets of four or more and can be installed by screwing them into the cabinet door.
Many homeowners choose to replace their cabinet knobs when they are renovating their kitchen or simply want a change.
Swapping out cabinet knobs is a relatively easy and inexpensive way to give your kitchen a whole new look.
Pulls
Kitchen cabinet pulls, also known as handles, are long and narrow pieces of hardware that are attached to cabinets.
Cabinet pulls can be made from different materials such as metal, wood, or ceramic. They come in a variety of sizes, colors, and styles.
Cabinet pulls offer a more modern look than knobs and is often used in contemporary or minimalist kitchen designs.
However, they can also be used in traditional kitchens for a more transitional look.
Hinges
Hinges are pieces of hardware that attach doors to cabinets. There are many different types of hinges available, including:
Concealed hinges: Concealed hinges are not visible when the door is closed, making them a popular choice for kitchens.
Decorative hinges: Decorative hinges add an extra element of style to cabinets. They come in a variety of colors, finishes, and styles.
Lift-up hinges: Lift-up hinges allow doors to be lifted up and out of the way, making them a great option for cabinets that are used frequently.
Knobs Vs. Pulls: Which One Should You Choose?
When it comes to choosing the right hardware for your kitchen cabinets, there are many different options to consider.
One of the most common choices is whether to use knobs or pulls.
Though both types of hardware can offer many benefits, there are some key differences that you should consider when making your decision.
On the one hand, knobs tend to be easier and more convenient to use than pulls.
They are smaller in size and typically simpler in design, so they don't require as much grip strength to turn or twist.
Additionally, because they are mounted on top of the cabinet door or drawer front, knobs allow for easier access than pulls.
At the same time, one major advantage of using standard-sized cabinet pulls over knobs is that they provide a larger surface area for gripping.
This makes them particularly useful for people with arthritis or other conditions that make gripping difficult.
Pulls also typically have a more open shape than knobs, which allows them to hold on to higher volumes of airflow and prevent locks from freezing up during cold weather months.
If you want flexibility and quality construction with a modern aesthetic appeal, then go with pulls – they may be a bit more expensive, but they are well worth it in the long run.
Summing Up Choosing Kitchen Cabinet Hardware
If you're looking to complete your kitchen makeover, picking new cabinet hardware is oftentimes an important, but overlooked, step in the process. Make sure you look at what kind of existing hardware you have currently and then match it to the style and decor you're going for!