Kitchen cabinet designs are often quite personal for homeowners, but we often do hear them asking what size bar pulls for kitchen cabinets are the best.
Although there are no set rules when it comes to the size of the kitchen cabinet pulls, there are a few guidelines that will ensure that your hardware is ergonomic, proportional to the cabinet, and aesthetically pleasing.
The size of a kitchen cabinet bar pull should be about one-third of the length of the drawer or door, generally speaking. Pull sizes can run between 3 to 5 inches for standard sized cabinets, and up to 1 inch for larger drawers.
In this guide, we will discuss the different sizes of pulls for kitchen cabinets and how many pulls can be placed on a single drawer.
As a person who loves interior designing, I have installed bar pulls and other pulls on my kitchen cabinetry.
I can help you find out which look suits your kitchen fixtures the best.
Determining the Right Bar Pull Size For Your Kitchen Cabinet
Finding out the perfect pull size for your kitchen cabinet can be tricky.
There are several sizes and configurations that you can select from, since there is no hard and fast rule on which one is best for your kitchen cabinet.
Standard size cabinet pulls can be anywhere between a one-inch finger bar pull or a longer 20-inch bar pull for larger appliances and fixtures.
Same-Size Bar Pulls
One of the simplest choices is to pick a single size for all bar pulls and use it for all your kitchen cabinets.
Although you have the freedom to choose any size you want, we do recommend that you pick a pull with at least 3 ¾ inch center to center distance.
This is a good size that is not too large or too small and looks good on cabinets of all sizes.
It also allows your entire hand to wrap around it comfortably, lending you a strong grip.
Aside from this, 5-inch pulls are another great choice. Their longer length offers a more modern look to your cabinets, but they are still small enough to look good on narrow drawers.
Longer Bar Pulls for Longer Drawers
If your drawer is longer than the standard sizes, then you can use a single long bar pull instead of using two bar pulls.
This will offer you a more elegant and cleaner look and you will still be able to open and close your drawers with one hand.
A good rule of thumb is to follow the one-third rule again, which is that the length of the bar pull should be at least one-third of the length of your drawer.
Full-Length Bar Pulls
If you want kitchen cabinets that look super-modern and have a clean and sophisticated look, then you can install them with bar pulls that runs almost the length of the entire cabinet.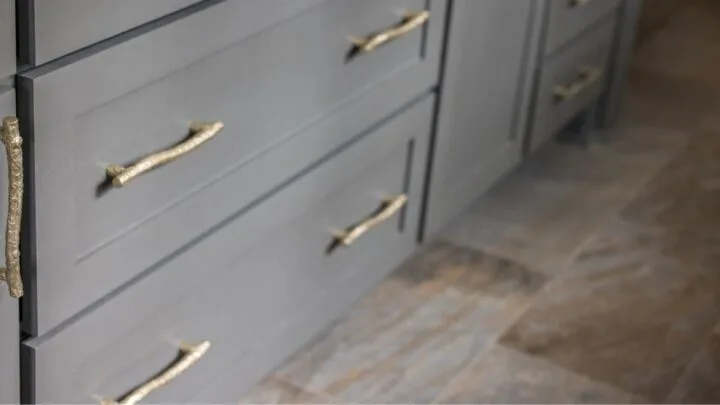 Bar Pull Sizes for Variously-Sized Kitchen Cabinets
As we mentioned above, your bar pulls can come in any size.
However, if you are confused about which size to choose, below are some of the safest, practical, and pleasing choices.
Standard size cabinets between 30 to 34 inches: 3 to 5 inches long bar pulls are an excellent choice for this size of cabinets.

Larger cabinets over 34 inches: Pulls that are 5 to 12 inches long will look more pleasing on these larger doors. If you want smaller bar pulls for these cabinets, you can also opt for having two bar pulls of 3 inches.

Small kitchen appliances: To open fridge drawers or the dishwasher, a 12-inch long bar pull is big enough to get the job done easily.

Larger kitchen appliances: To open the refrigerator or freezer, look for longer bar pulls, about 18 inches or longer, which will be more proportionate to the size of the drawer or door.
What Size Bar Pulls Should Be Used on Oversized Drawers?
If you have an oversized cabinet, there are a few options you can explore when it comes to the bar pull.
Oversized Cabinets With A Long Bar Pull
You can use the one-third rule that we mentioned above to ensure the bar pull and the drawers are proportionate to each other.
Since these drawers are over 36 inches long, then the bar pulls should at the very least be 10 inches long.
You can also opt for 12-inch bar pulls or 15-inch bar pulls for oversized drawers.
Oversized Cabinets With Two Bar Pulls
Another great option for oversized cabinet drawers is to use two bar pulls instead of one.
This will not just make your cabinet look gorgeous but will also increase its practicality and ergonomics.
That is because larger cabinets are deeper than standard-size cabinets and can get quite heavy.
With two bar pulls, it will be easier to pull out a heavier drawer.
To find out the size of each pull, divide the length of your cabinet drawer by two. This will give you the half-length of the drawer.
Apply the one-third rule to this figure and get bar pulls in that size.
This will also help you match the size of the bar pulls in the smaller cabinets, giving a more cohesive look to your kitchen.
Oversized Cabinets With A Small Bar Pull
As we said before, it is also a popular option to keep all the bar pulls in your kitchen the same size.
This offers a very uniform and balanced look and gives a more modern appeal, even to wider drawers and doors.
If this is the type of look you want, you can totally forget about the one-third rule and just add a small bar pull about 3 ¾ inches in size to every cabinet.
No matter what bar pull you decide to use, it should always be decided on your ergonomics and practicality, as well as the aesthetics.
After that, the size of the bar pull simply depends on your own preference.
Conclusion to Cabinet Bar Pull Sizes
Generally, kitchen cabinet bar pulls are around one-third the size of the drawer itself. This lends itself to be a good rule of thumb for most size kitchen cabinet bar pulls.
You can always get a one size fits all bar pull as well, and not have to worry about the measuring. Whatever you decide to do, make sure you consult a professional if you have any questions!