When it comes to kitchen design, nothing is set in stone. It all depends on one's personal preferences, the overall look of the kitchen, and the complementing features.
Kitchen cabinets are one kitchen essential that can be designed and accentuated in a multitude of different ways.
However, if you are set to DIY the kitchen repairs on your own, you might be confused as to what placement of the kitchen cabinet will look best for your kitchen.
Kitchen cabinets do not have to be flush with the wall. If they are or not all depends on the design of the cabinets, the space in your kitchen, the lighting, and even the color of the walls.
Let's get started with the factors that play a role in making your final decision on cabinet placement:
Factors In Kitchen Cabinet Placement
When it comes to cabinet placement, there are a lot of things that need to be considered:
1) Ceiling Details
Gypsum ceiling designs are generally developed by the constructors.
And whether or not you like it, you might not have a big budget to replace the ceiling along with renovating the kitchen.
If you are stuck with a ceiling design that is emphasized towards the corners, you would not want to design the cabinets flush with the ceiling as it will give a stuffy and busy look to the room.
If you already have a small kitchen, giving a wall-flush look to your cabinets is not recommended. If you have a flat drywall ceiling and walls that do not have windows, you can add cabinets that frame the entire wall.
However, in this case, using complementary colors on the floor or the exposed walls would be a great idea to make the cabinets pop and not have boring monotones.
2) Budget
A well-lit and spacious kitchen is not all you need for the cabinets to look good flushed with the wall.
If you lack the budget to get cabinets designed which are the perfect height ratio with the countertop, flushing them with the wall and ceiling will not look good.
The cost of getting wall-flushed cabinets designed is around $11,000 for two 12-foot walls. Unless you are dead-set to get that modern kitchen look, this price isn't worth it to many people.
If you are remodeling a kitchen on a limited budget you should look for cabinets that are pre-assembled.
They might not go all the way to the wall, but they will save you in costs that come with customizing cabinets with measurements to the tee.
Another option if you find cabinets that are perfect width wise is to add false ceilings that lower the ceiling level. This will give a blended cabinet-to-wall look, which will also give a wall-flushed look.
3) Cabinet Styles
If you have premade or pre-assembled kitchen cabinets, you should find out whether they are inset, traditional overlay, full overlay, or frameless.
Inset cabinets have a frame and the doors are flush with that frame. Frameless cabinets are those in which the doors cover the full front of the cabinet.
There is no frame and these cabinets do not look good flushed with the wall, aesthetically speaking.
Traditional overlay cabinets have a frame, but the cabinet doors are not flush with the frame. They have a 1-inch space visible on the sides.
Compared to this, a full overlay cabinet covers the front face of the cabinet as the doors and drawers are larger than the traditional overlay.
4) Squareness Of The Walls
If you don't want to invest in hiding your wall's imperfections if it is not square, you might reconsider your decision to have cabinets designed that are flush with the walls.
This is because an unleveled wall will not give the right fit that you need.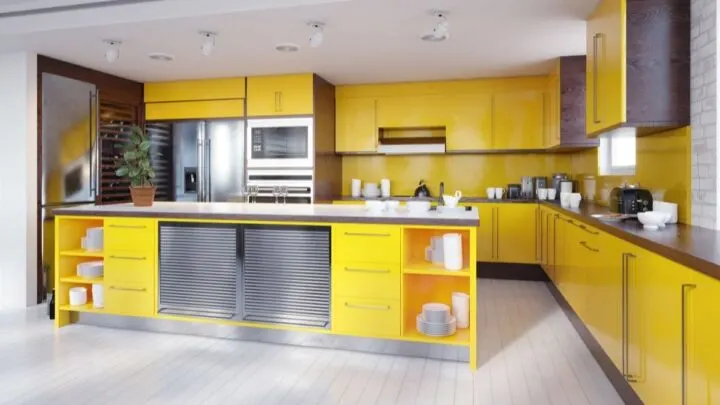 Why Is Space Left Between The Cabinet And Wall?
There is at least an 18-20 inch distance between the base cabinet and the wall cabinet for people to have enough space to work comfortably.
At times there is space left above the wall cabinet because of a lack of adequate height to fit two cabinet levels, or budget constraints.
How To Secure The Cabinet To The Wall With A Gap
If you already have a cabinet in your kitchen with a little gap between the wall, it is better to flush it to the wall for cleanliness and aesthetics.
You can use a pin nailer to attach a quarter-round molding. All you need to do is shoot pin nails into the molding at a 30-degree angle.
This will give a finished look to your cabinet!
Do You Finish Walls Behind Cabinets?
Even if your kitchen drywall will be covered by cabinets, it is highly recommended that it at least gets a coat of primer.
This is because painting the exposed walls after installing the cabinets will require more labor hours.
Summing Up If Kitchen Cabinets Should Be Flush With the Walls
Kitchen cabinets and how they are designed and placed is what gives life to your kitchen.
Whether or not the cabinets should be flushed with the walls depends on your budget, your ceiling details, your wall angle, and the style of cabinets you have.
Overall, inset and traditional overlay cabinets that have some visible frame go well when flushed with walls.