If you want to have a kitchen that truly stands out, installing some custom cabinets will be the way to go, but how much does it cost?
When it comes to your home's kitchen, you need to look at each feature and customization as an investment, as you are likely going to be using this space for years to come, with cabinets being a fundamental part of your cooking area.
However, the cost of custom kitchen cabinets is not always clear, as the price can vary based on a number of different factors.
Custom kitchen cabinets cost $4,700 on average to install and commonly range from $3,200 to $8,500, based on the size of your kitchen and the materials being used.
Whether you are designing a kitchen completely from scratch or simply doing some home remodeling, one of the most defining features of your cooking area is going to be your cabinets.
Putting in the time, money, and effort to customize your kitchen with cabinets is going to make the entire room shine and look unique.
There are a lot of different factors to consider when installing custom kitchen cabinets, but one of the most important is the price.
You do not want to overlook or underestimate the amount of money that custom kitchen cabinets can cost, as things can get expensive very quickly.
How much you spend on custom kitchen cabinets can greatly vary, which is why it is important to be thorough with price estimates before committing to any installations.
To help you understand this further, we are going to take a closer look at the costs associated with custom kitchen cabinets.
After extensively researching kitchen installations, I have been able to determine the average costs of equipping a cooking space with custom cabinets.
Average Cost of Custom Kitchen Cabinets
The truth is, kitchen cabinets can be priced as reasonably or expensively as you like.
There are so many different designs, materials, and features that you have to consider for your cabinets which will greatly affect the final price tag of the installation.
If you want to have a luxurious kitchen equipped with high-end cabinets, you should expect to pay $12,000 to $20,000.
These would be classified as fully custom kitchen cabinets.
If you are willing to cut some corners and use more affordable materials, you may find that your total costs can end up being $2,000 or even less.
Kitchen cabinets priced this low will be made out of low-end materials and defined as stock.
However, on average, most homeowners pay $3,200 to $8,500 to install kitchen cabinets, with $4,700 being the most common figure.
These will be semi-custom kitchen cabinets, and the amount that you pay can vary based on the size of your kitchen, as well as the kind of materials that you choose.
Custom Kitchen Costs Per Linear Foot
The best way to determine how much you will end up paying for your custom kitchen cabinets is to evaluate costs based on linear footage.
When you call up a contractor about cost estimates, you will first decide whether you want to install stock, semi-custom, or full-custom cabinets.
Once this has been determined, the contractor will quote you an expected figure for the work depending on how many square feet of cabinets need to be installed.
Although these costs can fluctuate based on the additional features that you want your cabinets to have, most installations will be priced as follows:
Stock Cabinets – $60 to $200 per linear foot

Semi-Stock – $100 to $650 per linear foot

Full Stock – $500 to $1,250 per linear foot
When you consider the linear foot costs of your cabinets, you can get an estimated figure for the final price of the installation based on the size of your kitchen.
A larger kitchen will require a considerable amount of linear square footage, which can greatly increase the price of your custom cabinets.
A small kitchen will generally end up being much more affordable, as you will have fewer material and labor costs to deal with.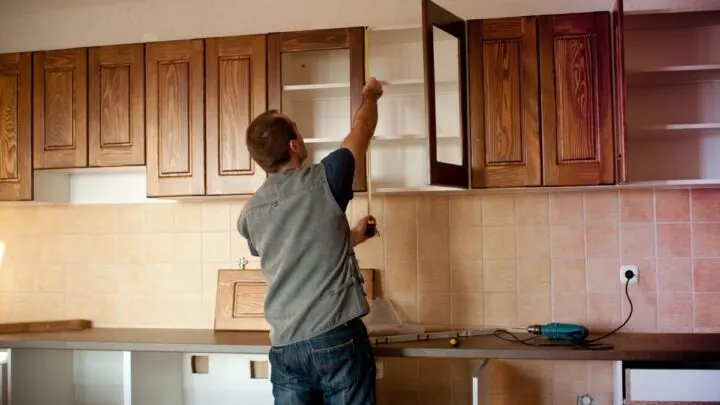 Custom Kitchen Cabinet Material Costs
The material that you choose for your custom cabinets will most likely be the biggest cost that you encounter for your installation.
If you are going with stock cabinets, then the materials will be very basic and affordable.
However, fully-custom cabinets are generally made with fine materials that are luxurious and quite pricey.
Here is a breakdown of the estimated costs for custom cabinet materials:
Wood Veneer – $4,900 to $8,000

Laminate – $5,000 to $8,000

Acrylic – $5,000 to $8,000

Wood – $6,000 to $8,000

Stainless Steel – $22,000 to $36,000
If you are working with a specific budget range, your material costs will give you the most flexibility to stay on target and keep your finances in order.
Custom Kitchen Cabinet Contractor Costs
Installing custom kitchen cabinets can be quite technical, which is why most people rely on contractors to get the job done.
You are going to want to hire professionals that can properly install your cabinets, as this will ensure that the work was done right and that your kitchen looks perfect once everything is complete.
The biggest contractor cost that you will deal with is the labor for the physical installation of the cabinets.
Generally speaking, this is around $75 per hour but this price can fluctuate based on the level of expertise that your contractor has.
With that being said, a lot of people like to go the extra mile with their custom cabinet installations, especially when expensive materials and creative designs are being implemented. This can result in hiring the following contractors:
Architect – $125 per hour

Interior Designer – $150 per hour

General Contractor – $75 per hour
If you have a design in mind and do not need to hire an architect or interior designer, you can cut some big costs.
However, if you are handy with tools, you can save yourself thousands of dollars by installing your custom cabinets yourself.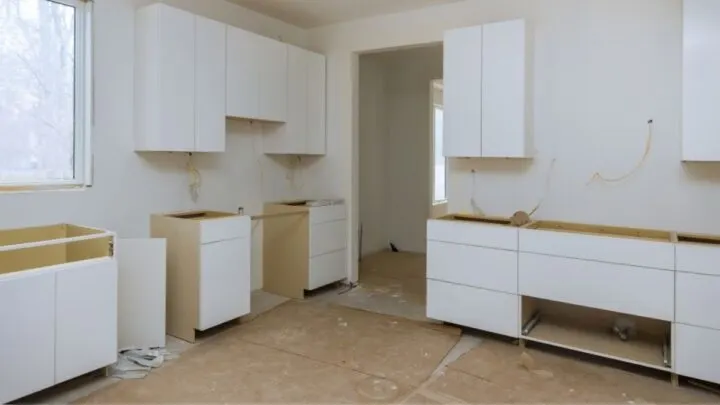 Helpful Internet Tools
HomeAdvisor, along with Home Depot and Lowe's have helpful tools to help you design your cabinets and learn how much the cabinets will cost.
For their project cost calculator, add your zip code into the search bar.
When you do this, you'll be given a few other options to choose from in order to find an accurate range of cost.
Basically, these tools will show you the average cost of kitchen remodeling projects in your area. You have to input your email to receive the cost breakdown.
It is great tools that will help you know how much to save for your perfect kitchen cabinets
Summing Up the Cost of Kitchen Cabinets
Kitchen cabinets can be pricey, but they're definitely something you should invest in. Our kitchens are often a meeting place in the house, and having an elegant kitchen can be a great selling point.
On average, kitchen cabinets cost about $4,700 to install. This can change – especially if you're handy and can install them yourself – but keep this budget in mind when you start your next project.